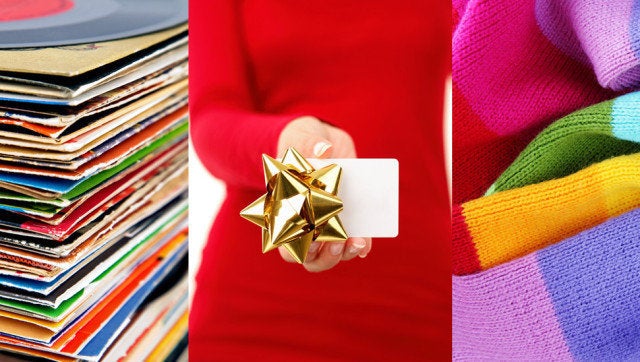 Tired of the stress, clutter and credit card bills that come with holiday consumerism?
This year, try something different: Give a "One Less Gift" certificate to someone special.
Instead of exchanging presents, you'll both have one less gift to worry about and will save time, money and the planet's resources.
(Click on the certificate for a full-size, printable version.)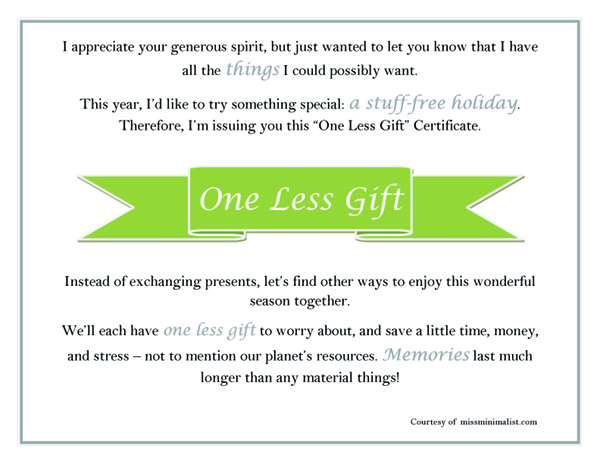 Consider these less-material ways to celebrate the holiday with your loved ones:
1. Spend time together. Schedule a lunch, walk or coffee together. Plan it around a holiday activity -- like strolling through town to admire the shop windows and Christmas lights -- for a particularly festive atmosphere.
2. Make charitable donations. The money we spend buying each other gadgets, knickknacks and tchotchkes can do a world of good for those less fortunate. The key is to make it fun: Spend an afternoon with loved ones choosing favorite charities together. Selecting a sheep, goat or water buffalo to donate through Heifer International, for example, can be a lot more fun (and certainly more fulfilling) than fighting crowds at the mall.
3. Exchange good deeds. Exchange services, like babysitting, snow shoveling, a car wash or computer assistance instead of store-bought gifts. Give each other "coupons" for specific tasks, which can be redeemed when needed. Such help can be far more valuable, and appreciated, than another scarf or kitchen gadget.
4. Protect the environment. Every gift we give up is a gift to our planet: our air will be a little cleaner, our water a little clearer, and our landfills a little emptier. Alternatively, adopt a tree, coral reef, acre of rainforest or natural habitat in the recipient's name -- see The Nature Conservancy's gift guide for ideas.
5. Volunteer. Give the gift of your time, and help out those in need; volunteering with friends and family creates meaningful memories that'll last a lifetime. To find opportunities, contact national nonprofits, community organizations or an online service like VolunteerMatch.org. It's a wonderful way to spread the love and spirit of the holiday season!
6. Enjoy nature. Gather holly for your table, pinecones for your mantelpiece, or simply go for a long, quiet walk in the snow. String up some popcorn and cranberries, and decorate a Christmas tree in its native environment.
7. Have a holiday potluck. Share a fun, no-stress feast together! Ask attendees to bring their favorite seasonal dishes -- such as childhood treats, secret family recipes, or traditional holiday foods from their cultural backgrounds. Serve buffet style, so guests can mingle while they sample the offerings.
8. Admire holiday decor. Make it a tradition to walk around your hometown, or drive to a neighboring one, to admire the seasonal decorations. Seek out particularly festive streets and decked-out homes for your outing; ask around your community or check local papers for prime locations.
9. Join in community celebrations. Attend the tree lighting in your town's main square at the start of the season. Then take your pick of the parades, parties, pageants and holiday concerts that follow.
10. Celebrate simple pleasures. Instead of going to the mall, gather your family around the hearth: cozy up in blankets, make hot cocoa and enjoy the flicker of a fire. Revive some old-fashioned traditions like singing carols, roasting chestnuts and reading classic holiday tales to the little ones.
Related