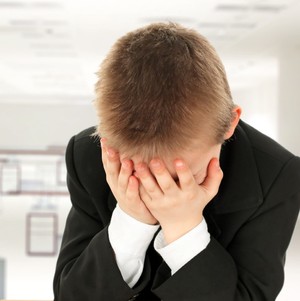 The American Psychological Association's (APA) study on stress found that nearly half of America's kids are stressed. This is bad news because it means unhealthy amounts of stress hormones are coursing through the developing brains of these children and that causes learning and behavior problems. The area of the brain most vulnerable to stress hormones is the prefrontal cortex. It generates intelligence, learning, and the top-down regulation for impulse control, which means that a child's stressed brain will struggle with learning and be prone to acting out. Stress hormones also dampen the immune system causing more frequent and more intense colds and flu.
The same APA study found that 91 percent of kids say that what stresses them most is how stressed their parents have become, and that 69 percent of parents were oblivious to the impact their level of stress is having on the kids. This finding corroborates a previous study by the Families and Work Institute that found what kids want most is "stress-free parents." In this study, interviewers asked children to make one wish for a change in their parents. Parents were then asked to guess what the children wished for, and most parents guessed it was for more quality time. It was the wrong answer. The majority of children wished for their parents to be free of stress. It turns out that kids are very good at detecting subtle cues about a parent's stress, such as their down-turned expression, heavy footsteps, and fatigue.
Teaching school is a highly stressful occupation and now a study in Canada, the first of its kind, has found that a teacher's stress is also impacting kids. In this study, researchers examined the connection between teacher burnout and students' cortisol levels. Cortisol is a stress hormone and a biological indicator of stress. Researchers collected saliva samples from over 400 elementary school children and tested their cortisol levels. They found that in classrooms in which teachers experienced more stress or feelings of emotional exhaustion, students' cortisol levels were elevated. Higher cortisol levels in elementary school children have been linked to learning difficulties as well as mental health problems.
The same APA study I cited earlier found that 83 percent of Americans are doing little or nothing to lower their stress level. These new findings should help motivate us to take stress seriously. Stress is not something we should someday do something about. It needs our attention now, especially parents and teachers. A child's ability to tap their full measure of brain power depends on it.
FREE STARTER KIT FOR BUSTING STRESS
But don't stress. Take heart. The picture the research paints is something we can change. It's simpler than you might imagine and results can accrue faster than you might think. It takes a commitment to understanding your pattern of stress that a painful past and genetics wired into your brain, and then learning the shift in mindset that rewires your brain to instill more joy in your work, more peace in your life, and more harmony in your relationships.
We can change our brain in ways that achieve a better day and turn each and every day into a better life. The studies that prove it are now piled high. Click here for a free starter kit that begins the process of making you, your home, and the classroom happier and more peaceful.
image: www.canstockphoto.com