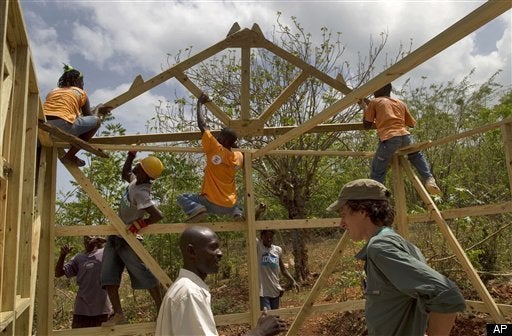 Knowing that we need to take a break from work is one thing, but actually doing it is really tough. What's it like to give yourself permission to stop when it's not just about making another million, but saving a million lives (or making a world of difference)? I asked ten New Radicals how they set aside their world-changing work to take the pause that refreshes. (New Radicals are people who are putting skills acquired in their careers to work on the world's greatest challenges -- for more, please see archived articles.)
1. Ian Yolles, RecycleBank
Ian just moved from Portland, Oregon to New York City to work as chief marketing officer for an innovative early-stage venture called RecycleBank -- an organization where we can earn points if we reduce, recycle, reuse and redeem them for rewards (more than a million people have already signed up). Unplugging has always been tough for Ian, a challenge heightened by the cross-country move, unfamiliar city, and new job. But he's finding a way to recharge even in the midst of the most dense urban environment in North America. "Every morning I leave our apartment, get on my bike and ride down the bike path adjacent to the Hudson River. I ride home from work, too. Both ways, I'm traveling with a big grin on my face."
2. Andrea and Barry Coleman, Riders for Health
Riders for Health works to ensure that all health workers in Africa have access to reliable transportation so that they can reach the most isolated people with regular and predictable health care. Riders clearly got the model right and they're growing by leaps and bounds. I wondered if founders Andrea and Barry Coleman find it tough to unplug. "You're not kidding!" was Barry's pithy reply. Andrea sounded a more thoughtful note, "The issues of growth are our biggest challenge: finding partners and managing it all." When they can, spending time with family and going for long walks are at the top of the list. And does anyone encourage them to take breaks once in a while, whether they're in Africa or the U.K.? Barry pointed with a grin, "My wife, co-worker, and fellow victim."
3. Phillip Haid, Public Inc.
Phillip's company, Public, creates innovative initiatives that engage people in small, daily acts of good that raise money for social causes (for instance, check out Shelter from the Storm, a campaign to end violence against women). I asked this busy entrepreneur and father of two if he finds it hard to unplug. "I feel like I'm going virtually non-stop and that I have two switches: on and off, work and sleep." And that it sometimes catches up with him. "I'll wake up on my son's bed, having put him to sleep three hours earlier." Like other New Radicals, he talked about the joys of spending time with his family. Plus, he plays hockey once a week. "I'm terrible but I love it. It's really Zen -- for an hour I'm completely in the moment." Phillip also said that the women in his life encourage him to take time. "My wife, my mother and my sisters are all really supportive. The challenge is acting on it."
4. Claire Adams Williams, Hope Runs
Hope Runs is a non-profit NGO working in Kenya and Tanzania, using athletics, education and social entrepreneurship to empower AIDS orphans. Clare has more than one full-time job so, while she recognizes how important unplugging is, she finds it incredibly hard to do -- and that finding ways to stop thinking about new things to do is the hardest part. "I find writing works, whether blogging or finishing my book, The Choice Effect." What else? "I like running (she laughs), sleeping, and watching The Real Housewives of NYC ... although I'm not supposed to admit that one!" Ever the multi-tasker, she also likes to read while on the elliptical -- and not just read, but also tweet, and watch TV. I'm exhausted just thinking about it!
5. Betty Londergan, WhatGives365
Betty Londergan went to see Julie & Julia, the delicious movie about Julia Child and blogger Julie Powell. That night, as she was falling asleep, she wondered what she would blog about for an entire year. Standing in her kitchen the next day, it hit her. "I could write about giving money away!" Betty's dad left her a small inheritance and giving it away seemed like a great way to honour his legacy. But why donate it in one fell swoop? Why not share it with a bunch of people and organizations doing good works? So, each day this year, Betty is giving $100 to a cause that moves her. And writing about it on her blog, WhatGives365. Blogging each and every day is a huge commitment of time and energy. So, how does Betty unplug? "I'm finding it really hard to make time for myself this year, juggling all the things I've chosen to do." When she can stop for a bit, she likes to do something physical, like play tennis. She says that TV doesn't work and that reading is out of the question. "I'm saving up all of my New Yorkers." She also makes me laugh. "I'm probably going to be your worst relaxer, Julia." She says that her husband ("who I've pretty much abandoned while on this journey") would love the two of them to take a trip together. "But for this year, I'm just not into anything but the writing."
6. Patty Johnson, North South Project
The North South Project brings products designed and made in the southern hemisphere to northern markets. Patty finds it really hard to step away from her global business -- and raising a teenager -- to take care of herself each day. Instead, she tries to build in time to get away from it all. "As a designer, I like to look at new things. But I've discovered that re-looking is good, too. So, every few years, I like to revisit familiar art and architecture to benchmark my own creative progression." When she's at home, "I love to hang out with friends and family, especially those who aren't connected to my work in any way."
7. Michelle and Tal Bevan, Emerging New Radicals
Tal and Michelle had successful corporate careers before organizational change prompted a rethink for both of them. "We decided to take some time and contemplate what we wanted to do with the next phase of our lives, knowing that it had to be something with a sense of purpose." They're working together on a start-up and find that the demands of the project combined with being together 24/7 has made it really difficult for them to take breaks. "We've discovered that we need to encourage one another to stop from time to time." When they do, what nourishes them? "Long walks, slow food dinners and connecting with friends." And they do mean long walks -- sometimes their jaunts stretch out for two or three hours, in all kinds of weather.
8. Andrea Knight, Azrieli Foundation
This Canadian foundation produces the Azrieli Series of Holocaust Survivor Memoirs. Andrea is the managing editor of the series, and a friend, so I can tell you first-hand that she has a very full life that includes her work, two teenagers and her aging parents. But she recently found a way to care for herself in the midst of it all. "I bought an iPod, and it has changed my life. I can walk for miles listening to great music that energizes me -- Regina Specter, Grace Slick, Janis Joplin, the Beatles, Leonard Cohen, Gordon Lightfoot ... I get exercise and decompress at the same time."
9. Joel Greenberg, Studio 180
Studio 180 is a theatre company with a mission: socially relevant theatre that provokes public discourse and promotes community engagement. Joel is the artistic director. Does he find it difficult to unplug? "It is among the things I do poorly and irresponsibly." And he means it. "I rarely schedule real personal time -- projects and prospective projects are always a higher priority." Unlike the rest of us workaholics, he's actually figured out why he does it: "Working all the time satisfies my insecurities." He knows it's not healthy, but does he ever actually stop? "Yes. I love to cook, and when I can, take the entire day to prepare, including food shopping and table prep -- the whole deal." And he's trying hard to shift. "My wife has been remarkably patient with my obsessive nature, but she's tired of traveling on her own. So this year, we're traveling in June and then heading to the Berkshires for a month. I would like to believe this means I'm finally making [personal time] a priority."
10. Richard Derham, TurnAround Couriers
TurnAround Couriers is a competitive courier business operating in downtown Toronto that hires only at-risk youth. Richard is founder and general manager and, with a growing company and young family, is always in the running for "world's busiest person." He finds gardening in the summer and playing indoor football in the winter very therapeutic. "Reading with my children and reading a good book myself" is good, too, especially if accompanied by a bottle of beer. And Richard and his wife cover each other off periodically so that they can "go solo" for 45 minutes or so to recharge alone.

What do I do? Like many New Radicals, I like to do something physical to get me completely out of my overly-filled, overly-tired head (in addition to my business, frequent travel and this weekly column, I'm writing a new book). Walking is good, because it's always just outside my door. Kayaking and hiking when I can. Now, what about you? And, yes, we'll check back in with these New Radicals at the end of the Unplug/Recharge Challenge to see if anything's changed.

Julia Moulden is on the road, talking about the New Radicals. Her new book -- on boomers and meaningful work -- will be published in 2011.
Popular in the Community