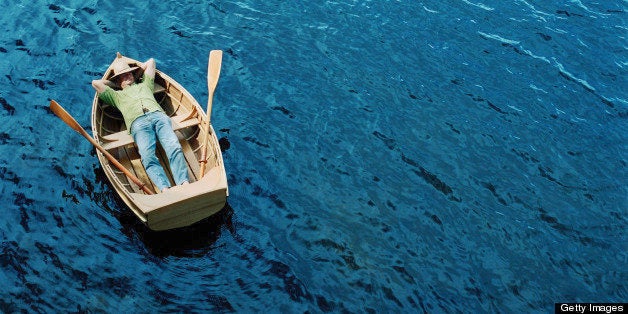 You think if your stress would loosen its chokehold on you, then you could relax. But you have it backwards: If you learned to relax, then stress would recede. That's because relaxing is a practice, and like a muscle, and you need to use it -- or lose it.
Your sympathetic nervous system gets all the action -- its job is to respond to stressful situations by equipping you with what you need to cope. The parasympathic nervous system does the opposite -- it's responsible for what Herbert Benson coined "the relaxation response." If you don't train yourself to relax, your body essentially forgets how to do it (and that's the uber-layman's term version, but you get my point).
Here are a few things to do today to reengage your parasympathetic nervous system and relearn what it means to relax.
Not forever! Just for now. Your email, your phone, your tablet, whatever -- can drain you of energy if you let it. Take a break from your electronics periodically to reenergize and ward off fatigue and relieve physical and mental stress. Try 30 minutes each day minimum, and at least an hour on weekends. When you remove the incessant chirp of your phone or email, you allow yourself to sink into a focused activity and not feel so incredibly on edge. Try it.
Bonus: Do one gadget-free activity each day: go for a walk, meditate, have a one-on-one lunch without your phone in your hand.
The great outdoors has tremendous healing properties for mind and body, and research bears this out. It's also one of the easiest and cheapest ways to reduce stress. Eat lunch outside, take your meeting or call on a walk. Try your hand at some gardening. The only thing better than walking through nature is being down there in it. Lose yourself any outdoor physical activity, and you'll get out of your head, which is exactly what you need.
Try a No-Bells, No-Whistles Meditation Practice
There's mounting evidence that the simple practice of mindfulness meditation can ease anxiety, promote relaxation and reduce stress, and reduce negative emotions while increasing feelings of compassion and joy. And you don't have to contort yourself into a yoga-inspired pretzel to do it.
Any repetitive action can be a source of meditation, says Herbert Benson, MD, author of The Relaxation Response and director emeritus of Benson-Henry Institute for Mind Body Medicine in Chestnut Hill, Mass. This includes walking, swimming, painting, knitting -- any activity that helps keep your attention calmly in the present moment. When you catch yourself thinking about your job, your relationship or your lifelong to-do list, experts say to simply let the thought escape, and bring your mind back the repetition of the activity. Try it for just 5 to 10 minutes a day and watch stress levels drop.
Even better: Hit two relaxation birds with one stone and park yourself outdoors for just 10 minutes, sans book or music, and take in what's around you -- all the sounds, sights, colors, sensations. Let yourself truly experience stillness in nature, and you'll return to your desk refreshed.
You won't relax overnight -- real stress relief requires attention and practice.
Take our 28-day challenge to address your stress. You'll get a free assessment that helps you identify the root causes of your stress and have 28 days of unlimited access to your customized action plan to help you tackle them.
Jan Bruce is CEO and co-founder of meQuilibrium, www.mequilibrium.com, the new digital coaching system for stress, which helps both individuals and corporations achieve measurable results in stress management and wellness.