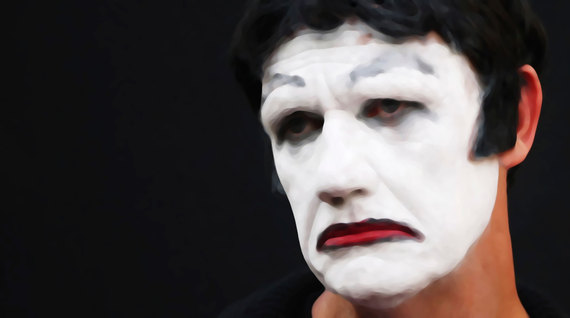 Mocking the French is passé. Fun, but passé. There's much to be admired in the French. Theirs is a cultural of intellectual rigor, deeply entrenched identity and a healthy disdain for dimwits.
What a shame, then, to learn that today's Gauls are rushing to the so-called Mindfulness Movement, known to them as pleine conscience. According to this Worldcrunch report, translating from Le Monde, at its center is 71-year-old American Jon Kabat-Zinn, who's been pushing peaceful platitudes for 30 years.
Le Monde's reporter, Yoanna Sultan-R'bibo, attended one of Kabat-Zinn's workshops:
On the sidewalk of rue Richer before his presentation, people were elbowing their way into line for the Folies Bergère. "It's the first time one of our conferences was booked up in just a few days," says Arnaud de Saint-Simon, director of the magazine Psychologies and the event's organizer.

The audience included many women, mostly aged 30 to 60, as well as some couples.

Many were experienced in meditation. "My psychiatrist recommended I be hospitalized after a 'burnout' diagnosis," one says. Overwork is frequently what attracts people to meditation. Others say that it helps them escape negative thoughts, to be patient with their children and even to manage chronic pain.

Doctors and psychologists often recommend meditation. Many others learn about the practice from books. Kabat-Zinn's 2010 title Arriving at Your Own Door: 108 Lessons of Mindfulness sold more than 50,000 copies in French, and popular French psychologist Christophe André sold more than 350,000 copies of his book Méditer, jour après jour (Meditate, day after day).
Like their American counterparts, the stressed French middle-class (be it from burnout or boreout) are looking to their phones for a quick fix. According to Worldcrunch, "the smartphone app for Psychologies, created with Christophe André, is among the 20 most downloaded in France." There are more than 180 "mindfulness" teachers practicing in the country that gave René Descartes, the rigorously logical philosopher who "refused to accept the authority of previous philosophers, and refused to trust his own senses."
There's nothing wrong with meditation, whether it's zen, vipassana, transcendental, guided or just staring at leaves blowing in the goddamn wind. But why must everything become a "movement"?
Naturally, Jon Kabat-Zinn held a workshop in Davos during the World Economic Forum; the world's put-upon elite will buy anything that's packaged and pimped properly. You know who else meditated, don't you? That's right.