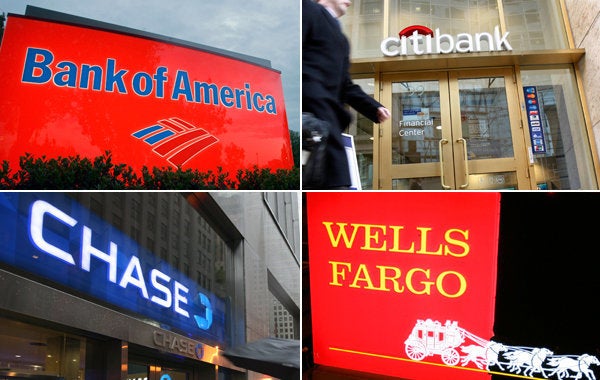 Wall Street's largest firms will undergo scrutiny by the Federal Reserve in the coming months, as they submit to a new round of "stress tests," designed to gauge their financial health, the Financial Times reports.
Like the earlier set of tests, completed in 2009, these will attempt to determine whether financial companies are able to withstand another crisis. But while the results of the first tests were made public in an effort to reassure taxpayers and investors, the results of the new analysis -- which will also test whether banks are able to increase the dividends they pay to shareholders -- will be kept secret.
For the 19 financial groups under review, this will be the first time since the financial crisis that they have had to be tested simultaneously, the New York Times noted.
The banks -- including Citigroup, Bank of America, Goldman Sachs, Wells Fargo and JPMorgan -- have seen regulators limit their ability to pay dividends, in the wake of the historic $700 billion taxpayer bailout.
Of particular concern to the Fed will likely be the banks' ability to weather the recent controversy in mortgage and foreclosure documents. As employees of the nation's biggest banks have admitted to botching, misplacing or even falsifying crucial mortgage paperwork, investors have been pressuring banks to buy back billions of dollars' worth of securities. As banks contend with lawsuits, losses for 11 financial firms could reach $179.2 billion, according to an estimate from Compass Point Research and Trading, in Washington.
Regulators will also attempt to determine whether banks will be able to meet new capital requirements, outlined under last year's Basel III agreement. The accords, designed to encourage regulators to force banks to bolsters their defense against losses, require that banks hold the equivalent of 8.5 percent of their assets in reserves by the end of the decade.
After the first set of stress tests, 10 banks were required to raise $75 billion, a sum that was smaller than many expected. Those tests, hailed by the Treasury, were criticized by others as an exercise in restoring complacency, at a time when the financial system still faced significant challenges.
Calling all HuffPost superfans!
Sign up for membership to become a founding member and help shape HuffPost's next chapter