I am mindless today. I just returned from a week where the only decision I had to make each day involved the angle of my sun umbrella and pretty much the beach butlers at the Grand Velas Riviera Maya resort made that one for me. Yes, beach butlers. There were also pool butlers and room butlers and I think maybe butlers for the butlers, but frankly I just got too mellow to keep track. I loved them all. And they are all responsible for my mindless state today.
Generally, I shun mindless vacations and the people who would take them. I travel because I am curious about the world and while others may enjoy checking off items on their bucket lists, I prefer to watch my list grow. The more I see, the more I want to see. Vacations have been, for me, things I return from exhausted. My husband? He is worse than I am. I remember a flight layover in London once where he had us utilize the 14 hours between planes by sightseeing --pulling our carryon wheeled luggage over cobblestones and up and down steps to the Underground. I begged for the mercy of a pub stop, only to fall asleep in a corner booth with darts whizzing by my head. He woke me up because we had time to squeeze in a stop at the Victoria and Albert Museum if I could just stay awake.
"You can sleep on the plane home," is his motto. I love him regardless.
Truth is, we live our daily non-vacationing lives at pretty much the same warp speed as our vacations, zooming between home and work and kids' activities and errands and back home again. We communicate by text because it's faster and less time-consuming than a phone call. We sync our family calendars and set alerts so that it's not unusual for our four cell phones to all go off at once -- a cacophony of music to the ear of the over-stressed, which frankly, as a family, we are. We constantly check emails and I must sadly report that I no longer can enjoy a meal out without first posting a photo to Facebook of what I'm about to eat. I am a product of these times, I tell people. And, if pressed, I admit I don't know how to step off the electronic treadmill.
Until this vacation, the one which my husband surprised me. He fought his natural instincts and booked us in a fancy-schmancy spa resort that prides itself on letting you do nothing. By Day Three, I half expected the butlers to turn the pages of my beach book for me. Actually, they might have. I just got too mellow to notice.
And it wasn't just me who went mindless. On Day One, all four of us took simultaneous two-hour naps; we fell into the snoring kind of deep sleep -- right out there in public on lounge chairs parked on a white sand beach with waves lapping in front of us. I suspect the beach butler wiped away the little drools from our mouths.
I'm not even sure how we woke up but when we did, my constantly quarreling children had been replaced by look-alikes who got along. My real husband, the one who would have maps and guidebooks spread out in front of him with routes highlighted, was gone too, replaced by a man who was ordering me a drink and suggesting that tonight, Mom and Dad might dine alone. Me? I forgot my name -- or at least my passwords, every single one of them. I no longer cared whether the finicky toilet at home was acting up or if the doctor renewed my husband's prescription without me calling and checking six times daily like I normally have to. I not only didn't check emails, I also didn't text the dog sitter to make sure my fur babies were surviving without me. (Miraculously, they managed.)
We had left California and wound up in the state of Relaxation, a place that we hadn't visited in a very long time, like maybe never.
We made a feeble attempt to visit some Mayan ruins. We dutifully rented a car and stopped at interesting-looking places along the way, but mostly we gazed out the car windows and daydreamed. The kids didn't even use the earphones that I thought were permanently affixed in their earlobes. One snapped some photos until our phone camera let it be known that iPhones and humidity aren't great friends. The idea of a photo-less vacation would otherwise have triggered stress and sent me into high gear of problem-solving. Instead, I just tossed the phone back in the suitcase and nodded in agreement when my daughter said, "We will have photos in our memories instead."
I think the Dead iPhone Butler came to fix it while we rested. It worked fine the next day.
So when my colleagues asked me today how my vacation was, I was a little hard-pressed to describe things. We ate well. We slept well. We saw little. And for the first time in my life, I understand what it means to take a vacation.
As we were leaving, I spotted a fellow hotel guest wearing this shirt.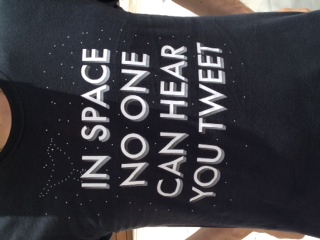 PHOTO GALLERY
The Roaming Boomers
REAL LIFE. REAL NEWS. REAL VOICES.
Help us tell more of the stories that matter from voices that too often remain unheard.