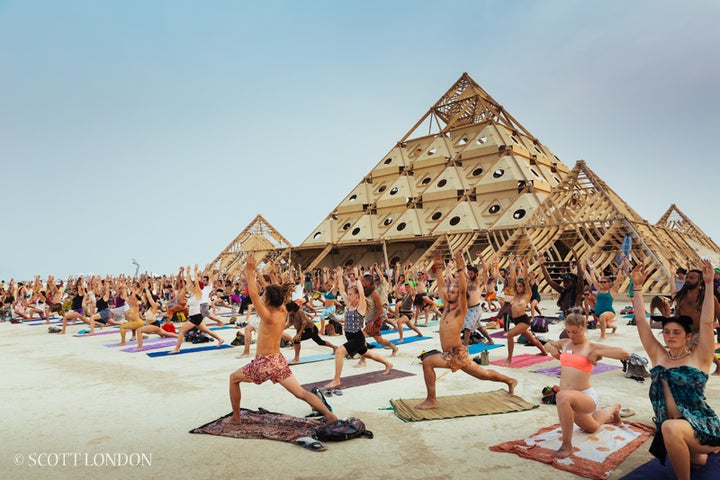 Yoga has become a music festival mainstay that adds mental and physical balance to the sometimes debaucherous all-night celebrations that these multi-day, camping events entail. Whether it's having a laugh with a parody yoga class at Symbiosis Gathering or indulging in beer yoga (yes, that is an actual thing) at the Vail Craft Beer Classic, there are all sorts of ways to get bendy at your favorite festivals. After compiling opinions from both festivalgoers and festival-professionals, these are six of the most highly praised festival yoga experiences.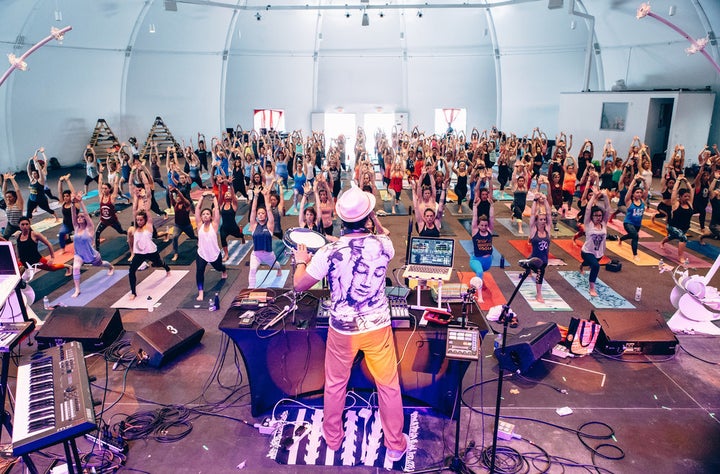 Though not a music festival per se, this yoga-centric event does incorporate music into the practice, but its lineup is not based around it. Taking place in a lush canyon within the San Juan Mountains of southern Colorado during the peak of summer's warmth, this event's lineup is centered around a collection of world renowned yoga instructors with a gourmet plant-based chef and a DJ who specializes in Kirtan and world music also in the mix. Because the entire festival revolves around yoga, there are classes ranging from traditional Vinyasa to yoga dance party to slackline yoga. Telluride Yoga Festival is a place to find strength, balance, connection, and peace.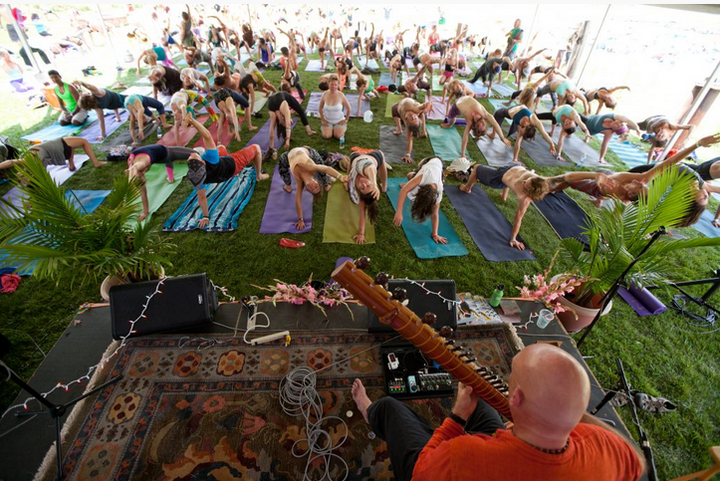 ARISE takes place on the expansive Sunrise Ranch as patrons blissfully stretch and dance on green pastures. While promoted mostly as a music festival, yoga is of equal importance to many attendees and has been boasted for its extensive array of classes and instructors. With more of an emphasis on family, education and healthy living rather than on partying, ARISE is the ideal place for the yoga-loving festival-devotee who is seeking growth and self-improvement.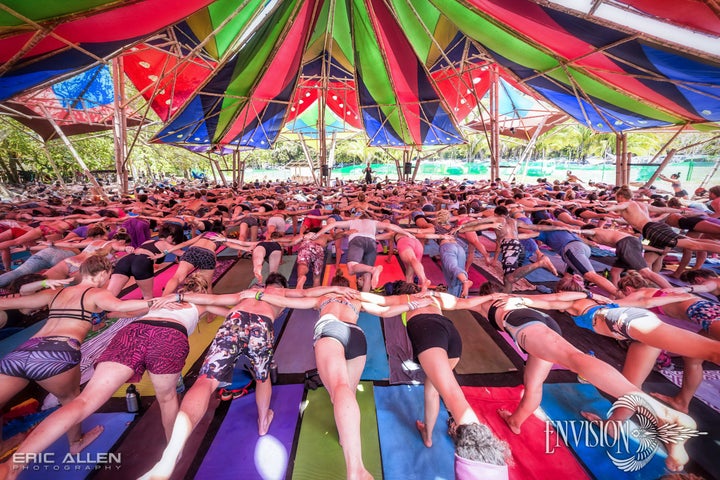 Unfortunately, this festival has already passed, but it would be a disservice not to mention it. Featuring world class yoga and acro-yoga instructors, the only thing that beats the lineup of teachers is the location. Nestled in a jungle that hugs the Pacific shoreline of southern Costa Rica, practicing yoga as howler monkeys harmonize around you and the steamy, equatorial air loosens your muscles, is a visceral experience. While a gigantic insect may land upon the peak of your downward dog, it's all part of the jungle yoga magic.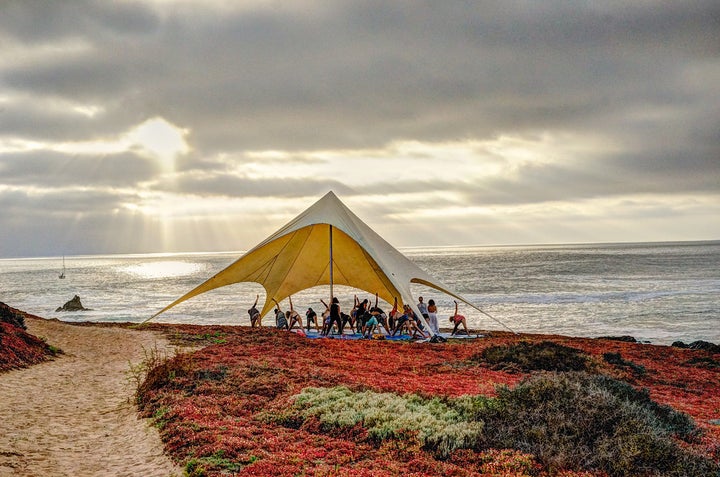 Combining the best of desert and sea, Genius Loci is an intimate gathering where music, surfing and yoga all share equal importance. The yoga zone is situated on a bluff that overlooks the ocean where sunrise sessions are held as the salty air purifies and the distant music vibrates. Because the event is so small, yoga classes are not overcrowded giving attendees ample space to move through their positions. Mostly populated by the southern California transformational festival community, it is slowly growing and attracting visitors from all over the U.S. and Mexico.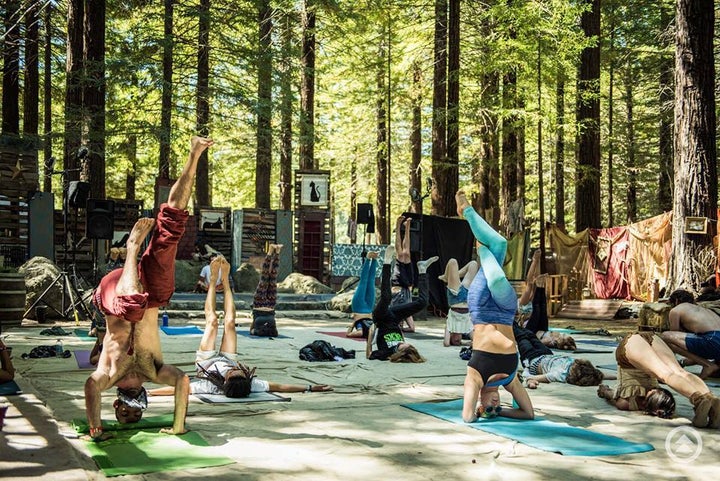 Located on the borders of Humboldt and Mendocino counties in northern California, Northern Nights' exquisite landscape is an enlightening experience on its own. The festival itself is nestled alongside the pristine Eel River, adding the cleansing properties of cool, river water to this forest party. It's easy to see how this can be an ideal place for yoga, beneath a natural cathedral of mighty redwood trees. With ample shade and fresh air, Northern Nights is the ultimate place for the mountain-loving yogi to practice.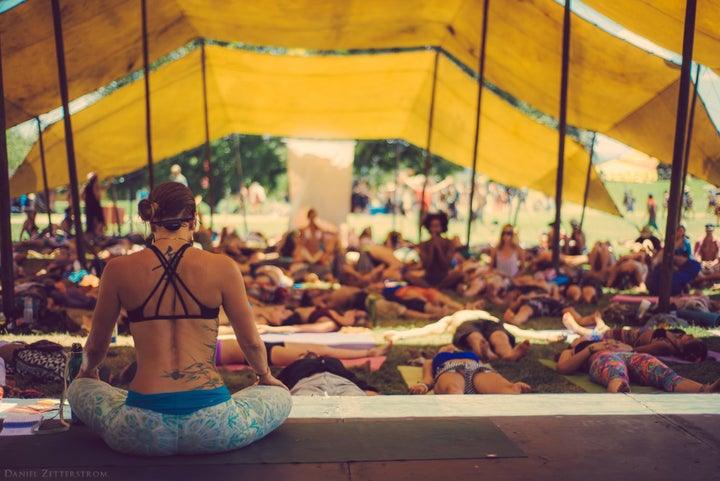 Do LaB's Lightning in a Bottle has become a pinnacle for transformational festival culture. Its longevity, growth, and incomparable aesthetics makes this a premier event attracting guests from all over the world. Because of its large following and vast location, all variations of yoga are offered around the clock, making it easy for attendees to work it into their schedules between the miles of walking to stages, camps, art, temples and attractions. The variety and frequency of classes results in sessions that accommodate all skill levels—from master to first-timer. Lightning in a Bottle has much to share in music and art, but there are many who come back every year just for the yoga.
Related
Popular in the Community