Last February, New Zealand romanced me for three weeks from Northland to Queenstown, and I returned home with less than half my heart. On the evening of October 13, 2009, I'm flying back to visit my cardiac parts. I hope Air New Zealand can help me meet a Kiwi who will give me a reason to stay, whether it's to dance the light fantastic or clean his castle.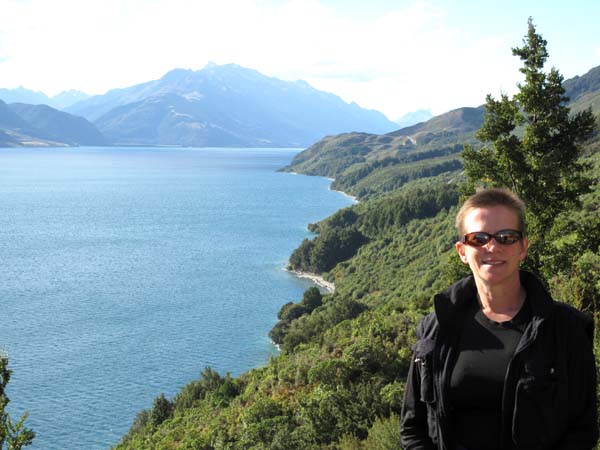 Terry Gardner, View of Glenorchy and Lake Wakatipu on South Island near Queenstown
Before I misplaced my heart, my friends thought I'd lost my mind. They felt letting Air New Zealand shave my head for a free roundtrip flight to New Zealand was a sign of madness.

I was one of 30 lucky Angelenos chosen to be a cranial billboard last October for the airline. Our reward was $777 cash or a free roundtrip ticket from LAX to Auckland. Surprisingly, half took the cash. After shaving our heads, tattoo artists painted henna tattoos on our craniums that read: "Need a change? Head down to New Zealand. www.airnewzealand.com ."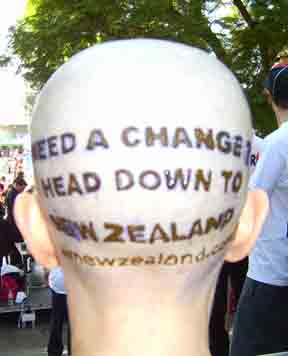 Terry Gardner the Billboard (Photo by Air New Zealand)

Being a human billboard was an amazing journey in itself. But it was not conducive to romance. The only people who adored my short, short hair as it grew back were lesbians. Such praise led me to rub my head rapidly, chanting sotto voce to my hair: "Grow, hair, grow."

Of course, lesbians were kinder than many shoppers I met at the supermarket. When people didn't see the tattoo, as they averted their eyes, I could hear them thinking: "Poor dear, she must have cancer," or "poor thing, hope the brain surgery worked."
My girlfriends all thought I needed brain surgery. What kind of woman shaves her head for travel?

Unexpectedly, men were more supportive. Most appreciated my sense of adventure - trading my hair for a free flight. But none asked me out.
So when Air New Zealand came up with a Matchmaking Flight this summer, I figured "What do I have to lose?"
Wouldn't it be poetic if the airline that took my hair last year could find me love this year -- now that I have hair to go with my heart? The matchmaking concept made sense to me because I found Kiwi men and women so down to earth. They accepted me just as I was -- with only two inches of hair on my February visit.
Of course, I didn't buy my ticket on the matchmaking flight just for love. Air New Zealand "made me an offer I couldn't refuse" when it offered potential "matchmakees" (via matchmakingflight website) $200 off the already reduced $784 roundtrip fare.
Plus, since I advertised an airline on my cranium, most of my editors weren't interested in a story where I didn't pay for my flight. I needed to go back to be able to write about this amazing country.
On October 13, 2009, I head back to the lush green landscapes and breathtaking ocean views of New Zealand. I'll be in one cabin set aside for matchmaking. I don't know about the 99 other matchmaking passengers, but I think our odds are high for forming friendships even if we don't make a love connection.
After dating a lunatic from Roswell, New Mexico and corresponding with a potential terrorist through e-Harmony, I think an airline can do better. A Seatguru study this summer revealed that 29% of passengers report going out with someone met on a flight, so I think my odds are better on a plane than online.
Whether any of us find a match on the plane or at the Matchmaking Ball in Auckland, I'm certain more hearts will come to quicken like mine at the very mention of New Zealand.
I'll be keeping you posted from New Zealand where I'm scheduled to go zorbing, bungee jumping, skydiving and glacier hiking after I meet my prince (or pauper) at the Ball.
Some friends asked if I hoped the matchmaking flight could admit me to the "mile high club," but the thought of being offered "coffee, tea or quickie?" has no appeal to me.