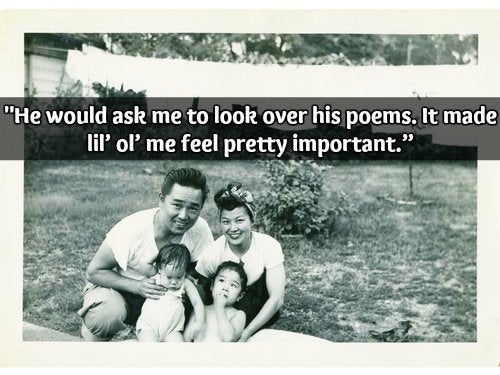 Truth is, they can be just as goofy, embarrassing, and caring as any other dad. And though some may not explicitly say it, they love us and show it in the most powerful ways.
In honor of Father's Day on Sunday, HuffPost asked readers to share the sweetest thing their "strict" Asian dad has ever done. From working several jobs to make it in America, to going great lengths to cure their child's homesickness, these stories prove that our fathers are perfect in their own ways.
Check out the sweet stories below.
The Dad Who ― Rushing Out Of His Restaurant Job ― Endured A Burn To Be There For His Kid
"My dad heard I was crying at my nanny's and rushed to finish cooking at the restaurant he worked at to get to me. Consequently, he accidentally gave himself a third degree burn from the wok in his effort to be there for me. There are moments like this throughout my childhood where he put me first despite his own comfort. I am indebted and sincerely grateful." ― Jessica C.
A Father Who Drove Taxis And Worked Odd Jobs For His Family
"After arriving in the United States trained as an engineer, he took a number of odd jobs to provide for our family ― [he] drove taxis, was a security guard in a casino, and also worked a booth at a flea market. The sweetest and most meaningful things aren't always the ones that make for a pretty picture." ― Juhi T.
The Dad Who Didn't Have Birthdays Growing Up, And Used His Lunch Break To Plan His Daughter's
"My dad has always made a big production out of me and my sister's birthdays, stringing up the entire house with streamers and balloons. We used to go to bed early the night before our birthday, unable to sleep but giddy about the idea that our dad was on the other side of the door, transforming the house into something magical and just for us.

But when I turned 16, my dad had moved to an office nearly an hour away and didn't have time to decorate.

So I went home after school, expecting nothing. But when I opened my bedroom door, I was welcomed by a freaking RAINBOW of decor. Even the windows were covered with paint markers. My dad had driven the distance during his lunch break, decorated my room (wicked fast probably), and then drove all the way back to work.

Yes, my dad grew up in the typical poor, strict household in then-undeveloped Korea where birthdays came and went without notice. I guess when he moved to the States and had my sister and I, he wanted to do things differently, and he did." ― Sarah J.
The Poet Dad
"He was a poet and he was always so proud that I liked to write as well, so he would ask me to look over his poems. It made lil' ol' me feel pretty important." ― Christine K.
The Dad Who Drove For Hours To Pick Up His Homesick Daughter
"It was a Friday of my freshman year in college and I was both car-less, friendless and homesick. I called my dad, crying that I had made no friends at school and I wished I could come home. So to my surprise, my dad drove 3.5 hours up to get me and 3.5 hours down to take me home. I forgot to mention he had worked a 10 hour shift and opened that morning.
And after the weekend was over, he did the same thing without letting me, or anyone else in my family, help him drive. I love you dad!" ― Megan-Joy D.
The Cheerleader Dad
"I was the 'dumbest' out of four siblings, because the rest were freaking child prodigies. But my dad, gosh, he knew I would face a lifetime of feeling inferior, so he always had my back. He ALWAYS built me up. Some of his last words to me were 'not only are you the smartest out of all of them, you're the most beautiful.' Only the last bit was true." ― Nama W.
A Father Who Left A Celebration To Comfort His Crying Daughter Over The Phone
"My parents are in a traditional arranged marriage, and never told me (nor my three other siblings) 'I love you' until I said it first at age 18. My dad never had to say it for me to know.

The sweetest thing my papa has ever done is just one moment out of millions. I was newlywed, living across the country from my family/friends, and my husband had just been deployed overseas. I called him sobbing, and apparently he walked out of some celebration/party he was at just to listen to me cry. He would tell me it's okay, that he's still with me, and listened for 30 minutes until he finally told me 'now tell me about everything beautiful in your life.' He's always there to pick me up during my darkest days and to celebrate my grandest achievements. I'm beyond blessed to call him my papa and my friend." ― Jennifer B.
A Dad And Stepdad Who Both Ensured Their Son Would Feel Valued
"Both of my dads―birth dad and stepdad ― are very sweet. When I was younger, my birth dad will always say 'I love you' in the morning, when I woke up in the a.m., with a smile. After my birth dad passed away, my stepdad became my father figure. When I was 23 years old, he gave me an encouraging talk when I came out during the holidays. That was when I got comfortable calling him dad." ― Wendell S.
The Dad Who Planned A Museum And Pie Date To Spend Time With His Family
"My dad decided one weekend to take to the Corning Museum of Glass, which was a good three or so hours away. His plan was to take us to the museum and to a diner that 'had the most delicious pies.' I was young and a brat, so I sulked the whole time about it being far and I didn't see the point in a museum of full of "stupid" glass stuff. My dad's been gone for 25 years now, and I think back to those times and wish I had appreciated them - and him - more." ― Vincent C.
And The Dad ― Who Is Many Of Our Dads ― Who Curled His Daughter's Bangs Before School
"He used a curling iron to curl my bangs under before I headed off to elementary school. I recall thinking to myself 'wow! I don't think he has ever used one of these things before today. Does he know what to do? Will he burn my forehead?!'" ― Angelique L.