As I sat in a glass capsule 541 feet in the air on the planet's tallest Ferris wheel, taking in the almost hallucinogenic view of the skyscrapers and casinos going up in the world's fourth richest per capita country, I had one thought:
Don't make the mistake I did. I almost didn't come to Singapore.
Why? First off, if you're like me and not some Deutsche Bank chairman who comes here for business meetings, you probably don't know exactly where Singapore is (between Malaysia and Indonesia.) Or that this powerful island city-state is not much bigger than Chicago.

When I had the chance to go to Singapore and asked around, people's eyes glazed over. It's supposed to be clean, they said, and you can't chew gum. They're really strict and might cane you.

I went anyway. I chewed gum (to see if I could) and did not cause an international incident.
But the real surprise was landing in this lively, ultra-modern nation, which feels like a souped-up, Philip K. Dick sci-fi version of the new American Dream. Except it's in Southeast Asia. It's now poised to become a family-friendly tourist destination -- after being known best for a great airport for stopovers en route to somewhere actually exciting.
In Singapore, you can eat some of the world's best food, shop until you drop on grand, glitzy Orchard Road, walk around freely at 3 a.m. in stiletto heels and diamond rings, gamble in two brand-new giant palaces -- even catch some major air 10 minutes from the city center at a cable-wakeboarding park.
Who knew there was even a Universal Studios theme park here? Maybe because it just opened in March. It's located on exclusive, multi-million dollar mansion-studded Sentosa Island, a three-minute trip from the city center via a causeway. Just before you get there, you see the Hollywoodland-type sign SENTOSA looming above Flintstone-style rocks. It's reminiscent of Orlando, Florida except on the South China Sea and without any Hooters restaurants.
English is the dominant language here and, most startling, because it's still an 18-hour flight nonstop from New York, Singoporeans are so familiar with American culture and TV that you catch yourself discussing who was on Oprah or Letterman last night. Personally, I was thrilled to find copies of the National Enquirer in a local doctor's office because I live in France and never get to read them.
The doctor isn't just anyone, by the way. He is Dr. Woffles Wu, Asia's superstar plastic surgeon, famed, among other things, for the non-surgical Woffles Lift. I saw some of Woffles' most celebrated patients, famous socialites and stars from Hong Kong, arrive for their monthly touch-ups or operations by Wu and I'd talk to them just minutes after they were done. All were under the spell of the charismatic Woffles, a Singapore bon vivant, who is as knowledgeable about art and architecture as he is with the planes of a woman's face.
If you just want to immerse yourself in a totally foreign culture, Singapore might not be for you. In Japan, for example, you often still have to point and gesture in restaurants because English is not widely-spoken.
But for those who like their Asia lite, it's sometimes like getting the best of two hemispheres. Americans will feel at home since it's an immigrant nation comprised of people of Chinese, Malay and Indian descent and 42 percent foreigners.
However, even if everyone watches American Idol and there are Starbucks and Coffee Bean and Tea Leaf cafes all over, Singapore is not actually a super-suburb of New York City. They will let you know this. Two different Singaporeans, after learning it was my first trip here, called me a "country bumpkin."
The politics certainly aren't American; the country was almost singlehandedly dragged from being a tiny colonial outpost with little hope of prosperity to a First World nation by one tough-minded man, Lee Kuan Yew, now 87, who was prime minister from 1959 to 1990.
Yew's son, Lee Hsien Loong, is now Prime Minister but Yew's title is Minister Mentor and he remains a major symbol of authority.
Nor is Singapore the new Las Vegas -- despite the official opening next month of the new $3.85 billion Marina Bay Sands hotel, right on the heels of the Resorts World Sentosa. They are the first so-called "integrated resorts," which is a Singaporean euphemism for a casino-based hotel.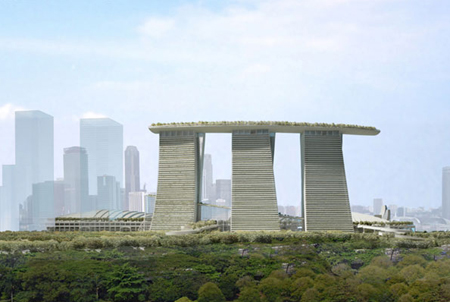 Marina Bay consists of three 55-story buildings joined by what looks like a long surfboard at the top. It dominates the new Singapore skyline like a massive control tower designed to supervise travel to the rest of the galaxy.
It was developed by the giant Las Vegas Sands Corp., but like everything else here, Singaporeans have put their own stamp on it -- a mix of strategic Western savvy and ancient customs.
I learned how important Feng Shui, the 3000-year-old Chinese art of positioning things in such a way to achieve good energy and success) was to the design of Singapore when I was aboard the Singapore Flyer, the giant observation wheel which, like a lot of Singapore's new attractions, was built specifically to be an iconic structure.
The wheel was designed to move counter-clockwise but it was changed to turn clockwise after a few months so the good qi would be directed back to Singapore itself.
To avoid the garish styles of Vegas and Atlantic City, Singapore has used Feng Shui principles, as well as some of the world's best architects such as Daniel Libeskind, Norman Foster and locally-based superstar, the Yale-educated Soo K. Chan , to carve out its modern skyline, some of which, like Marina Sands, was built on reclaimed land from the sea.
The structure of Suntec City, for example, looks like a human hand, with the 18-story Suntec City Tower representing the thumb, the four office towers the fingers and the convention center the wrist. The huge "Fountain of Wealth," represents a gold ring at the center of the palm.
I heard about the fountain on the Flyer and it was my first stop after I got off the ride. At the fountain, should you want to reap future riches, you make a wish with your eyes closed, touch the water with your right hand and walk around the circle three times.
Singapore's emphasis on success is infectious and it's rep for being super-clean (try the spotless, almost Matrix-like subway) and safe is true.
But some of favorite moments were not always the flashiest. I liked watching the meticulously-curated history of Singapore, especially the old photographs of rickshaw drivers and their imperious "memsahib" passengers during Singapore's heyday as a British colony, at the Singapore Historical Museum.
I almost passed out from the noonday sun and humidity at the Singapore Botanical Gardens until the director, Dr. Chin See Chung, another Yale grad, whisked out a giant parasol for me as if I were modern-day memsahib. Then I just lost myself in the famous orchid garden-within-the-garden.

The culinary highlight of my trip: feasting on the deceptively-simple sounding national dish, chicken rice. The local Asian Food Channel star Seetoh is the best person to call to find out the best places to eat in Singapore.
We went to the bustling, informal Wee Nam Kee Hainanese Chicken Rice Restaurant on Thomson Road, one of the two best places to have chicken rice in Singapore, he said.
"Singapore food is a bastardized version of the best of Asian food," said Seetoh, as I dug into a succulent plate of the boiled chicken, spicy, oily rice and accompanying spices that's based on the Chinese dish called Wenchang chicken that I could have eaten every day.
And no, I never had a Singapore Sling, although I visited the Long Bar at the Raffles Hotel where a barman invented it.