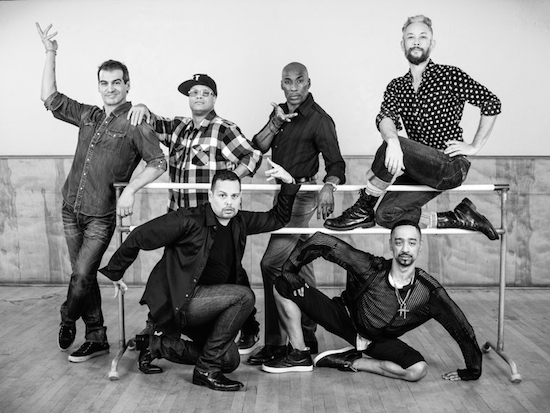 Do you have what it takes to be your true self?
In a beautiful, touching, perfectly made documentary titled Strike a Pose, filmmakers Ester Gould and Reijer Zwaan pose this question to their audience, and enlist the help of a real-life story that goes beyond borders, across art forms and shoots straight through our heart.
In 1990 Madonna asked seven dancers from different backgrounds, different dance disciplines and even sexual orientations to join her on the Blond Ambition world tour. Out of the tour, a film was born, Truth or Dare, starring Madonna and featuring Luis Camacho, Oliver Crumes III, Salim Gauwloos, Jose Gutierez, Kevin Stea, Gabriel Trupin and Carlton Wilborn -- the seven exceptional, young, beautiful dancers.
Fast forward twenty five years, and six of those seven are featured in a perfect documentary Strike a Pose, all the while honoring the memory of the seventh, Gabriel Trupin, who is no longer in this world. His spirit is ever-present in the film and during our interview at Berlinale, where the film world premiered this past January, he was mentioned so often, I knew he was actually with us in the room, in all his essence.
I may end up repeating myself, but Strike a Pose is a cinematic love song to the exceptional men those handsome, talented boys have become, and what shines through in person, when I meet them, is their resilience but also their sense of humor. Perhaps now, even more than then, I see their grandness, their incredible strength, and can admire them fully, because all the secrets are gone. Salim has finally come out to his family about his HIV positive status, four days before our interview in Berlin, and of course in the film. Oliver is able to reconfirm to the world his heterosexuality, which was probably questioned during the tour. And those bigger than life boy dancers, well they are now perfectly human-sized men who make me proud of being a part of the same world they live in.
If cinema ever had the power to change lives, this film proves it. By helping a future generation in realizing that happiness can only be the result of being true to oneself, but also by reminding us that Madonna's film, so many years ago, helped change the lives of countless men and women who hadn't yet come to terms with their uniqueness, and their sexuality.
Sharing an interview room with Carlton, Kevin, Luis, Jose, Salim, Oliver, Ester, Reijer and the spirit of Gabriel was a dream come true. And to think that we may just have Madonna to thank for all that.
What have you all been up to since the filming of Strike a Pose ended?
Luis: I've been choreographing, I dance a little bit still, life for me is progressing on. I'm more settled down now, not as wild as I used to be. I'm getting on in years. Reluctantly.
Jose: For me, teaching, I love dance so I'm going to die on a dance floor. Recently I worked with Baz Luhrmann on a project that's due out in the summer. He's great and it was great to work with him, for a Netflix series starring Jaden Smith, Will Smith's son. He was great to work with. I consulted on the project and I'm also in it. And I choreographed it. Also trying to stay in shape, as you get older everything aches.
None of you can give me that excuse. You're not aging. I saw you all in the film!
Jose: Yeah, did you like that? You can't hear the bones crack in the film?! And the hips pop?
Salim: I teach a lot, I choreograph fashion productions like for example with Coco Rocha, I did Anne Hathaway, a lot of fashion productions. And also what has changed for me in the last year, is I finally came out to my family about my HIV status. It was just my mom and my brother who knew... I told the rest of my family four days ago.
When I was growing up, when we all were growing up, in NYC, it was a death sentence and it no longer is. How far we've come in this fight. It's now a disease like any other.
Salim: If you take care of yourself too. There are a lot of things you can do.
Kevin: I've continued dancing all these years. I can't seem to stop, I love it so much. It's been a journey to find out who I am without it. I came out with an album three years ago under the name That Rogue Romeo, working on a book right now, a memoir, I've been writing a lot in the last twenty years. I cherish the bizzarre moments in this strange business we are in and it centers around those weird little moments and lessons learned from them. And I shot a film with my father last year, which I'm trying to edit and get out now as a documentary.
Carlton: My journey has been full in a lot of different ways. I'm still involved with dance, I've been teaching lots of different ways, on faculties at different conservatories, doing master classes here and there. I've been acting and have a full career there and have also written two books, my first came out in 2007, Front and Center: How I Learned to Live There. which is my autobiography. I've also have been working a lot as a life coach, for the past nine years, have my own curriculum which is "Danceformation" the first ever movement based through dance, in life coaching. So I do events and travel around doing that. That's been turned into a docu-series and shopped at markets, and I also have a scripted show loosely based on my life.
Do you think that dance is a way to heal?
Carlton: For myself, absolutely. If I even look at how I got into dancing it became a fix-it for a part of my life that wasn't working. I've been able to lean on it as I deal with my acting career and some emotional stuff, or whatever. Trying to process words for my books and my writing, I get back into my body, I get back into class when I feel stuck. And things move, they come to the surface.
If people danced more, there would be less wars, perhaps, less struggles.
Salim: You connect to something higher. You just connect.
Oliver: My wife and I have our own studio, it's called Musicology Academy, my wife teaches voice and piano and I have my own department called "Revilo Hip Hop", that's Oliver spelled backwards. I've been teaching since 1989 and I've been teaching for all different studios and finally got my own place. Also, I think it's gonna be either this year or next year, but Christopher "Play" Martin from Kid 'n Play -- I did the stunts for Kid in the movie House Party back in 1990 -- he's doing a documentary on the most influential hip hop choreographers and dancers of the late 80s early 90s. Out of the 500 I'm in the top ten. I'm also a server in Vegas and I still dance, I'm going to be dancing until I go.
There is obviously a very personal connection for the filmmakers, or the film would not have turned out this great love song to these amazing souls. Can you talk a bit about that?
Ester: I thank you for putting it that way, I'm glad it turned out so that you can feel the love. I was about sixteen when I watched Truth or Dare, in Holland as a teenage girl, and these guys made an impact on me. What I loved about them is they were all so different, which you can tell now, and for me personally there is something very liberating about people who are not stuck in boxes. It was very much marketed as Madonna and her gay dancers -- poor Oliver -- but what I really liked about it, they were so different, masculine, feminine, for some reason I loved watching that.
Reijer: The way you are sitting here and being around them, it's the exact same way we've experienced meeting them, one by one. The very first one we met was Carlton, after we knew how many people were looking for them, and how many people had been touched by them as Ester and I had been. We finally got to meet them and didn't know what to expect. This was a film that was twenty-five years old, an ego-documentary about Madonna, and who are they? And then one by one we met them and each time, we would say this is unbelievable. We cried many times during or right after our conversations with them. Because their stories are so personal but also there is this combination of strength and fearlessness and then at the same time the vulnerability and openness that, although I've done hundreds of interviews in my life, I've never seen anything like this. Or like them, I should say.
Reijer, how old were you when you first watched Truth or Dare?
Reijer: I was eleven years old when I first saw it. I remember going to see it with my family and I remember thinking why would I want to see this film. I wasn't interested in seeing it at all. Then I came out of the theater and was like, can I see it again? And again?? We had it on VHS at home and I remember watching the film many many times. I don't even know how many. I knew I felt somewhat intimidated, but I was fascinated too. It wasn't like I watched the movie and was like "oh, I'm gay." But I knew I was fascinated by them, and later you could say it was because I was gay too, but it didn't click right away.
At eleven, we don't really question our sexuality yet...
Salim: I knew I was gay at age five already. Oh yeah. I always knew. I did everything with girls, I played girls' games, I always knew that I was gay.
Oliver: By age seven I knew I was straight! I didn't go for my mom's heels, I went straight for Timberlands.
Salim, for you there were so many layers. Being in the public eye, you were showing so much of yourself and yet there was this secret. You hadn't come out yet...
Salim: I had only come out to my mother. She was the only one who knew. After the tour, being HIV positive and no one really knowing and also I was illegal in America for ten years. So I was dealing with all those situations at that time and never talked to anyone about it. I danced, that is how I survived, with dance. But it was a very tough time. And lonely, but it made me who I am today. I mean, when you're told at age eighteen that you're only going to live for five years... That had a certain impact on me.
You were eighteen! If we all had to pay for the sins of what we did when we were eighteen, we would all go to hell!
Salim: I was eighteen, it was twenty-nine years ago. I questioned myself, why does this happen to me, am I a bad person? I questioned myself. After twenty-nine years I have the answer... My biggest thing too was how am I going to fall in love? I did the film because I wanted people in the same situation to know that you can find love.
Carlton: I love where Salim is right now, and it's making me take a look into what Madonna brought together. She knew that there was a degree of force behind each and every one of us that was unquestionable, and the fact that this man, Salim, could have this quiet reality and still be brazen, out to the world is really just a testament of how incredible each and every one of us is to our core. Despite whatever is. So I think that's just amazing.
Salim, when I knew your story, I was looking for hints of it in your face. I could not find them...
Salim: I was in denial. Don't underestimate the power of denial.
Carlton: But I want to give you credit, Salim because there are a lot of people who have gone through the journey of denial and it doesn't show up as powerful. There's specific credit to you and the power of your will.
Oliver: And the courage you had at the age that you were.
Salim: That's something that I learned from Madonna, when she used to say "mind over matter." That always stuck in my head. If you set your mind to it, you can do it. I think that is one of the reasons I'm still alive. And my dogs, animals are my life.
What do you hope audiences will take away from the film?
Ester: I hope that the film is a cathartic experience, which I just had here now. I believe very much in the power that goes back to the Greeks, the idea that you cry but the tears are cleansing. So in my wild dreams that is what films are too -- I hope that it's what this film is.
Reijer: I would hope people would think about themselves and if they are held back in some way by shame or the fear of what other people think, if they get to think about that, like what do I dare to show of myself. Because it's so much about connecting, if you dare to show your true self, to open up you can actually connect. If only one person walks out thinking, "I want to be me" that's great.
Photo by © Linda Posnick, courtesy of Berlinale, used with permission.
Popular in the Community