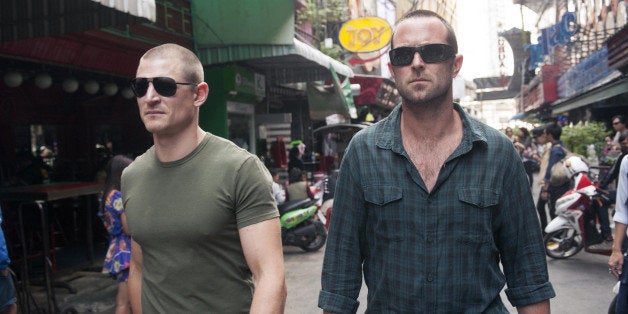 There was a minor hue and cry the other day when it emerged that the fourth season of "Banshee" would be the show's last. It was a pretty tiny ripple in the space-time continuum, given that "Banshee" is a cult action show on Cinemax. But the fact that a small but loyal band of viewers found the show and spread the word about it made the fact that it's ending even more sad, not less. The amount of TV out there is exploding, but in this vast sea of content, when we find something we can truly fall in love with, it hurts even more to lose it.
Not having seen a single frame of the final season of "Banshee," I applaud the show's producers and Cinemax for knowing when it makes sense to end things. HBO's silly faux documentary "7 Days in Hell" would have been torturous as an 8-part miniseries, and "Banshee" would have surely devolved into awfulness as an 8-season endeavor. The other day, I spoke to a showrunner who said he'll never go back to working on a 22-episode season; the exhausted urge to settle for averageness is just too overwhelming.
Of course, 22-episode seasons can be very good and all those other forms have their place, but another wonderful thing about the overwhelming yet robust TV landscape is that TV programs can be as long -- or a short -- as they need to be, and then they're gone. (Until the reboot, that is.)
Forgive me for taking the long way around, but a little part of me doesn't want to admit that the final season of "Strike Back" begins Friday. Without "Strike Back" and "Banshee," the scripted-TV landscape will probably have too few explosions and far fewer scenes featuring quality fisticuffs and enjoyably barbed banter. That makes me a little sad.
But there's no doubt that it's time for "Strike Back" to end.
Having seen seven episodes of the new season, I still have a ton of affection for the story of two special-forces just trying to "save the bad guy from the worse guy," but I'm relieved there won't be anything after this year's adventures end. By all indications, the show has reached the end of its natural lifespan, and putting Michael Stonebridge (Philip Winchester) and Damien Scott (Sullivan Stapleton) on some kind of TV life support in order to crank out another season would have been cruel to the men's legacy of friendship, action and conflict-intensive world travel.
The new season offers the usual enjoyable elements: It starts off in Bangkok and makes good use of a variety of locations in that part of the world, then it shifts to Europe, where, at one point, Stonebridge and Scott attend an opera performance in tuxedos (all fictional undercover operatives must do this at least once, according to the Law of Television).
The action sequences and fights are briskly shot and edited, the supporting cast is acerbically great, Michael McElhatton from "Game of Thrones" and Michelle Yeoh are excellent as a reasonably formidable foes, and Dustin Clare pops up all too briefly as a mercenary who gets in the way of the Section 20 special-ops team. Speaking of cult shows, if you want to see Gannicus from "Spartacus" kicking ass while wearing a mullet, "Strike Back" has you covered.
The worst element of "Strike Back's" final go-round looms pretty large in the first half of the season. It's a contrived story line involving Scott's son, who turns up in Bangkok wanting to get to know his dad. It's not a spoiler to say the young man is put in harm's way, given that it's obvious from the get-go that's the main reason he's around.
Its father-son stuff is tedious and predictable, especially given that we've never met this kid before and he's not written well enough for any jeopardy he's in to matter. In any event, the heart of the show has always been the bro-tastic bond between Scott and Stonebridge, and any flabby subplot that steals time from those two is bound to be a drag.
By this point, you know what you're getting with "Strike Back": Globe-trotting adventure and espionage skulduggery; bone-crunching mayhem involving a crack special-ops team; two dudes who hide good hearts under their cynical exteriors (I love that Scott's terms of endearment for his partner usually include the phrase "f*** you"); and a surprisingly smart take on the toll it takes to serve as the world's unheralded trash collectors. Through it all, Scott's post-gunplay activities remind us there's no death or trauma that gauzily lit sexytimes can't fix.
For years now, both men have wondered when it would be time to get out of field operations, and they've speculated about whether they could actually pull off an exit from the game. I haven't seen the endgame, but I hope they can. I have very much enjoyed this show, which has always exuded an intelligence that made it both enjoyably substantial and emotionally engaging. But all good things must come to an end.
It's fairly clear that "Strike Back's" traveling circus has run out of road; more than ever, the characters talk about wanting to move on, and it's hard to argue with the idea that they've earned their retirement. Even though I'll miss what the "Strike Back" team brought to the table, who am I to stop them from saying goodbye?
The Talking TV podcast is back! In a new podcast, which is available here, on iTunes and below, Ryan McGee and I discuss "Strike Back," "Mr. Robot," "7 Days in Hell," "Rectify" and "Review."


For a constant stream of entertainment news and discussion, follow HuffPost Entertainment on Viber.
Calling all HuffPost superfans!
Sign up for membership to become a founding member and help shape HuffPost's next chapter
BEFORE YOU GO
PHOTO GALLERY
More Diversity On TV