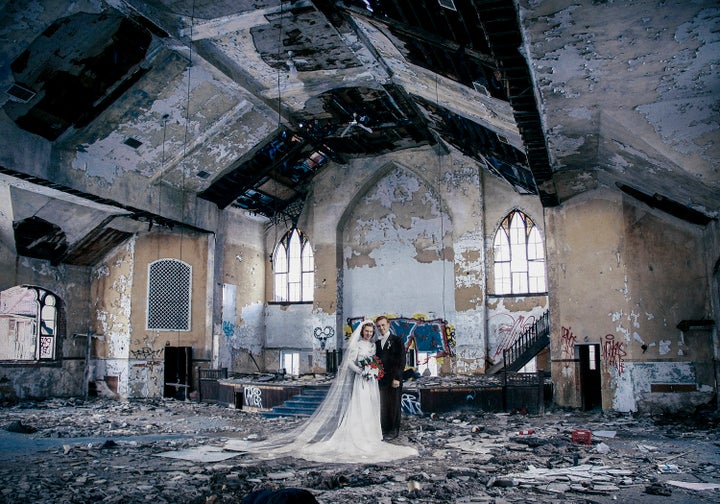 "Start at the turn of the last century, in 1901, with the celebration of Detroit's bicentennial," author Jerry Herron writes in his book AfterCulture. "That was the Detroit that came before -- before all the racket that attended the making of the modern world, which happened here first and faster than anywhere else on this planet."
Fast forward more than 200 years, and Detroit's once thriving automobile industry has been hit hard by global competition. A city that once served as a vision of the future potential of the industrial empire is now characterized by vacancy, bankruptcy, stagnation and decay. 
Hungarian artist Flora Borsi was struck by the visual impact of Detroit's many neglected spaces. "I have been to Detroit two times and I visited abandoned places that were really touching me," she explained to The Huffington Post. "They're amazing because of how time and nature changed them, and made me wonder how they looked when people were living, working there. I wanted to bring life back from the past decades."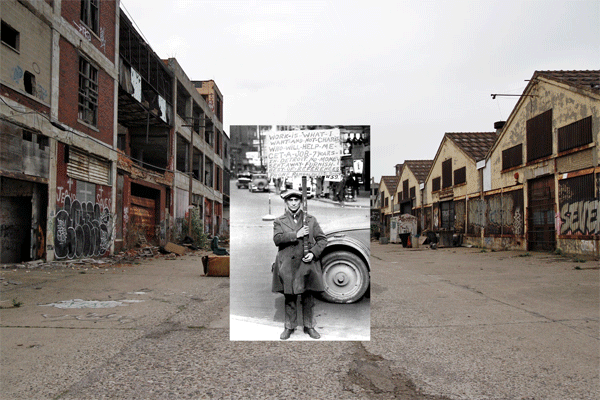 Borsi searched for photographs of Detroit residents from centuries past, juxtaposing the lively citizens with the contemporary scenes of disuse and deterioration. By colorizing the black-and-white, retro photos and retouching both the past and present images, Flora creates single, seamless images that coherently stitch together then and now. 
"I hope that people will see how vibrant the city of Detroit was, and still can be," Borsi continued. "People there need to work, and these factories aren't lost even if they look abandoned on the surface. The history of these companies are in people's hearts and they want it back. I wanted to support them with this series."
Bori's photos capture a fabled Detroit, at once alive and forgotten, pulsing with history, memories, dreams and hard work. The mashups conjure now dormant associations of Detroit with progress and promise, as experienced by Diego Rivera back in the city's heyday.
In the words of the muralist painter from his autobiography, My Art, My Life: "As I rode back to Detroit, a vision of Henry Ford's industrial empire kept passing before my eyes. In my ears, I heard the wonderful symphony which came from his factories where metals were shaped into tools for men's service. It was a new music, waiting for the composer with genius enough to give it communicable form."
See the mythical mashups of Detroit's past and present below. 
PHOTO GALLERY
Photographer captures stunning Albino portraits
REAL LIFE. REAL NEWS. REAL VOICES.
Help us tell more of the stories that matter from voices that too often remain unheard.