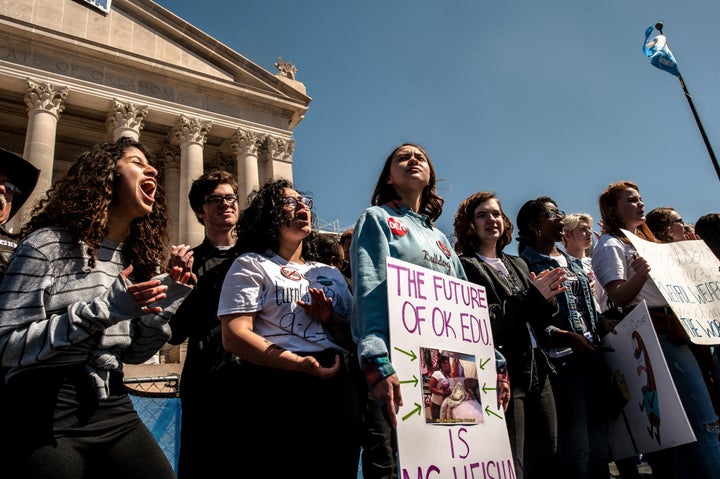 OKLAHOMA CITY ― When Oklahoma schools closed Monday due to a massive teacher walkout, high school senior Gabrielle Davis created a Facebook group for students who support the teachers. Within 36 hours, it had attracted hundreds of middle school and high school students eager to rally at the state capitol.
"It just blew up overnight," said Davis, an 18-year-old at Edmond Memorial High School. "Then I made a post that said, 'If you want to speak, send me your name and your district.'"
That's how a dozen students ― one of them a sixth-grader ― came to give speeches to a crowd of thousands outside the state capitol on Wednesday. One by one, glancing at notes on their phones, they spoke of crowded classrooms, crumbling textbooks and, most of all, overworked and underpaid teachers whom they adore.
"This walkout is for us ― the teachers are just leading it," said Natalie Hurt, a senior at Midwest City High School.
Oklahoma is one of a string of red states now dealing with a teacher revolt after years of austerity. While the educators have closed schools and flooded their state capitol buildings, they have found a powerful ally in their own students, many of whom are just as weary of deep budget cuts and underfunded schools.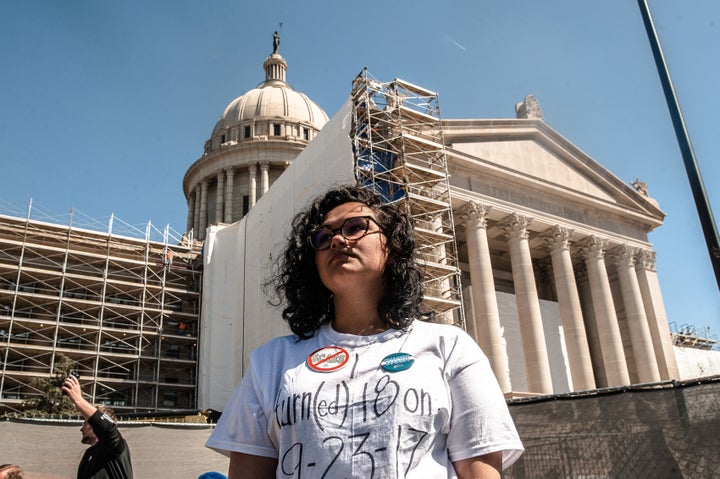 Critics of teacher strikes and walkouts tend to paint them as failing kids. Oklahoma Gov. Mary Fallin (R), for one, likened the teachers who walked out to spoiled teens who want better cars. But from Charleston, West Virginia, to Oklahoma City, student support has helped build the teachers' case that their own interests are aligned with the public interest.
It's also giving many of these young students their first taste of activism. The long-term political consequences of these teacher uprisings are not clear yet, but the white T-shirts worn by students outside the Oklahoma capitol on Wednesday might offer a clue. Written in black marker were the dates of their 18th birthdays, signaling when they will finally be able to vote.
Some of them were not until 2024.
The T-shirts were the brainchild of Jonathan Curtis, a classmate and collaborator of Davis. Curtis said he was inspired by the outspokenness of the Marjorie Stoneman Douglas High School teens, who have aggressively taken up gun control after the Florida school massacre left 17 dead. He and some friends set up a table outside the capitol on Monday and tried to lobby lawmakers who were headed inside, where they'd be debating school funding measures.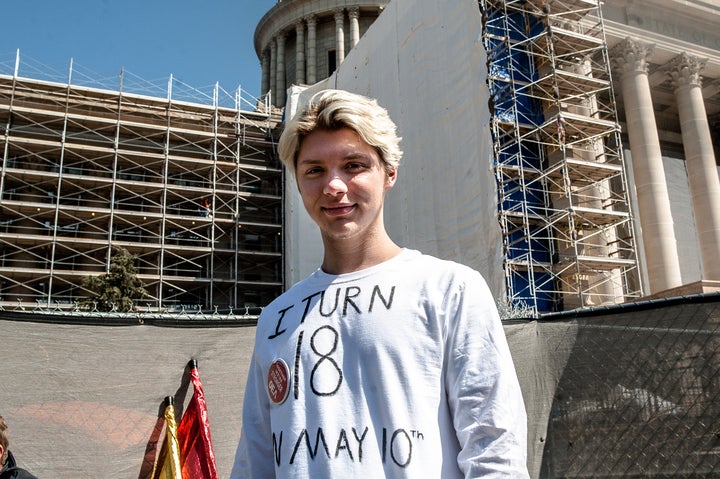 In his speech, Curtis told his fellow students to register to vote as soon as they could, and to vote out of office state lawmakers who won't increase school funding. He also thanked his teachers for dipping into their own pockets to keep classrooms functioning.
"We just found out that a bunch of our teachers have second jobs."
Like a lot of states, Oklahoma slashed its school funding during the Great Recession, but then it went on to reduce the top income tax rate and the gross production tax on oil and gas firms. The tax cuts have led to budget shortfalls exacerbated by the drop in oil and gas prices. The state leads the nation in cuts over the past decade to its education formula funding, which is the primary way local districts get state money.
Oklahoma now ranks 49th out of 50 states and the District of Columbia in teacher pay, according to the National Education Association. Meanwhile, the state is contending with a dire teacher shortage, and has to grant a growing number of emergency certifications, filling classrooms with teachers who don't meet the normal training requirements. Some schools have shifted to four-day weeks to save money.
Cameron Olbert, a sophomore at the Classen School of Advanced Studies in Oklahoma City, said he first became politically conscious when budget cuts cost his school its debate coach. The coach was replaced with a teacher without debate training.
"The debate team pretty much coaches themselves now," Olbert told HuffPost.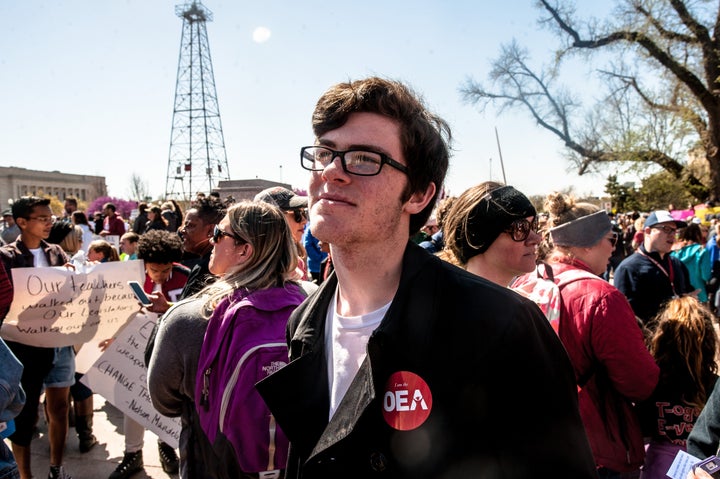 After seeing the Facebook callout for speakers, Olbert penned a speech that he went on to deliver Wednesday at the capitol.
"We're not just here for teacher pay raises," he said to cheers. "We're here for support staff, for art and music programs that have been decimated over the past decade. We're here for chairs that don't break when we sit in them. We're here for luxuries and opportunities that other states get to take for granted."
Wednesday marked the third day of the Oklahoma walkout, which has kept most but not all schools closed around the state. The legislature has taken up some revenue-raising measures but not made concrete progress on passing a school funding bill that would meet the demands laid out by the Oklahoma Education Association, the teachers union coordinating the walkout. The union says a bill passed last week that includes average pay raises of $6,100 does not have sufficient long-term funding built into it.
Some students said they only recently became aware of how little their teachers were paid, or how far behind in funding Oklahoma had fallen compared to other states.
"Torn textbooks ― we didn't know that wasn't the norm," said Tavana Farzaneh, 17, a senior at Norman High School.
"We just found out that a bunch of our teachers have second jobs," said her friend Esme Henson, 18. "And we have it so much better than a lot of other schools."
Farzaneh and Henson are headed to college in the fall. With school closed for the week, they came down to the capitol to cheer on their teachers. They carried a sign that said, "My teachers taught me that if you want to change something, do it. That's why I'm here."
"They never made me feel like I was in an underfunded school," explained Farzaneh. "They've affected my life as much as my parents. I just love them so much."
Popular in the Community