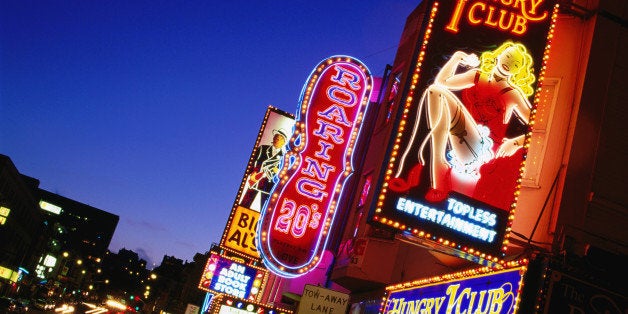 Would you strip to cover college costs? With the price of tuition at all-time highs, a coalition of strip clubs in San Francisco thinks some students might, and they've placed a full-page recruitment ad in one of California's most prominent campus newspapers.
The ad ran last Friday in The Daily Californian, the student run newspaper at the University of California, Berkeley, inviting students to audition at six strip clubs in San Francisco, The College Fix reports.
"Are you fun, flirty and a little adventurous?" the ad read. "Then we are interested in meeting you! You don't need experience. Make your own schedule. Great money to be made -- in CASH. Professional management teams are in place at these SF locations to help you achieve your financial goals while in school," directing readers to Garden of Eden, Condor, Roaring 20s, Centerfolds, Little Darlings and Hungry I -- all strip clubs in nearby San Francisco.
The frequency of students stripping to make ends meet in college made national headlines in 2012 when the Houston Chronicle fired reporter Sarah Tressler after finding out she was also working as a stripper to pay her way through journalism school. That same year, one strip club in Canada cut out the middleman and offered to directly pay for up to $1,700 in tuition as long as students maintained a B average.
Last year, a billboard near UC Los Angeles encouraged students to take "summer job" by signing up for ArrangementFinder.com, a dating site that pairs young women with "sugar daddies"
Evidently, the escalating cost of college is not lost on the sex industry. When California cut the UC's budget by nearly $1 billion, students saw tuition hikes every year from 2006 to 2011. The total cost of attending a UC hovers around $30,000 a year, the schools estimate.

REAL LIFE. REAL NEWS. REAL VOICES.
Help us tell more of the stories that matter from voices that too often remain unheard.
BEFORE YOU GO
PHOTO GALLERY
Majoring In Debt