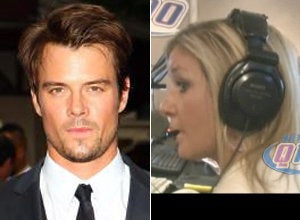 Watch stripper Nicole Forrester talk about meeting Josh Duhamel at an Atlanta strip club, having sex with him, and being strong-armed into talking to the National Enquirer about their affair, and see if you think it's true.
Duhamel has denied it and went on a date with wife Fergie Tuesday night in a public display of affection, but his alleged affairs are on the cover of Us Weekly and the National Enquirer says Forrester has passed a polygraph and has text messages from Duhamel to back up her claims.
Nicole has, "We did hook up, we had lots of sex, and we had a really, really good time."
They met when Nicole stripped for him at a strip club, not knowing he was famous.
And he's a gentleman! The mom of two also said, "The next morning, when I left, you know, he kissed me on the cheek, really sweet guy."
She says the Enquirer came to her for her story, after Duhamel bragged on his movie set about having sex with a stripper and someone tipped them off. When the Enquirer said they would print the story regardless of her cooperation, Forrester agreed to a paid interview.
"I'm not lying about anything, and he's just as guilty as I am."
She talks about meeting him, selling her story, and how she is defending her good name by speaking out now in the clips below.