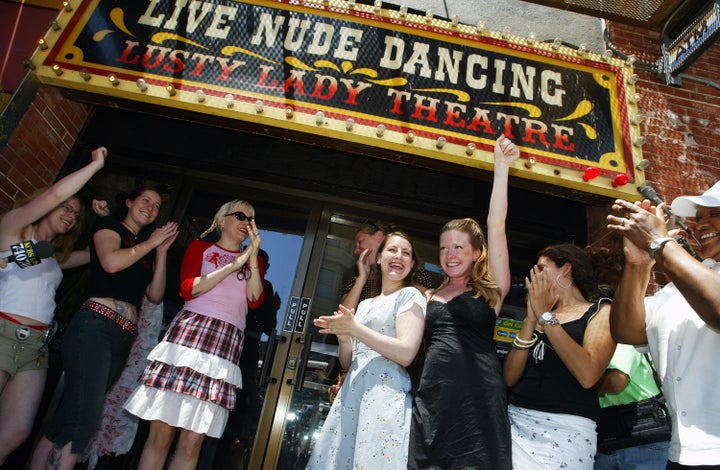 In the spring of 1996, strippers at the Lusty Lady in San Francisco noticed that the men watching their peep shows were filming them. The women asked their bosses to kick the men out for filming them without their consent. But management refused. When the women asked management to get rid of the one-way glass altogether, they were told they could go find work somewhere else.
The women of the Lusty made a different choice.
Thanks to their efforts over the subsequent year, the Lusty became one of the first strip clubs in the U.S. to unionize. By 2003, it had become the first to be run as a cooperative by its own performers and other employees. But the Lusty officially shuttered in 2013, and the industry today is still plagued by the same sorts of problems as then: a lack of workplace protections; discrimination against dancers based on race or body or hair type; arbitrary firings for things as small as arriving one minute late or suggesting the club keep strippers safe. In the vast majority of clubs, there are no protections for dancers if they are sick or injured, or if they have a family emergency.
Most strippers want a guaranteed minimum wage, fair workplace practices and protections, some minimal benefits and legal recourse against blatant discrimination. But first they have to win the same battle their peers in the trucking, cleaning and driving industries are fighting: They have to defeat employers who classify them as independent contractors rather than employees.
The Lusty was only able to unionize because the strippers were already employees, explained Kristina Zinnen, who worked at the Lusty and led the charge to unionize before going to law school and becoming an employment lawyer.
Treating strippers as contractors, rather than employees, gives club owners all kinds of advantages. They can block contractors from unionizing and ignore the federal Fair Labor Standards Act, which doesn't protect contractors. They don't have to pay strippers the federal minimum wage, provide benefits or offer workers' compensation.
Club owners have a huge amount of leverage over women who need the work. In fact, some women need the work so badly, they're literally paying for it: Not only do strippers pay a fee to rent out the stage for their shift, they often pay out club fees afterward.
Sex work is work
Around the country, strippers are starting to fight for the same things the workers at the Lusty did decades ago.
In New York City, strippers from clubs in Queens and the Bronx began mobilizing for an impending strike at the end of 2017 at a Bronx-based dance studio called Poletic Justice. The meeting focused on the "bartender issue" — a growing trend in the city's clubs where managers seek out Instagram models to "bartend" in similar outfits as strippers and bring in their droves of followers. When this happens, it tends to overshadow the strippers' performances and make them lose out on tips ― which, because they're not making a minimum wage, is where their money comes from.
The bartender issue has triggered discussions in the NYC stripper community about other issues: racism and colorism, women being pitted against each other, and the lack of managerial support when complaining about problems.
"When you work in a male-dominated industry, it's very easy for them to make the women go against each other," Mona Marie, who runs Poletic Justice, told HuffPost in December.
"At the end of the day, being an entertainer is more mental than it is physical. It's just like any other industry. We still deserve respect."
Strippers and their allies are frustrated, she said. "I think these women are just tired. They're tired of feeling discriminated against, they're tired of being disrespected, they're tired of the lack of rules and professionalism from people that should be conducting themselves with professionalism."
Strippers in other states are mobilizing, too. In 2015, strippers in Oregon took the fight for better workplace treatment to the state legislature, ultimately lobbying for the successful House Bill 3059. That bill established a toll-free hotline where "live performers" could get guidance on employment classification. If a performer feels she or he has been misclassified, hotline responders provide counsel and legal advice.
Club owners are adamant that strippers are, fundamentally, independent contractors. Zinnen disagrees.
The line dividing employees from independent contractors is not always clear ― it's decided on a case-by-case basis. The IRS uses what's known as the "20 questions" form, and the Department of Labor provides a six-factor "economic realities" test. One item on that test says that a person is likely an employee if "the work performed is an integral part of the employer's business." This alone would suggest that a stripper is an employee of the club, rather than an independent contractor. No one is going to a strip club for the $9 Budweisers.
Courts tend to side with Zinnen and the strippers. In 2002, Zinnen and other San Francisco-based strippers brought claims against the club Chez Paree (now closed) to the labor commissioner's office at California's Department of Industrial Relations, which supported their claims. Chez Paree filed for bankruptcy, and the women never got their money. Zinnen filed a claim against another club, Temptations, also for misclassification, and was ultimately paid what she was owed by the club owner.
But even with the law on their side, it's hard for strippers to stand up to club owners. Cases can take years to resolve ― and strippers are sometimes blacklisted by other clubs for stirring up trouble, or ostracized by other strippers who just want to put their heads down and keep their jobs.
"At the end of the day, we're all independent contractors," Mona Marie said. "To stand up for yourself means to get fired or to be blacklisted from these clubs. And when you have responsibilities and you have bills and families and tuition to pay and all those other things... it's a chance that you don't want to take."
Changing the way we think about the profession
As high-profile industries like Hollywood and the media reckon with sexual harassment and exploitation amid the #MeToo movement, some strippers and sex workers — like many people at the margins of society — feel left out.
"I always tell people, 'You think this is easy?'" Mona Marie said. "None of this is easy. My job is not easy at all. I want you to stand in front of a room in your two-piece, in heels, for whatever hours, and you deal with... being bashed or being called names or being discriminated against."
"At the end of the day, being an entertainer is more mental than it is physical," she went on. "It's just like any other industry. We still deserve respect."
And insisting on respect for strippers as workers is an uphill battle. Misogyny is certainly a major problem, says Antonia Crane, a writer and stripper who's been in the business for more than 25 years and who was involved in the unionization of the Lusty in 1996. But often, she said, it's other women who fail to stand up for their sisters in the profession.
"Other women hate strippers," Crane said. "They think we're trying to steal their men. Of course we're not! That's ridiculous. It's a job."
We talked about last year's Women's March, which issued an official platform and "guiding principles" that included unapologetic support for sex work. "We stand in full solidarity with the sex workers' rights movement," the statement reads.
I tell Crane this feels like progress.
"Sure," she says. "But I was at the Women's March in LA on January 21st, 2017. It was the biggest [Women's March] turnout in the whole country... I had made five signs about support for sex workers. And I had to carry all of them by myself."
Tiffany McNeil contributed reporting.
Popular in the Community