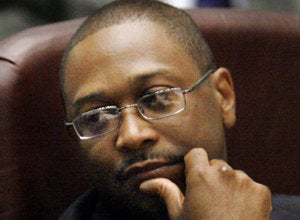 The cronyism, corruption and shady contracts continue to emanate from the Todd Stroger administration, as a new and yet all-too-familiar scandal involving US Census contracts is emerging Wednesday.
With a few hundred thousand dollars of federal grants left to publicize the census, Stroger's spokesman Eugene Mullins told the Chicago Tribune that he and deputy chief of staff Carla Oglesby awarded contracts to eight publicity firms to spread the word. So far, so good.
But all of the firms -- like Oglesby's own PR firm, which is now under investigation -- were awarded contracts of $24,995, five dollars less than the amount that would require County Board approval.
Nearly all of the companies receiving contracts were incorporated just days before the contracts were issued.
One business was run by a convicted felon, and listed a vacant lot as its business address. One business appears to be a modeling agency. Two of the contractors submitted nearly identical invoices, and gave the same unlisted phone number.
The contracts were all paid up-front, before any services were rendered.
And, the Tribune writes, "leaders of the Cook County Complete Count Committee, appointed by Stroger to conduct census outreach, said they were unaware of the contracts."
When asked about the contracts on camera by FOX, Mullins was silent. Anchor Jeff Goldblatt said on air that "he called me late tonight, a profanity-laced phone call" in which he "basically threatened to sue" for "defamation of character."
Mullins gave an on-the-record quote to the Tribune: "Either we can spend the money the best we can or it goes back to Washington," Mullins said.
Both Mullins and Oglesby, who signed off on all the census contracts, are themselves involved in other Stroger administration scandals.
After Stroger's defeat in the February primary, the lame-ducked Cook County Board President gave Mullins a $10,300 raise -- despite a pay freeze that had been on the books for months.
And Oglesby is only recently back at work after a five-day suspension for steering a similar $24,995 contract to her privately-owned public relations firm, CGC Communications.
According to Finance Committee chairman John Daley, "All of this is under review by the inspector general."
Watch the FOX Chicago investigative story:
Related
Popular in the Community