Warning: The images in this post are very NSFW, hence the erotic beauty note.
In the 1950s, art admirers were hard-pressed to find images of gay male life adorning the walls of major galleries and museums. Instead, the beautiful work of photographers and illustrators like Bob Mizer and Tom of Finland were often exhibited within the pages of gay magazines. Diverse depictions of private male life -- particularly erotic life -- were thus made available only to the people who knew where to find it.
"Many of the early magazines pretended to be bodybuilding, strength and health journals," Robert W. Richards, artist and curator at Leslie-Lohman Museum of Gay and Lesbian Art, explains in a press statement. "Sometimes they were called 'anatomy guides for artists.' However, most of the men bought these magazines because they were gay. It was nearly their only opportunity to see handsome, well-made, virtually naked men."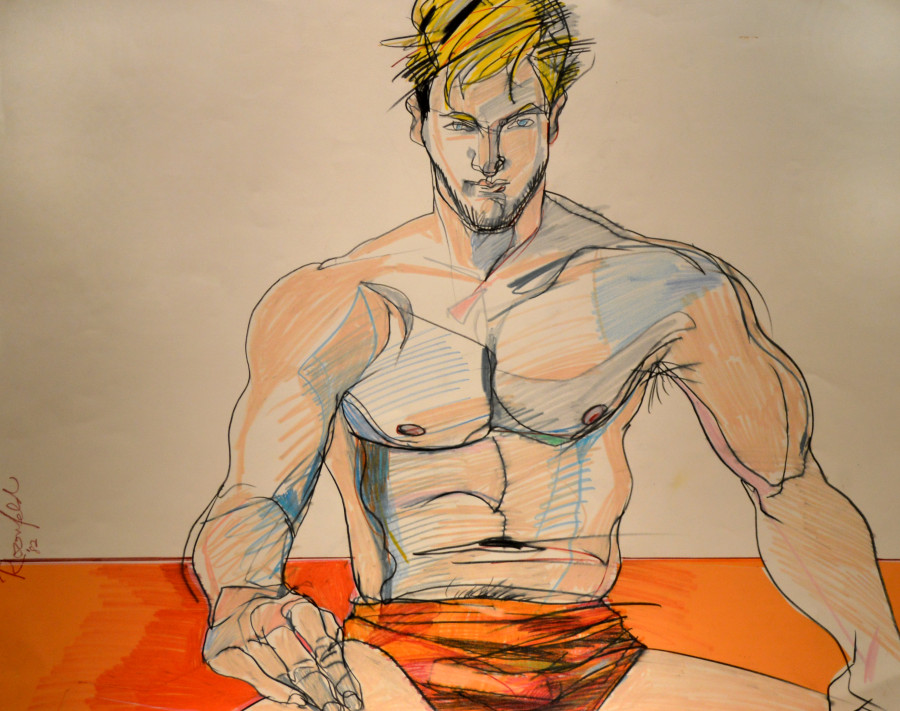 Richard Rosenfeld, Untitled, 1982, Color pencil on paper, 18.75 x 24 in.
A new exhibit at Leslie-Lohman, organized by Richards, is bringing together over 80 original illustrations plucked form the pages of retro magazines spanning the 1950s to the 1990s. Showcasing everything from tame images of the male body as muse to explicitly sexualized scenes, the exhibit surveys decades worth of design created by gay artists in the late 20th century, exploring a space -- magazines -- where art flourished in the past.
Titled "Stroke: From Under the Mattress to the Museum Wall," the journey through erotic history outlines the evolution of the (naked) male in art, spotlighting the impact of the "sexual revolution" and the Stonewall Inn riots on the demand for the magazines playing home to Mizer and company's works. Torso, Mandate, InTouch -- they would grow to attract the work of major artists like Mel Odom, Richard Rosenfeld and more, many of whom contributed to mainstream publications like Vogue and Playboy.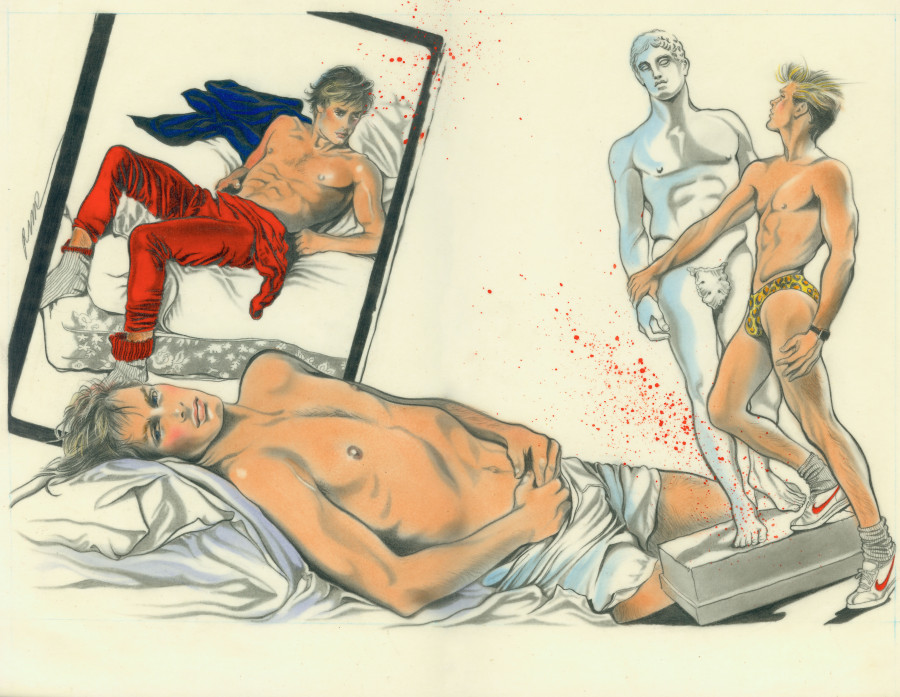 Robert W. Richards, "Toby," 1984, Graphite, pastel and watercolor on vellum, 13 x 16 in. Published in TORSO, 1984.
The rise of media like the VHS and the internet eventually pushed the magazine platform to the side. However, a trip through the archives illuminates just how significant the realm was for burgeoning and established gay artists a generation ago. Shining a light on sexuality, intimacy and identity, the images on view in "Stroke" gives a glimpse into an oft-overlooked body of work -- one that stands in contrast to the gallery halls filled with infamously nude women -- that has thankfully transitioned from mattress to museum.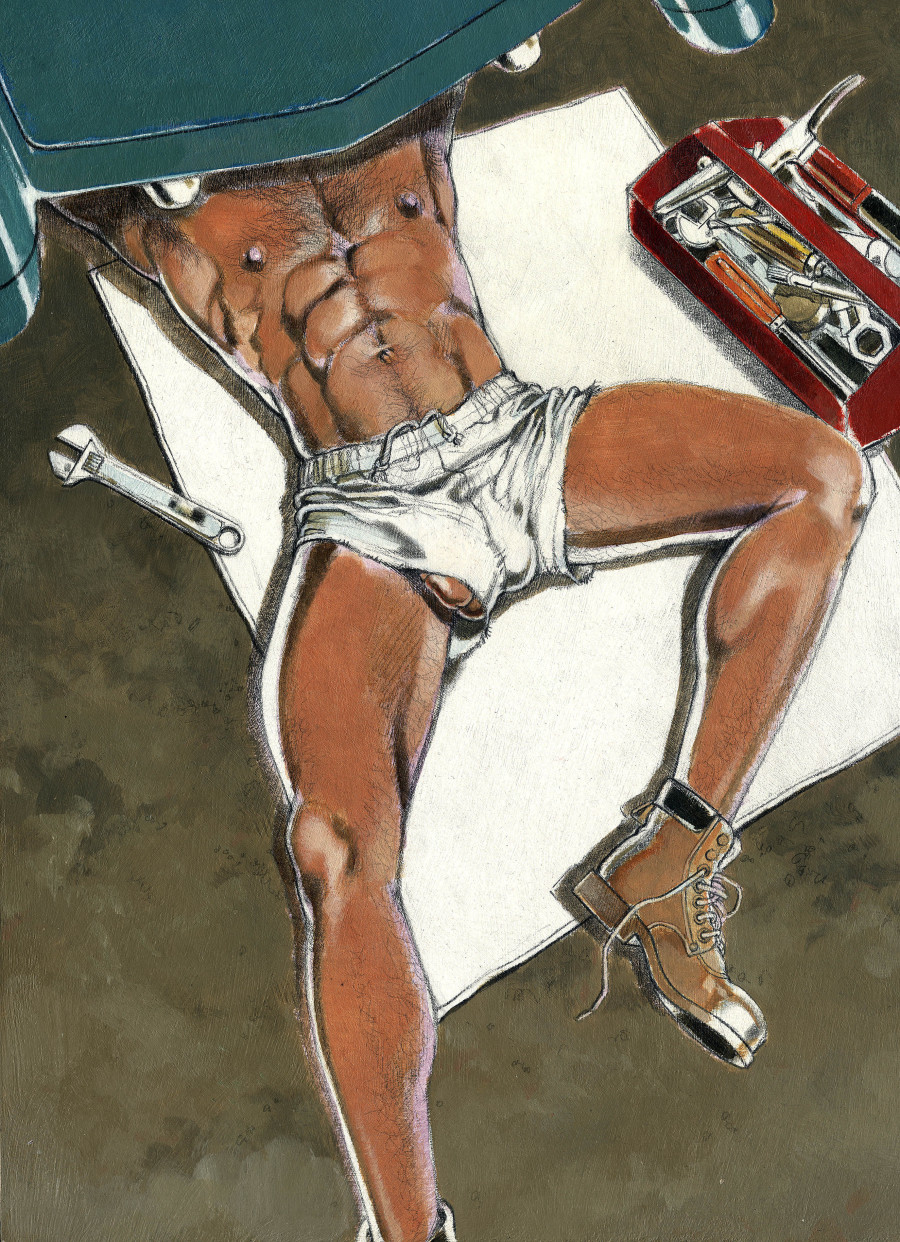 Kent, The Mechanic, 1992, Acrylic and pencil on illustration board, 9.5 x 13 in., Published in MEN November 1992.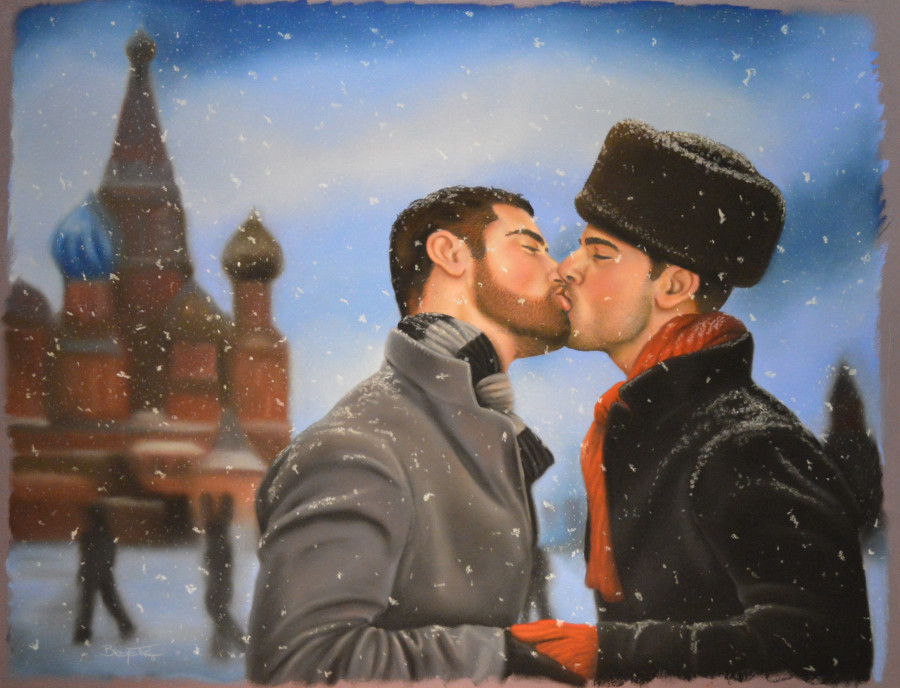 Michael Breyette, Russian Winter, 2012, pastel on pastel paper, 18.5 x 20 in. Courtesy of the artist.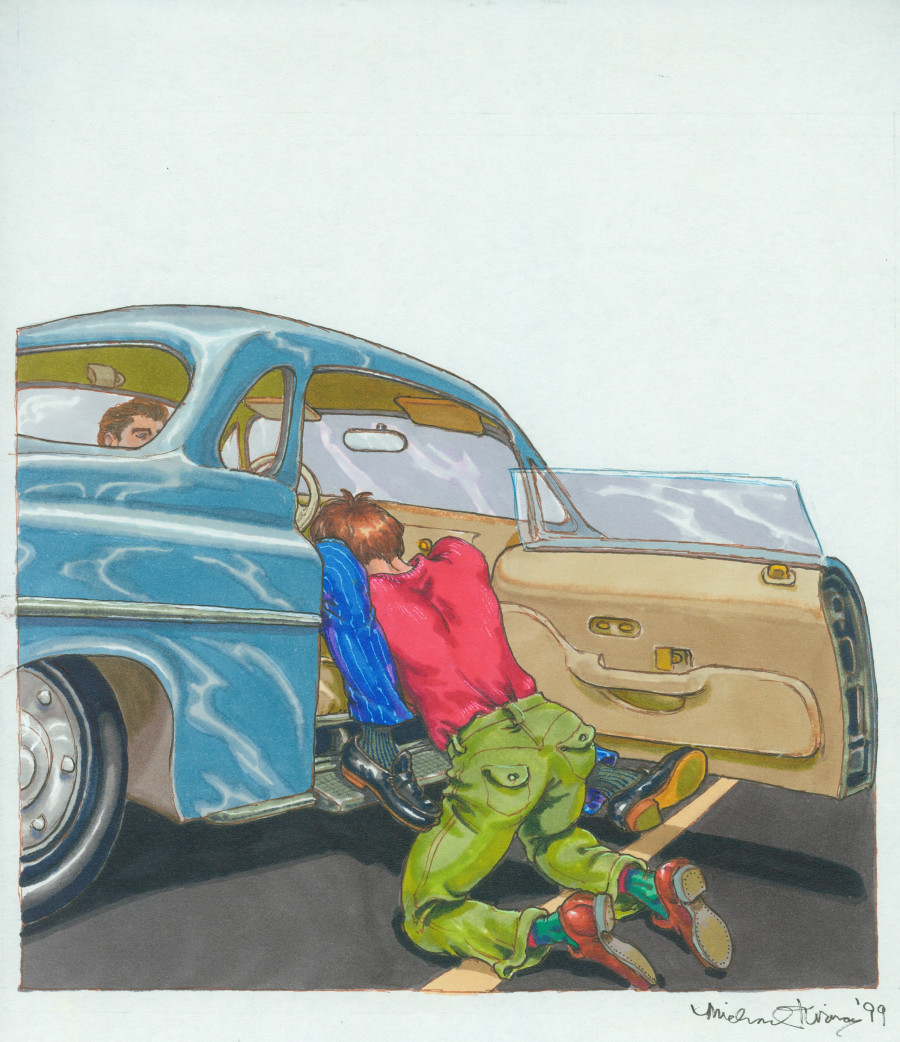 Michael Kirwan, Car Park, 1999, Watercolor marker with ink on paper, 14 x 11. Collection of Leslie Lohman Museum.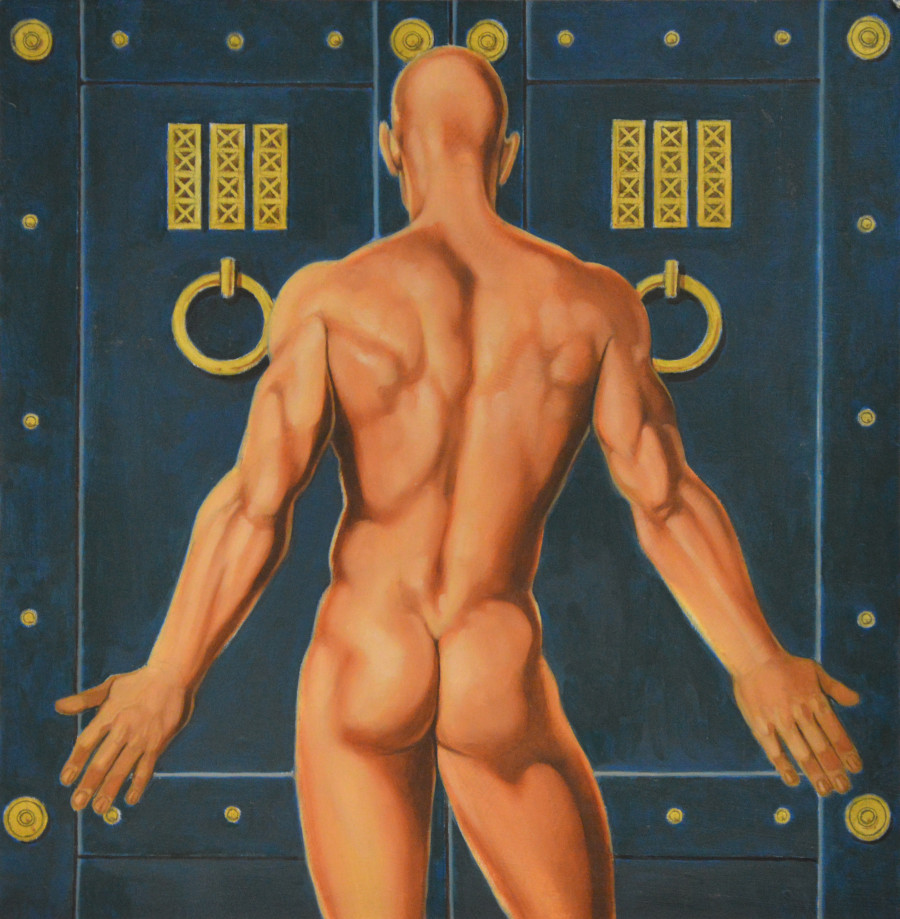 Kent, The Blue Door, 1996, Oil on illustration board, Published in MEN, 1996.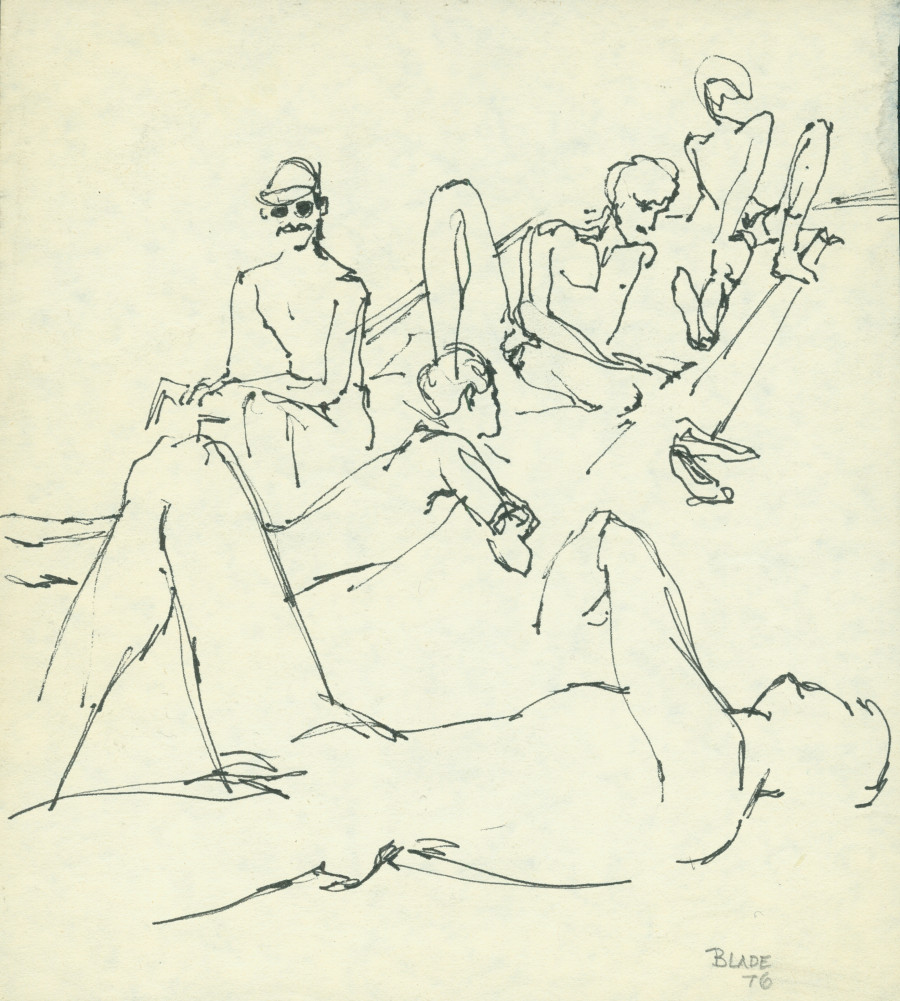 Neel Bate (Blade), Untitled, 1976, Ink on paper, 8 x 7.25 in. Collection of Leslie Lohman Museum.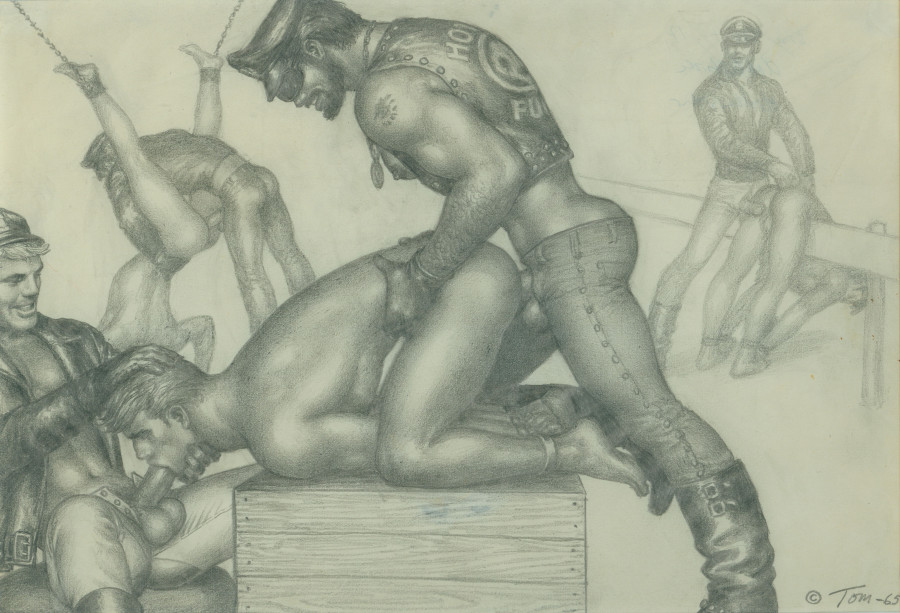 Touko Laaksonen (Tom of Finland). Biker Fuck, 1965, Pencil on paper, 8.25 x 11.5 in. Leonard Paoletti Collection.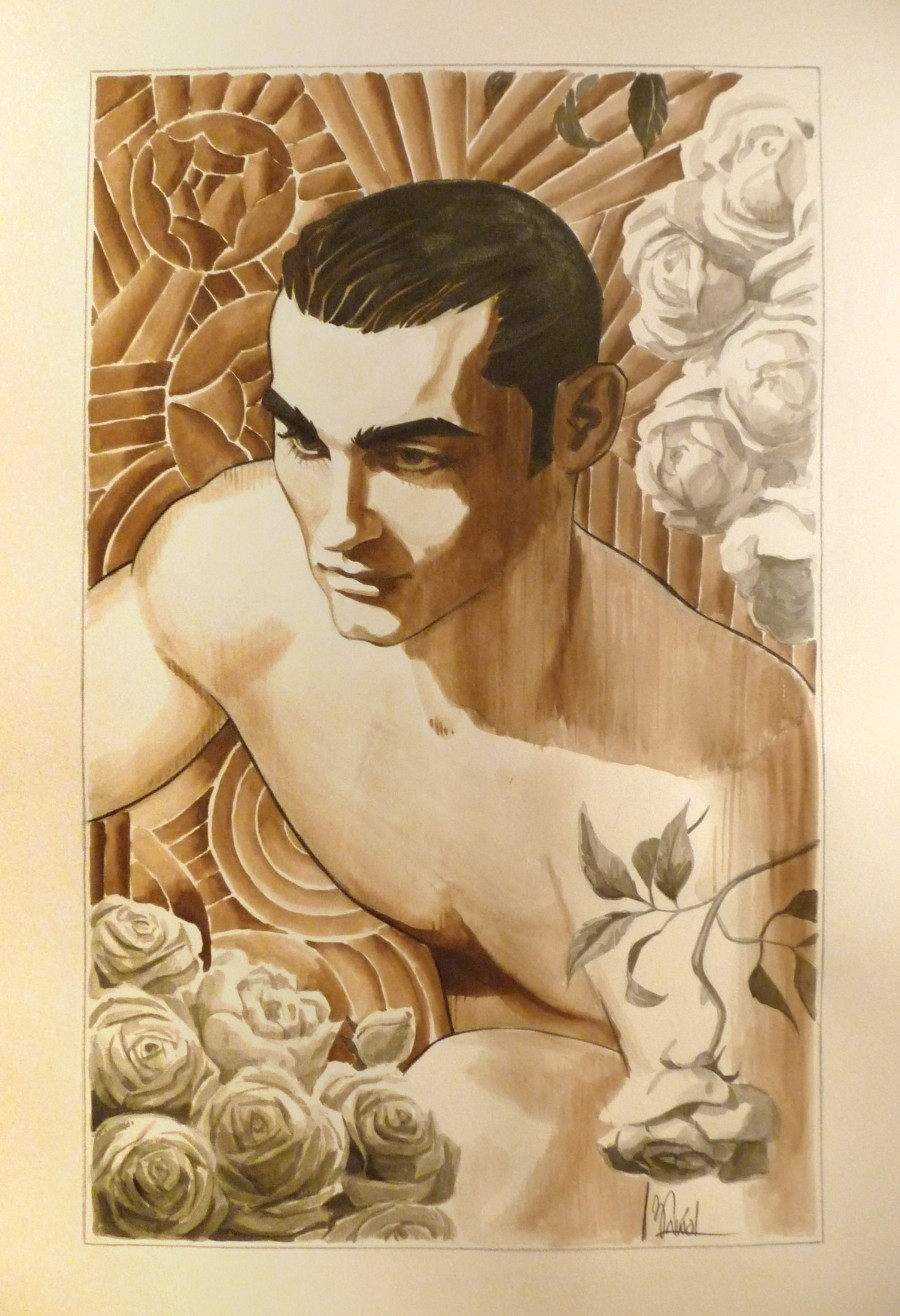 Benôit Prévot, John Roses, 2013, Ink and pencil on paper, 11.5 x 8.5 in. Courtesy of the artist.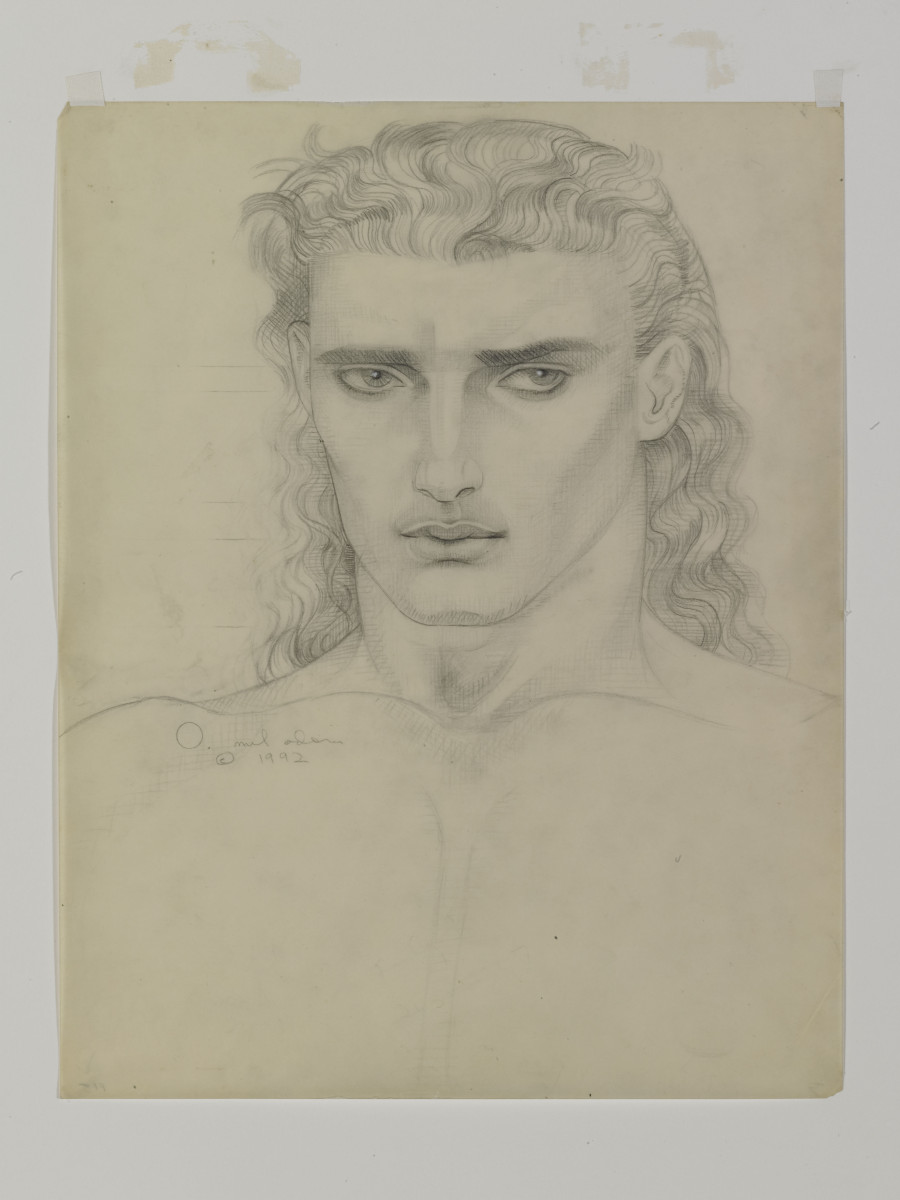 Mel Odom, Untitled, 1992, Pencil on vellum, 14 x 11 in. Collection of Leslie Lohman Museum.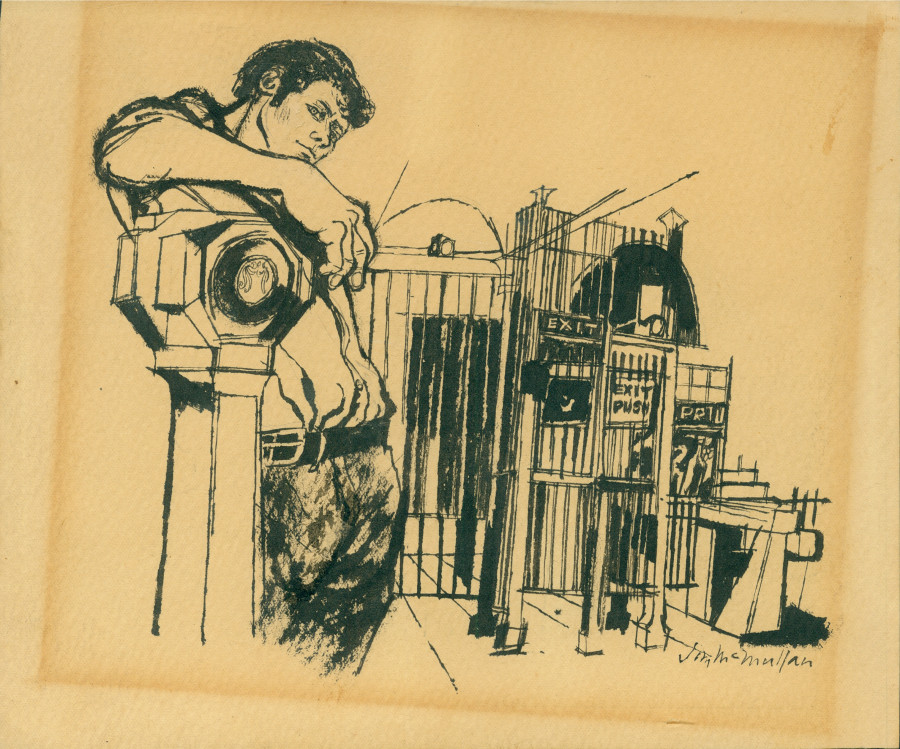 James McMullan, Untitled, n.d., Pencil and ink on paper, 6.75 x 8 in.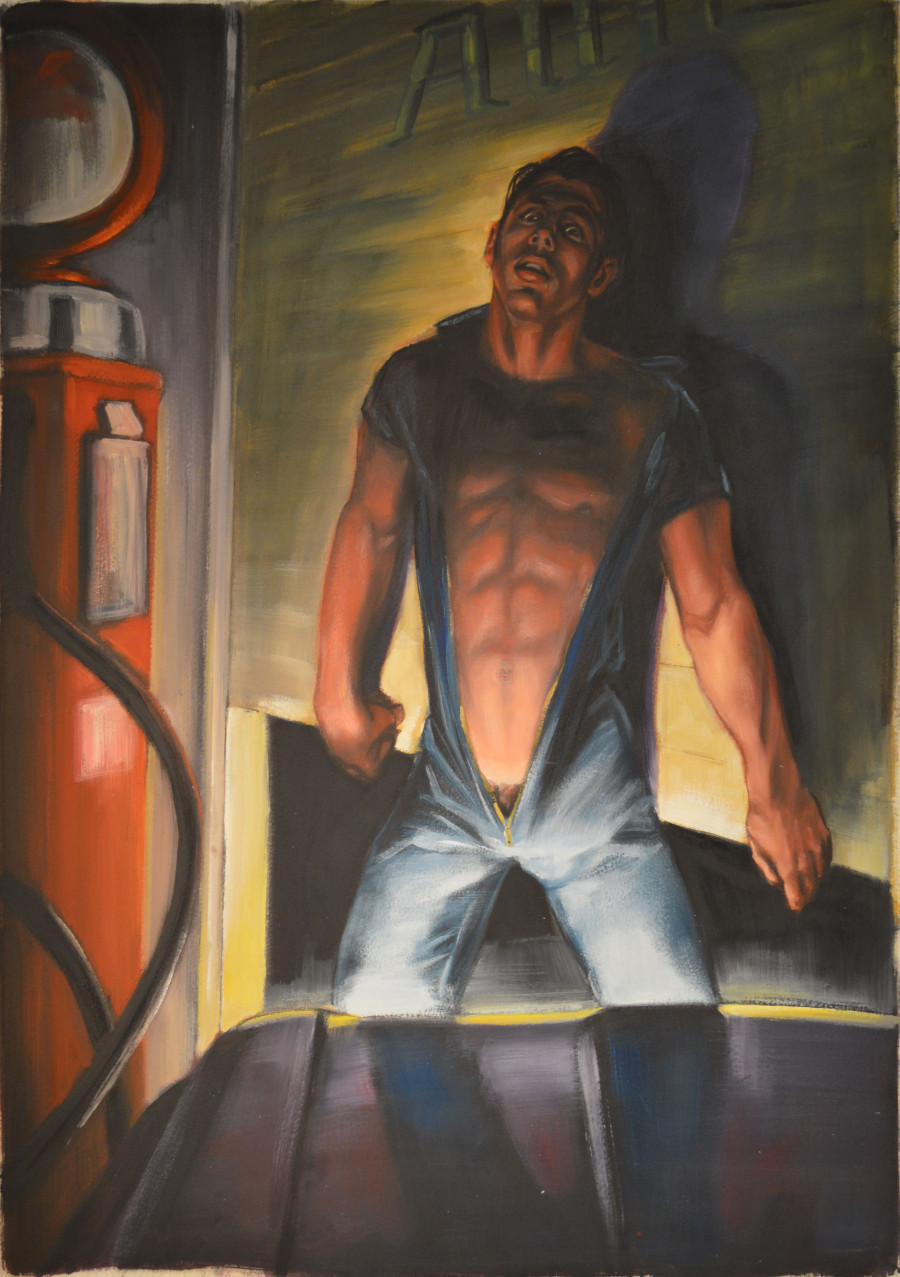 Kevin King (Beau), Pinned, 1997, Acrylic on paper. Collection Leslie-Lohman Museum, Founders' gift.
"Stroke" will be on view from March 28 to May 25, 2014 in New York City.
CORRECTION: An earlier version of this post included a caption provided by the museum that incorrectly spelled the name of Neel Bate. It has since been fixed.
Popular in the Community