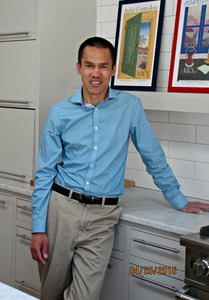 As the third of five boys in his family, Viet Le learned at any early age to define himself by his physical prowess.
He needed to dominate in tennis. He strived to be the best golfer. And if he was running a race, anything less than a personal best was a waste of time.
By age 46, those ideals were hard-wired into his psyche. Yet he was well-adjusted enough to limit those excruciatingly high standards to himself.
As a husband, he was encouraging and supportive of his wife, Maureen. As a high school math teacher in Minneapolis, he earned the respect of the toughest critics -- teenagers.
On Nov. 14, 2012, Viet was about a month removed from his most recent triathlon when he went to his fitness club to continue training for another upcoming event. He planned to run about 5 miles, an easy distance for him. But after about 1.2 miles, he slowed to a walk. Everything in his world slowed, even his vision -- not blurry, just moving at half-speed.
He was on an indoor track, and it offered a railing. He stumbled over and grabbed hold to steady himself. His legs, however, refused to cooperate. He fell on his back, looking up at the ceiling. Viet knew Maureen was on a nearby treadmill, but he couldn't even scream for help.
Stroke is the No. 5 killer of Americans, and a leading cause of adult disability. It occurs when blood flow to the brain is blocked, usually by a blood clot. It often hits without warning, and, far too often, without explanation.
The good news is that stroke was our nation's No. 4 killer until a few months ago. This is statistical proof that awareness and improvements in treatment and prevention are making a difference.
The use of a clot-busting medicine called tPA is among the revolutionary changes. For eligible patients, it can be delivered within 4.5 hours of a stroke. In most cases, the sooner it's given, the better the result; this is why immediately recognizing the symptoms and calling 9-1-1 is so important. It's also why we say that "time lost is brain lost."
Another game-changer is the advancement of acute stroke endovascular procedures. Like the one that saved Viet's life.
Others in the gym rushed to Viet's aid.
At first, they thought he was simply dehydrated. Maureen mistook his silence as a form of pride she'd seen before -- he was embarrassed by the attention.
Viet was taken to a nearby hospital, a small facility that prepared itself for emergency cases -- such as this -- by being equipped with telemedicine. This allows doctors/specialists at another hospital to review cases and help with diagnosis and treatment. The remote experts (in this case, at Abbott Northwestern Hospital in Minneapolis) didn't see anything conclusive on the first two tests. The third showed a torn (or "dissected") carotid artery, which is located in the neck. This tear/dissection caused the dreaded clot and thus a massive stroke.
He was rushed to Abbott Northwestern, getting tPA along the way. By the time Maureen saw Viet again, he could slightly lift his right arm and make some sounds.
She then met the doctor who was about to try surgically removing the clot.
Maureen worked for a medical device company, so she had many pointed questions. Satisfied with the answers, she signed off on the procedure; still, she continued investigating. She learned all about the Solitaire device, and how it was snaked through an artery in Viet's thigh, up to his brain until it snatched the clot.
Viet proved to be a textbook case, in part because he was so healthy. Nonetheless, the doctor warned that it might be two years before Viet could teach again.
Maureen soon thought otherwise.
By the next day, he pushed his legs, grabbed a finger, spoke a few words. She also was counting on his warrior spirit -- the guy trying to outdo his brothers and his own vision of himself.
After about 10 days at the hospital, Viet was transferred to Courage Center, a rehabilitation facility. It was there that Viet began to become Viet again, indeed fulfilling his expectations of pushing to get the most of his body.
Released on Christmas Eve, Viet returned to Courage Center every weekday for two months as an outpatient with his first goal in mind: getting back to the classroom. He started as a tutor, then worked his way up to one class, then two. After spring break, he was teaching full-time -- just four months after his massive stroke.
"He was back to teaching but the kids were looking after him," Maureen said. "It was pretty amazing."
Viet continued daily rehabilitation. Summer break offered more time to spend in the gym.
One of those trips came on July 30, 2013. As always, Viet went to the locker room to put away his gym bag.
His right arm wouldn't reach the locker.
His fingers clamped. His legs locked. He couldn't speak. It took 45 minutes for anyone to realize he was in distress. Soon, Maureen was persuading the paramedics to break protocol and take him straight to Abbott Northwestern so he could quickly receive the advanced acute treatment he needed.
The neurology team remembered Viet, but the doctor who'd previously treated him had retired. His new doctor discovered that this stroke was caused by a clot in the exact same place. So they did the exact same procedure.
A week later, Viet received a stent to help prop open the troublesome artery.
Within days, he was hitting golf balls.
They didn't go very far and weren't very accurate. But he was doing it, and that's what mattered. And when school started just three weeks after his stroke, he was in the classroom all day, every day.
Nearly two years since his second stroke, Viet has a handicapped-parking placard in his car. It primarily serves as a symbol, a reminder that he's a survivor.
"Slowly, I've actually become proud of it," he said.
Viet's story highlights so many positive in our fight against this disease. Perhaps the best part is his tenacity to keep beating it.
He's added a bunch of strokes to his golf game. He's not the tennis player he once was. In October, he finished the Twin Cities Marathon in around 4 hours, 16 minutes.
You may be cheering the fact he finished, or maybe even marveling at the time posted by a two-time stroke survivor. Not Viet. He still rages at being 1:01 slower than his personal best.
Despite the various traumas his body has endured, nothing has eased that hard wiring.
"Maybe someday I will accept the fact that I will not be near my normality before the stroke," he said. "But I'm fighting to get as close as I can."
Viet and Maureen will celebrate their 15th wedding anniversary in June. She understands better than anyone how his driven personality has gotten him this far in his recovery, and how it fuels him to continue pushing for more.
"We've spent a lot of time talking about this," she said.
"It helps me," Viet adds. "I'm glad she did that, too ... I know I can't be 100 percent again. But I'm trying."