Messy. Loud. Athletic. Joyous. Fearless.
Those are just some of the words photographer Kate Parker uses to describe her two daughters, Alice, 6, and Ella, 9, and their friends. When Parker started taking photos of the girls, she began to notice a pattern to images in which the girls looked especially free and courageous. And what initially started as a collection of candid childhood photos turned into a series called "Strong Is the New Pretty."
"I started to see patterns and recognize that the images where the girls were authentically captured were the strongest images," Parker said in an email to The Huffington Post. "The images that showed the girls as they genuinely are were my favorites. After seeing this, I started to shoot with that in mind."
The photos celebrate the girls just as they are -- scrapes, bruises and all -- instead of how society might expect them to be.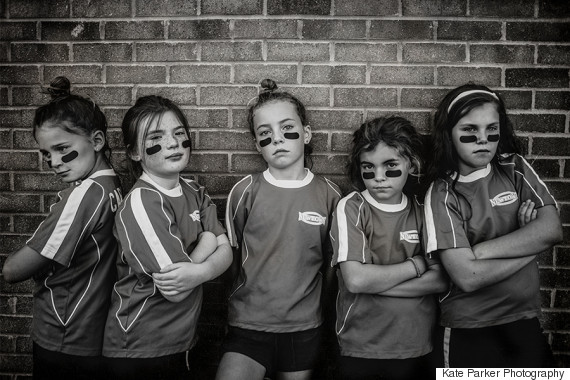 "The project became about capturing my girls and their friends as they truly are and how that is OK. Not only OK, but worthy of celebration," she said. "There's a lot of pressure for girls (and women) to look a certain way, act in certain manner, and I wanted to let my daughters know that who they naturally are is enough."
Parker first shared the series on her website in 2014, but the project has garnered renewed interest recently after being picked up by Today and Yahoo! Parenting. People have been sharing Parker's story on social media and even posting their own pictures of strong girls with the hashtag #strongisthenewpretty.
The response has brought tears to Parker's eyes.
"My goal with this project was to showcase my girls and their friends, to tell their story," she added. "That there is beauty in confident, strong, fierce, messy, silly young girls. I hope that other girls see this and recognize that whatever they love, whatever makes them unique and special is beautiful and worthy of celebration, too."