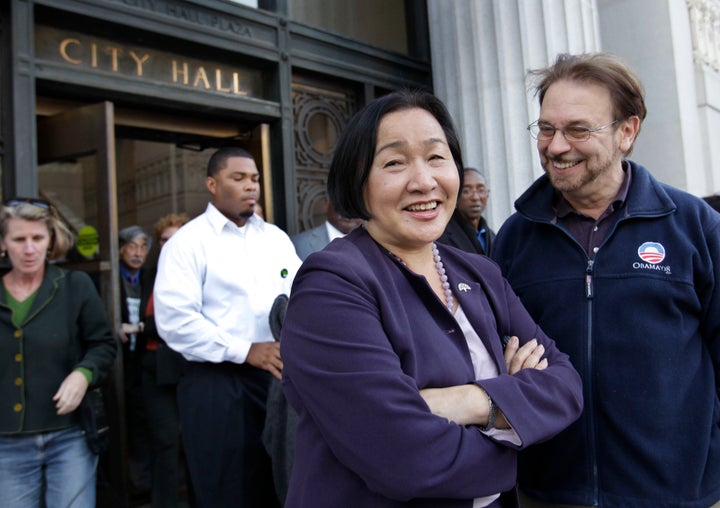 In Oakland, California, neighbors are building a network of support, organizing block by block to improve schools, make our communities safer and give our children hope and dreams. We're taking the fight for just cities and better communities to some of the most difficult neighborhoods -- and we are making progress.
Some people say a mayor's job is to fill pot holes, negotiate with the governor over resources, entice developers and retailers to locate within city limits, and in my case to lead trade missions for our port. I believe the job is all of that and more -- it's time that elected officials step forward as community organizers that engage citizens in building just, vibrant and equitable cities across the nation.
One of my first initiatives as mayor of Oakland was to walk door-to-door in an area of East Oakland known as Police Beat 33X, between 82nd and 98th Avenues below MacArthur Blvd. It has some of the highest unemployment, drop-out and crime rates in our city.
Recently a neighborhood of proud African-American homeowners, it has undergone vast changes in the past decade. Today it is has one of the city's highest rate of foreclosures, renters and blighted buildings. I canvassed this area last year as a mayoral candidate and was struck by the illegal dumping and litter everywhere. I was angered that people used this neighborhood as a dump for industrial, construction and other waste. I promised to organize a neighborhood clean-up day and help turn things around.
The very first weekend of my administration, several hundred volunteers joined neighborhood residents to knock on neighbors' doors for a cleanup on the MLK Day of Service, to encourage attendance at the next neighborhood council, and to inform them of new programs and services in the neighborhood including opening a new library that I had worked on for eight years. We invited parents with young children to join the new Baby College (parent training) and invited all residents to enroll in a new health clinic located at a nearby middle school.
Many residents were surprised to see the Mayor knocking at their door. One even asked me if I was for real. I promised that I'd be back, and returned the next weekend with Congresswoman Barbara Lee, and more than 200 volunteers, neighbors and city staff to pick up trash -- 7 tons of it.
When we first canvassed Beat 33X we asked residents to help us clean up the neighborhood by reporting illegal dumping including license plates and drug dealers. We provide refrigerator magnets with city hotline phone numbers. It is clear that local residents are taking our efforts to heart:
Previously, only four or five people showed up to the monthly Neighborhood Council meeting that links residents with safety services, but now the council attracts about two dozen regular attendees. They pinpoint their top priorities for police, public works and other city departments, and the City's problem solving officers and neighborhood services coordinator coordinate responses with police and city agencies.
When residents complained about the high number of abandoned cars, the city implemented a special abandoned auto detail for quicker city response to complaints. The request for more late night activities for youth resulted in a "Friday Night Live" opening up at the Oakland Youth Development Center and new library located in the neighborhood, part of a larger effort to provide safe weekend late night activities for youth in East and West Oakland.
In the two months before our outreach, no one in the neighborhood called the anonymous drug hotline to report drug hotspots. In the past six months, the City's drug hotline has received 103 calls and police have made several arrests. More residents are also reporting illegal dumping, graffiti, pot holes, broken street lights and other infrastructure issues at almost twice the rate of the previous year. In six months, there have been 507 calls for service, as opposed to 690 for all of 2010.
Throughout my 20 year career as an elected official, I have always believed that community organizing works. Beat 33X makes the point.
In this time of budget cuts at all levels which are tearing the safety net apart, we must engage citizens in every community to join us in providing basic services and help for all neighborhoodsWe are building democracy and hope in Oakland by engaging the most disaffected communities with government, elected officials and services to build collective action for change.
I returned to Beat 33X this past week with a team of volunteers and staff from the City's Neighborhood Services Division to encourage residents to host block parties on Tuesday, August 2, for National Night Out (NNO). Each year, more and more neighborhoods sign up for NNO. Oakland has grown from 35 annual parties city-wide eight years ago to 457 last year. Our goal is to exceed 500 parties this August 2, and canvassing neighbors over the next few weeks is one way we will grow the program.
A mayor's job is many things, and I embrace the challenge. We'll make the biggest difference in organizing block by block and rebuilding democracy one neighborhood at a time. When neighbors organize, cities grow.
I'll be back in Beat 33X for National Night Out on August 2. Will you join me?
Related
Popular in the Community