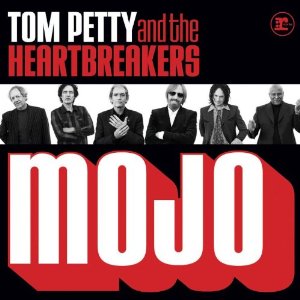 Mike Ragogna: Mojo is your first official blues-inspired album. Before Mojo, were you tempted to do a project like this?
Tom Petty: Yeah, I've been trying to get there for over a decade, really. It's the music we've always played. I guess over the last decade or so, it just became where I went when I wanted to listen to music. We haven't made a record in almost a decade, so when we got around to this one and we started writing for it, this is what cropped up. We just followed that direction.
MR: When many bands warm up or when they're in rehearsal, it seems like a tradition that they break into a blues number for fun. Is that what you guys would do, and did that casual jamming at least play a little role in Mojo's inspiration?
TP: Yeah, I'd say that part of what drew me here was, you know, when we played naturally. Like if there's no agenda at all, it's always blues. I thought, well, let's work where we feel the most comfortable, and I really felt like we had sort of mined all the other things we'd done. I feel like we found somewhere to sit down for a while, like this is something where there's a lot to explore.
MR: Since it was a new direction, you and the band had to have been especially energized hearing the quality of the end result.
TP: Yeah, we were really elated with the way the record came out. We had such a great time doing it, we didn't really want to quit, you know? I felt really hot, like we could have done a lot more, but this tour was looming over our heads. We had to stop, but I'm just in love with recording right now. I've never felt as proficient at it as I am right now. We did this without the use of headphones or separation--it was just all in the same room playing together. And it felt a little like a rehearsal feels, I guess. But I don't know...it was just so much fun. I don't see why we would go anywhere else.
MR: How did the recording process differ from your previous albums?
TP: It wasn't much different than a rehearsal, and the Heartbreakers have never rehearsed an album. It's always created on the studio floor. Here, I didn't make any demos. I just came in and played them the song on the guitar, and then the band would fall in, and we would kind of fine tune it from there. Usually, by the end of the day, we'd cut a track or two, then we'd be right back wanting to do more.
MR: "U.S. 41" sounds like an authentic old blues record because of the way you guys mixed it, and your guitar sound is true to that era. All that's missing is the vinyl's surface noise.
TP: I love those old records, so does Mike (Campbell). We really listened to that stuff a lot. I mean, I think I've always been on this quest for purity in the music, and I probably had to get to this age to start to find it, you know? This is closer to me to the purity that I find in those records. When I want to put on a record, I always find myself going back to Chicago blues and even further back. But I wanted to find that kind of purity in what we were doing, and of course, in the end it still comes out as sort of our way of doing it. I don't know that it really is a blues record, but it's certainly our take on it.
MR: Yours and the band's love for the genre is all over this record.
TP: Oh, yeah. And I wanted to get Mike up front with the guitar, so we had a little discussion about that. I wanted the guitar to be sort of the second voice on this record. He had this little Les Paul guitar that made this beautiful sound, and I said, "Let's stay with that one guitar and try to make it another voice." He's featured very prominently on the record.
MR: And the harmony guitars on "First Flash of Freedom" are pretty expressive.
TP: That's him and Scott Thurston playing together. Scott was great too, I didn't realize he was so proficient on the harmonica. He's always played good harmonica, but I really handed him a lot to do on this record. He really rose to the occasion. We were feeling like a pretty good little blues-rock band.
MR: The Three Kings of Blues--Albert, B.B. and Freddie--you're a fan of these guys, right?
TP: Oh, yeah. Really, all of them, particularly Freddie and Albert.
TP: Well, that's transcendent, that's not even human! Robert Johnson--you know, that's beyond all, isn't it. Robert Johnson, Ray Charles...you can't touch that stuff.
MR: Where do you see Stevie Ray Vaughan, Robert Cray, and George Thorogood sitting in the tradition?
TP: I think they all made a significant mark on it. Stevie Ray is a genius. I see Stevie Ray, in blues, as significant as anyone that ever played it. Thorogood? He is really interesting because he got that stuff into the pop mainstream. Robert Cray is terrific. He always sounded a little more R&B to me than strictly blues, but I think he brought some of that element into it. You got to hand it to him for that.
MR: Like you say, George Thorogood got that stuff into the pop mainstream, and in my opinion, he did it without compromising.
TP: They sound like my Bo Diddley records to me. He got it right into the pop mainstream to people who have probably no idea where it came from.

MR: I imagine to many, Mojo is no surprise since you've been educating listeners about the blues and soul on your show Tom Petty's Buried Treasure on XM. What are your favorite blues classics?
TP: Oh gosh. Favorites are hard. There's a Muddy Water's song I really, really love called, "I Can't Be Satisfied." And "I Ain't Superstitious"...these are the classic ones, and they're classic for a reason. They're just kind of hard to touch. I also like a lot of Little Walter's music. It's very hard to say which ones are your all-time favorites.
MR: It has to be difficult considering the sheer amount of great blues material from all the different regions. Getting back to the music on Mojo, "Taking My Time" sounds like the early days of blues-rock, with nods to Cream and maybe even Led Zeppelin's first album.
TP: Well, Cream, the English blues bands starting with the Stones through John Mayall...the Jeff Beck Group. I mean, those bands had a tremendous influence on me. I loved that music. I actually gave our engineer a lot of those records before we started, I gave him the early Jeff Beck Group records and Cream, John Mayall & The Bluesbreakers--lots of different records. I said, "Let's kind of take these in and you'll have some idea of what I'm going for, especially where the guitar fits into the mix."
MR: And again, there's that authenticity in the sound.
TP: It's because this band is really a good guitar-playing band. We can all play the guitar pretty good, and Mike is exceptional. He's always been such a tasteful, sort of laidback player, where he'll only play little bits, but they're really choice little bits. And he's not prone to step-up and show off. I'm trying to get him to do that here...let's show off a bit! Let's play guitar on this thing! And I think a lot of that spirit comes from those English records.
MR: Did you like the blues when you were growing up?
TP: When I was a kid, we didn't have any blues stations. I never heard Howlin' Wolf or Muddy Waters or any of those people until the Stones had come along, and I took it upon myself to find out who these people were that they were covering.
MR: You mention the Stones often.
TP: I sort of think the Stones single-handedly saved that music from extinction. That's a huge thing to do. I would have never known Elmore James or even Chuck Berry, you know. Coming up, I heard a lot of AM radio. A lot of the black music just didn't get played in the early part of the sixties.
MR: Between Mojo and your radio show, it seems like you're in the process of educating.
TP: I don't know, my music has always just come from where the wind blew me. Like where I'm at during a particular moment in time. This was something I have been thinking about for a long time. It had been ages since we made a record, and there were times when I wondered if we'd ever make another one. If we were going to make one, all of us said, "You know it's got to be something really good or there's no point in doing it." So, we're all pretty pleased with ourselves right now. We think it came out great.
MR: An interesting track is "Good Enough" because it almost sounds like a Randy Newman song that suddenly finds itself being played at a Derek and the Dominos concert.
TP: That's great. I never thought of that, but you're absolutely right.
MR: And again, regarding the Stones, you've got those tumbling guitars that are added to push boundaries that much more. I believe that might be this album's masterpiece, but then there's "Jefferson Jericho Blues."
TP: Yeah, that's a good one.
MR: Would you tell the story behind the song since most people don't really know about that affair?
TP: I love history, doesn't matter what era, I'm fascinated. I always thought that this was a really wild story, that Jefferson had this black mistress that he was obviously very fond of, but society wouldn't permit it. I believe he took her over to Paris with him when he spent that long period there...he was clearly in love with her. I thought it would make a nice blues, you know? I'm sure Jefferson had a little blues in him over that.
MR: What was its inspiration?
TP: It's just one of those things that pops up in your brain. I didn't really plan to do it. I was just writing and it kind of popped into my head, then I thought, "Oh, this is good."
MR: It's beautiful how the song sets up the album, almost thematically.
TP: We always thought that it had to be the first track because I felt like, yeah, this song gives you a good overview of what's coming. Maybe not a complete overview, but it sets a tone. So, that was the first thing we cut. We always felt it should be first.
MR: "Something Good Coming" is pretty personal, breaking character from most of the record. On the other hand, though it may not be musically bluesy, but sure is lyrically.
TP: Yeah, it's more like an Appalachian blues. I really like that Appalachian music. In a way, I hesitated to even show them this one because I thought we might be going off the track thematically. But we were out of songs one day, and I said, "Well I have this one thing..." They all went crazy over it..."Oh no, we've got to do this!" We really captured it in just a few takes. I'm glad we did it.
MR: "Pirates Cove" is another one whose blues is mostly generated from the lyrics.
TP: Yeah, "Pirates Cove" is just a little movie, like a little short film. That was one of the more difficult ones. We went through two or three different sets of music for that--I had a very upbeat song and it didn't go right. I rewrote the music...I think on the third pass, I got it because I really liked the story...we all did. It took awhile, and then, you know, by some heavenly gift, we hit that groove and it really came to life.
MR: Speaking of grooves, there's "Running Man's Bible." To me, it sports a kind of "midnight" groove like your classic, "Breakdown."
TP: Yeah, fair enough, just a cool groove they played on. Again, it was just that I liked the story, I liked the words. I wrote them pretty quickly, I was just overjoyed.
MR: The band seemed to have a good time too.
TP: It's one thing to play it on acoustic guitar, but then when they came in, it was just stunning to me. Especially with the organ and on top of it. They let me play lead guitar, which rarely happens, and it was a little nerve racking after Mike had been playing so well. He said, "No I think you should do this one."
MR: Any last minute additions?
TP: One of my favorite songs on there is "Lover's Touch" which is the last thing we did, and we almost didn't do it. I'm so glad we just took a couple of hours and cut that because it's one of my favorites.
MR: Were there any songs that you attempted but didn't make the cut?
TP: There are three that we wanted to put on the record, but it was getting dangerously long, so I left them off. I feel pretty sure that they'll be issued as bonus tracks. And when you hear them you'll say, "God why wasn't that on the record?" They're really good, if I say so myself. I just thought the record was getting long. I think we probably put more than we should have on it, but I thought, "I just can't throw any of these things away, and if I don't put them on, they're going to get lost in the sands of time."
MR: Or maybe those tracks are the beginning of Mojo 2?
TP: Well, I think we'll release them probably. Mojo 2? You know, I could start it today if I didn't have other things to do. Like I said, usually at the end of an album, you're pretty beat and tired. But we were still...it was getting easier and easier as we went along. The music was just coming.
MR: Even though it's a pretty full album, it's not obvious which one even comes close to being removed.
TP: Well that was my problem. I played it to the folks at Reprise came over to the studio and I think I played them probably 18, 19 songs. No one really knew what to tell me as far as what to cut, they liked everything. We all agreed we were going to have to shorten it because it was just way too long. On vinyl, it would probably be at least a double album. So, we made some hard choices and cuts and things. I'm really pleased with what's there. I hope people get to hear it because I really enjoy it.
MR: While you're on the road, which songs from your catalog do you think you'll be playing in addition to your Mojo material?
TP: Well, I think "Breakdown" would fit nicely into this stuff, but that's hard to know. The way I have it in my mind is that I want to play quite a bit of this stuff because it was recorded with just the six of us. I think there are never more than six instruments, and when we rehearsed it, it just sounded even better than the record. It's huge! So, I think I might just do a set somewhere in the show of Mojo, like, "Okay, we're going to play this for a while." One of the things I said early on was, "Well, I'll do this tour, but I'm not going to go out and just play the old hits." I think we've got a lot left to offer. I think it's time to make a stand and say, "This is what we're doing now."
MR: Speaking of taking a stand, since this is The Huffington Post, is there anything that you feel strongly about that you want to share with HuffPost readers, be it on the environment, politics, social issues...?
TP: Well, I'm probably the same as any sort of extreme liberal.
TP: Well, I am, though I'm not a real political person. I just go by common sense. I think it's common sense that you want the planet to survive and things like that. Equal rights for everyone....just very basic things.
MR: Do you have any advice for new artists who are coming into music right now?
TP: Songs are everything. When you first come in, there are a lot of bells and whistles thrown at you. But just work on your songs...if your songs are great, there's nothing that can stop you. Making a record? You've got to have the song, then you create a record. I think it's the same with a live performance. If the material is strong, you're already 90% there. I always tell young people it's all about the music, the songs. Work on the songs, work on the songs, work on the songs.
MR: Beautiful. You know, what you said is exactly the same thing Leon Huff told me in one of my earlier interviews, and he said it three times as well. It's all about the songs.
TP: That's the power behind the whole thing. I mean it's great to be good on your instrument or to be a really good singer, but you're not armed until you have the song. The song is what does it. Everything else you can learn with practice. But the song is this kind of heavenly gift that you've got. Really, really work on it. You can chrome a turd, but you can't make a song unless you have one. I hear these tracks where they're trying to get by with groovy sounds or nice rhythm or this and that. But it don't work unless there's a great song.
The band has a rule--if you submit a song, you've got to be able to get it over with one instrument and one voice. If you can't do that, there's no need for us to work on it. It's got to stand. It's got to be able to move you with only one instrument.
Tracks:
1. Jefferson Jericho Blues
2. First Flash Of Freedom
3. Running Man's Bible
4. The Trip To Pirate's Cove
5. Candy
6. No Reason To Cry
7. I Should Have Known It
8. U.S. 41
9. Takin' My Time
10. Let Yourself Go
11. Don't Pull Me Over
12. Lover's Touch
13. High In The Morning
14. Something Good Coming
15. Good Enough
(Transcribed by Sheryl Spurrier)
Howdy! Please listen to Mike Ragogna's 2.0 broadcasting and streaming on Wednesdays at 1pm CT on KRUU-FM, the Midwest's only solar-powered radio station: http://www.kruufm.com/
LAST WEEK'S GUEST: CHELY WRIGHT (REPEAT BROADCAST TUESDAY AT 8AM CT)
THIS WEEK'S GUESTS: GRIFFIN HOUSE and STREET DRUM CORPS' BOBBY ALT
Calling all HuffPost superfans!
Sign up for membership to become a founding member and help shape HuffPost's next chapter