TRENTON -- Stuart Rabner rose from the ranks of federal prosecutor to New Jersey's chief justice with accolades from his former boss, Chris Christie.
As U.S. attorney for New Jersey, Christie recommended Rabner to Democratic Gov. Jon S. Corzine, who recruited Rabner in 2005 as his chief counsel. Within 18 months, Corzine had nominated Rabner to the Supreme Court.
Calling Rabner "a fabulous choice," Christie said: "There is not a job in the law that Stu Rabner could not do well."
As chief justice, Rabner has earned respect for his scholarly opinions and efficient administration of the court system. Lawyers and former judges praise the soft-spoken, Ivy League-educated jurist as intelligent, fair, and principled.
But shifting political fortunes may jeopardize his position.
Rabner's seven-year term ends in June, and Christie has not announced plans to renominate him. While the Republican governor hasn't said he will remove Rabner, a Democrat, he has spoken of a need to reshape the state's high court, which he decries as "out of control" and unaccountable to the public. Last summer, he publicly criticized one of Rabner's decisions.
Christie previously bucked decades of precedent by taking two other justices off the court, sparking protest from the legal community and legislative Democrats.
In 2010, Christie did not renominate John Wallace, a Gloucester County Democrat and the court's only African American. It was the first time in modern history that a sitting justice had not been granted tenure. Rabner issued a statement to judges saying he was disappointed by the decision. Christie has since repeated the move with a Republican, Helen Hoens.
The Wallace decision set off a war with the Democratic-controlled Senate, which has blocked most of Christie's high court appointments, resulting in two vacancies. (Rabner has called up two appellate judges to temporarily fill vacancies.)
Senate President Stephen Sweeney (D., Gloucester) said Thursday that he expected to talk to Christie "in the very near future" about the court.
"The governor has every right to his appointment process, and we have every right to react as we see appropriate," said Sweeney, who has garnered Democratic support for opposing Christie over the court.
In the legal community, critics say Christie's dismissals of Hoens and Wallace sent a threatening message to judges. At stake in Rabner's reappointment, they argue, is not just the job of a respected chief justice but the integrity of the court system.
Rabner has "served with distinction," said Ralph Lamparello, president of the New Jersey State Bar Association, which last month passed a resolution urging Rabner's renomination. His future on the court "shouldn't be undecided. It's about Chief Justice Rabner, but it's not about him. It's about the independence of the judiciary."
If Rabner, 53, were to be renominated, he could serve until 70 -- a tenure that would make him the longest-serving chief justice of the state's modern judiciary.
Rabner declined to comment on his renomination.
In an interview last year with New Jersey Public Television's Michael Aron, Rabner, asked about his statement after the decision not to renominate Wallace, said it was "certainly my hope that judges who demonstrate their temperament, their ability, their skill, during the seven-year period of their initial appointment will be looked at favorably, with an eye toward reappointment."
A father of three whose wife is a physician, Rabner lives in Caldwell, Essex County. He grew up in Passaic, raised by parents who were Holocaust survivors. After attending Princeton University and Harvard Law School, he joined the U.S. Attorney's Office in Newark in 1986.
Defense attorneys who opposed Rabner said he gained a reputation as a talented, ethical lawyer who won over jurors while earning respect from his adversaries.
"He always understood prosecutors bear the burden of proof," said Lawrence Lustberg, a defense attorney. "He was not a guy you would ever worry wasn't turning over information."
By the time Christie took over the office in 2002, Rabner had been promoted to first assistant U.S. attorney. Christie reassigned Rabner to lead a newly created terrorism unit, later promoting him to head of the office's criminal division.
Rabner "was generally well-respected in the office by everyone," said Ricardo Solano, a white-collar criminal defense lawyer who worked in the criminal division of the U.S. Attorney's Office while Rabner led it. "He's someone whose opinion on cases was trusted."
There were rumors that Rabner wanted to be a judge, but Rabner "certainly was not a self-promoter," said a source familiar with the U.S. Attorney's Office. "Stu can be extremely persuasive without ever speaking loudly."
In late 2005, Corzine tapped Rabner to serve as his chief counsel, praising his ethical reputation. Less than a year later, Corzine moved Rabner to replace Zulima Farber as attorney general after Farber faced an ethics scandal.
By June 2007, Corzine had nominated Rabner to the Supreme Court. When Sen. Nia Gill (D., Essex) temporarily blocked the nomination, Christie criticized the holdup as "typical rotten politics in Trenton."
Christie's public praise for Rabner has largely been replaced by criticism of the Supreme Court -- and at times, its chief justice.
After the court last year released a decision written by Rabner that barred Christie from disbanding the Council on Affordable Housing, Christie blasted the "liberal Supreme Court" for continuing a "failed social experiment in housing."
"The chief justice's activist opinion arrogantly bolsters another of the failures he and his colleagues have foisted on New Jersey taxpayers," Christie said.
At a town-hall meeting this month in Mount Laurel, Christie attacked the court for upholding the school-funding formula, revised under Corzine, that gives more aid to districts with poorer students. The court in 2011 ordered the administration to increase aid to those districts by $500 million.
"The New Jersey Supreme Court has resolved that they have the power not only of the judicial branch . . . but the legislative and executive branch, too. They're appropriating money," Christie said.
Describing efforts to change the court, Christie said: "We have another opportunity coming up in June, where I have to decide whether or not to reappoint the chief justice."
In terms of judicial philosophy, Rabner can be described as "a little more centrist," said Robert Williams, a law professor at Rutgers-Camden who studies the court. "He's not a flaming liberal."
Williams cited an opinion by the court that said police needed a warrant to enter an abandoned home. Rabner and Justice Anne Patterson, a Republican appointed by Christie, dissented, Williams noted.
But Rabner has taken positions against the Christie administration. In one high-profile case, he wrote the strongly worded opinion that led the administration to end its court battle opposing same-sex marriages.
The Rabner court has upheld components of cases dating to the 1970s on school funding and affordable housing, defending requirements that Christie vehemently opposes.
In other states, Pennsylvania included, courts have refused to consider the types of challenges that led to those landmark decisions, Williams said.
With new justices, he said, "you could get a very different look at these and other important issues, such as abortion."
(c)2014 The Philadelphia Inquirer
Distributed by MCT Information Services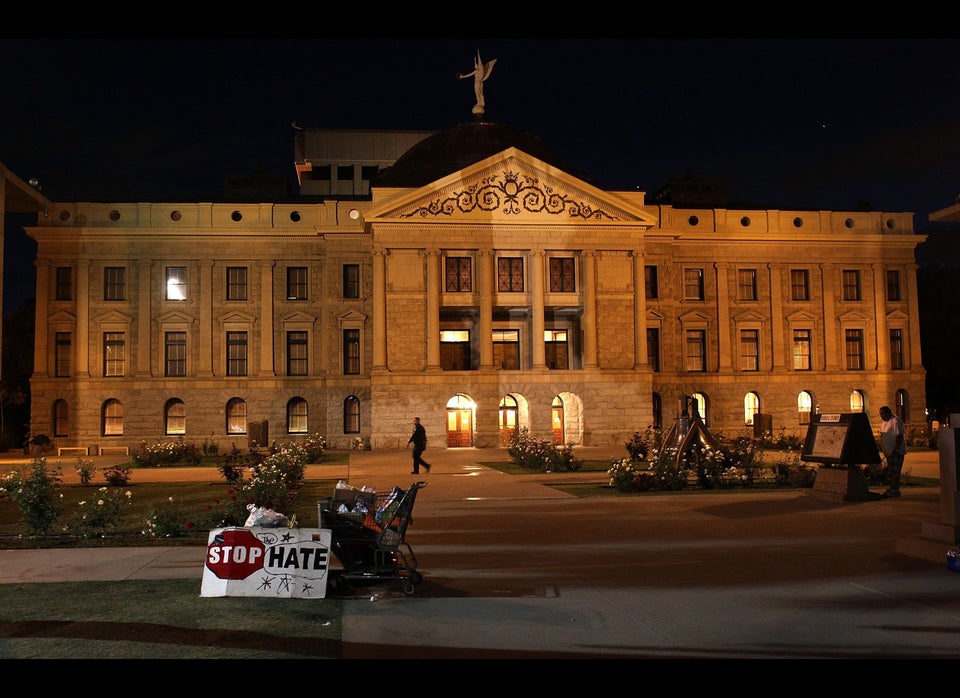 U.S. State Capitol Buildings
Popular in the Community