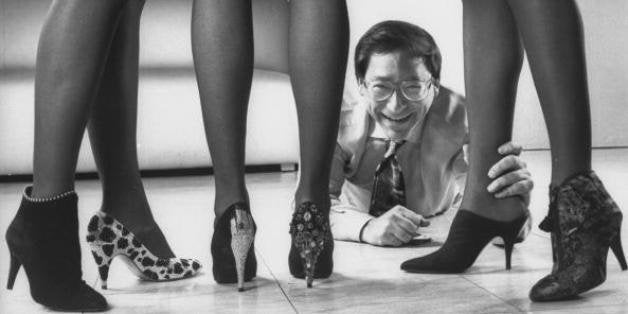 Shoe designer Stuart Weitzman spent the better part of Fashion Week, except for the Jewish holiday, watching the best tennis players in the world (instead of being herded in and out of the tents at Lincoln Center).
And Weitzman is laying low for good reason. Beyond his love of tennis, the New York-based sole man is just days away from the grand opening party of his new store in Milan, which includes a hot date with the company's current campaign model, Kate Moss. Energy conservation is clearly key in these sorts of situations.
With over 25 years of creating beautiful (and comfortable) shoes, worn by well-heeled women and celebs like Jennifer Aniston, Octavia Spencer, Kate Middleton and Beyoncé, to name a few, we'd say he definitely deserves a break from the Fashion Week frenzy.
We were lucky enough to catch up with Weitzman at the U.S. Open last week (between matches, of course) to get the scoop on opening his new store, working with Beyoncé, hanging out with Kate Moss and designing shoes for his muse.
Since you're a huge tennis fan and you clearly make a comfortable shoe (Beyoncé has spent years performing in your designs), have you ever thought about doing an athletic shoe?
"I'm in the fashion business, and I do make really fun casual sneakers. Nothing bothers me more than to see a girl walking around in Reeboks or Nikes, because you can buy cool looking sneaker-type shoes that are just as comfortable and are really fun. We make lots of them.
Have you seen Beyoncé perform in your shoes during her "Mrs. Carter" tour?
Yeah, she took us to the show at the Barclays Center. She was great! What a show! She's unbelievable -- flying through the air and singing. She didn't slow down. I think everybody should see it at least once. It's like a Cirque du Soleil, but to music -- good music.
How does it feel to see her working the stage in your designs?
It's exciting that she'd choose me when she could pick anyone in the world. And its also challenging. It means you have to make it better. She helps inspire me. I love making shoes for her and other celebrities. She knows what she wants. And so does her mom and her stylists Ty Hunter and Raquel Smith. They're great!
So can we expect a Stuart Weitzman x Beyoncé collaboration?
No. It's my brand. I put all my heart and soul in it. I don't see any reason to do something. She's not going to have the time and even if she had the talent for it, I'd want to make something that's one hundred percent real.
We know you make some really adorable kids shoes. Does Blue Ivy own a pair of Stuart Weitzmans?
Yup! She's got one of the coolest pairs of shoes we've ever made: little rhinestoned Mary Janes with a leopard print, custom made for her.
How are you feeling about your store opening in Milan?
It's a great space! No one has done a store like this for shoes -- ever. It's like wow! You wouldn't believe it. It's very very very artistic looking. The display units look like they are taking off. It reminds me of the first Cadillac that had that big fin. Folks were like, 'Wow, can a car look like that?' And I think people will say, 'Wow, a store can look like this?" I hate shelves and shoes lined up like little soldiers, and that's basically every shoe store, whether it be Chanel or Nine West. The shelves in the new store are spectacular. It's just different!
Are you looking forward to your hot date with Kate Moss the night of the opening?
She's nice. I had lunch with her after our campaign shoot. I think she was a little shocked by what kind of person I am. She said 'You're so normal! You're such a mega designer, but you're so normal.'
That's sweet! She's clearly a fan of both the man and the brand.
Yes. And she loves the shoes. She told me: 'I rarely take anything off a shoot. This is my work and I make a living off it. But if it's alright with you, there are two pairs that I would love to have." That was flattering and great, especially since, as you can imagine, she doesn't need another pair of shoes.
Are there any other stars you'd like to see in your shoes?
Yeah, but it ain't gonna happen because she's dead. I would love to make shoes for Marilyn Monroe. She just was this feminine thing that was so wholesome in her femininity. I mean her fame destroyed her and other people took advantage, but she just loved being soft and pretty and flirtatious. She's often a muse for me when I'm designing evening shoes. I think to myself, 'What would she wear? What would look great on Marilyn Monroe?'
Calling all HuffPost superfans!
Sign up for membership to become a founding member and help shape HuffPost's next chapter
BEFORE YOU GO
PHOTO GALLERY
Stars in Stuart Weitzman