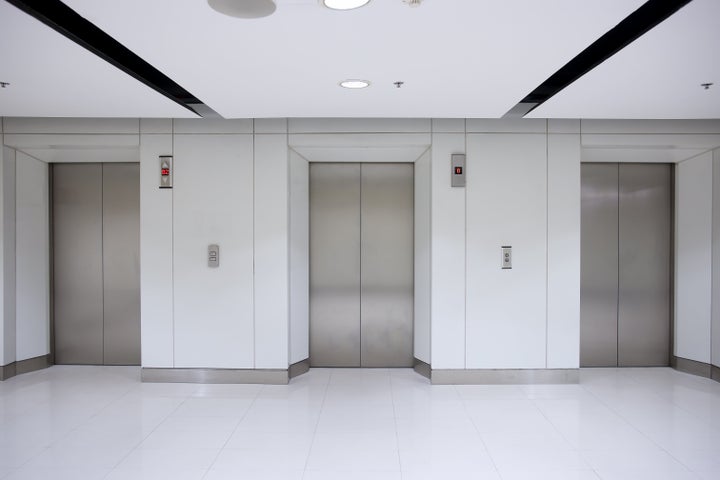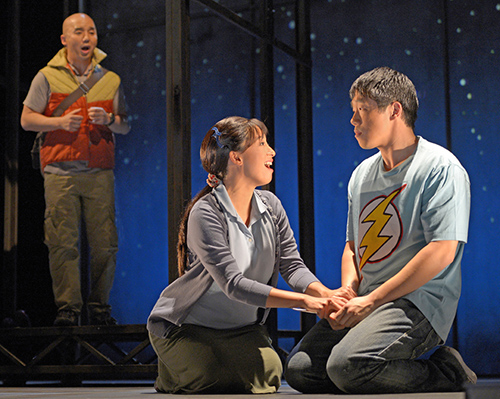 Julius Ahn as Guang, with Marie-France Arcilla and Raymond J. Lee as his wife and son. Photo by Kevin Berne
Even the title feels cramped. Stuck Elevator. Five short Anglo-Saxon syllables, dryly describing a situation that anyone can visualize. Who hasn't been in an elevator that stopped at a surprising moment, possibly between floors. No big deal. Hardly the inspiration for a play, let alone a musical drama or an opera; hardly a title that would excite a potential audience.
Byron Au Yong and Aaron Jafferis thought differently. Au Yong writes music; Jafferis writes poems and plays. In 2005, they read and heard about a man who was stuck in an elevator for 81 hours: a New York deliveryman who had taken an order of Chinese food to the 35th floor of a dilapidated apartment complex, a Chinese national, an illegal immigrant. And they transformed his excruciating experience into an epic that unfolds in words and music, in just about one minute for every hour that Ming Kuang Chen spent in the tiny cubicle.
American Conservatory Theater artistic director Carey Perloff encountered Stuck Elevator under development in a Sundance workshop production three years ago, booked it and provided it with the full resources of ACT's Geary Theater. As staged there under the direction of Chay Yew, on an industrial-look set by Daniel Ostling, the venture is audacious, compelling and hugely imaginative, if not totally successful. It also boasts English supertitles for moments sung or spoken in Chinese and Mandarin supertitles for the English dialogue and lyrics.
Although the tale can easily be read as metaphor for the experiences of many immigrants, not just from China, its details clearly make Stuck Elevator the story of just one man and provide it with whatever emotional impact it possesses.
Given the circumstances -- confinement in a metal box that measures four by six feet -- much of the narrative has to take place in the mind of its protagonist, named Guang. The role is discharged with depth, subtlety and a beautiful voice by Julius Ahn.
As minutes extend into hours, Guang's mind wanders through memories, nightmares and fantasies, revealed through songs that range in style from the operatic to rap, but mostly lie in a melodic middle ground.
We meet his wife and son (Marie-France Arcilla and Raymond J. Lee), who remained behind in Fujian Province when Guang bought passage to the United States via a smuggler, known as a snakehead. In one of the show's more amusing and touching moments, husband and wife exchange letters via air mail: paper airplanes that land amid the audience.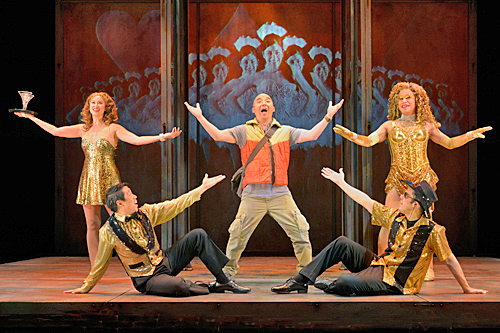 Who knows what reveries confinement can bring? Guang at center of a lavish fantasy. Photo by Kevin Berne
We meet Guang's nephew, who also paid some $80,000 to make the journey to America but never gets there. He dies on a container ship, in a steel box packed with would-be immigrants.
Some of the others among the play's 20-plus characters also emerge from the events that Guang has experienced, including a mugger who steals the receipts from his deliveries, a restaurant owner who cares only about collecting what she is owed, and a fellow deliveryman, who is both friend and rival.
But many of the play's personalities burst from Guang's vivid imagination, in effervescent fantasies that jolt the narrative flow and dilute the empathy that his recalled realities command.
One of those visions -- an exuberant song-and-dance number -- involves a flamboyant Atlantic City revue while another plays out as a spectacular battle between the Elevator Monster, decked out in glistening armor and sporting the nameplate "Otis," and the Fortune Cookie Monster, attired as you can imagine. They're stagy fun, but discordant.
Except for Ahn, who never leaves the stage and remains in character as Guang, the other roles are shared by Arcilla, Lee, Joel Perez and Joseph Anthony Foronda. All do admirable work.
Ostling's set naturally has the elevator as its central element, rising and falling between steel posts at its corners, but much of the play's visual success comes from projections designed by Kate Freer: images that range from tenement grittiness to Chinese art to an immense portrait of Ahn as Guang.
Despite the expert performances, direction that created a multitude of moods within a steady dramatic pulse, and intricate musical support by a three-member ensemble (violin, cello and percussion), something was missing when the elevator doors finally opened and Guang staggered out, presumably to an uncertain future. Certainly there is no joy in the moment, but couldn't there be some sense of relief?
Stuck Elevator runs through April 28 in ACT's Geary Theater, 415 Geary St., San Francisco. Tickets are $20-$85, from 415-749-2228 or www.act-sf.org.
REAL LIFE. REAL NEWS. REAL VOICES.
Help us tell more of the stories that matter from voices that too often remain unheard.