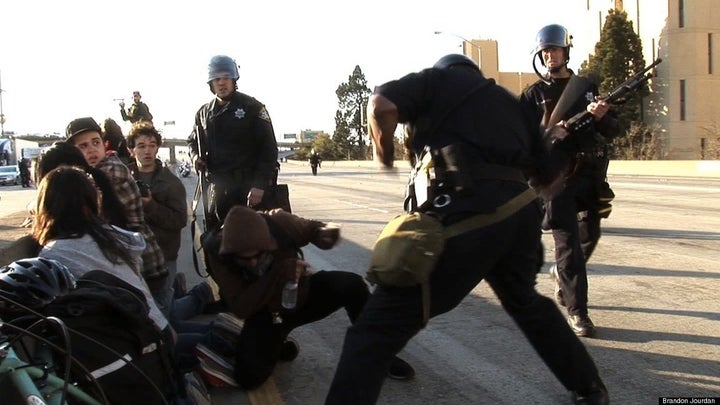 Produced by HuffPost's Eyes & Ears Citizen Journalism Unit
On March 4th, 2010, demonstrators in California and across the country took to the streets to protest massive cuts at all levels of education and government imposed austerity measures.
In Oakland, thousands of protesters rallied in Frank Ogawa Plaza. A group of some 200 then broke off and marched through downtown before moving to Interstate 880 and later taking over an Interstate 980 exit ramp. The Oakland riot police swept in and without a call for dispersal started swinging batons and beating people before arresting them. The video below shows the beatings 1 minute 47 seconds in.
As police were attacking the crowd, Francois Zimany, a fifteen-year old high school student, fractured his skull after a 30 foot fall off the freeway. Questions have arisen over whether he fell, jumped, or was pushed by police off of the freeway.
The interstate was shut for over two hours with traffic gridlocked across the Bay Area. Corporate journalists covering the action were allowed to leave while the independents were rounded up along with demonstrators, including one student journalist with the Daily Californian who was not carrying press credentials.
Berkeley Graduate School of Journalism dean responded to the arrest in an interview with the Daily Californian:
Neil Henry, dean of UC Berkeley's Graduate School of Journalism, noted that these days "everybody has a camera and has access to publication on the Internet."

"In general, student journalists should be treated with the same respect as journalists from traditional media," he said. "They do same thing, they report under high standards to a significant population, they are the eyes and ears for the university community for a newspaper like the Daily Cal."
EDITOR'S NOTE: The authors of this piece and producers of the above video were also arrested and detained for over 20 hours. They were on assignment for Democracy Now! and did produce press credentials.
These photos were posted Sunday afternoon on the activist forum, Indybay by Dave Id, a friend of protesters who had been beaten. They had been taken about 48 hours after the highway rally.