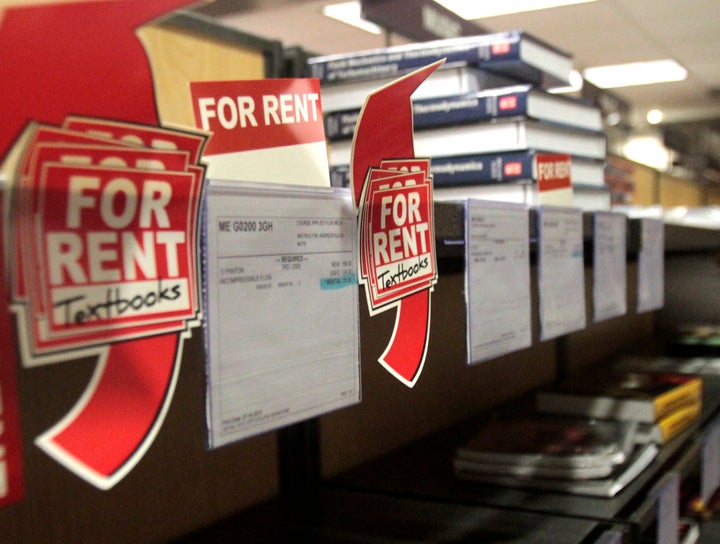 WASHINGTON -- As the cost of textbooks continues to rise, many college students are choosing to skimp on textbooks to save money.
Seven out of 10 undergraduates surveyed at 13 college campuses said they had not purchased one or more textbooks because the cost was too high, according to a new survey released Thursday by the U.S. Public Interest Research Group. The Government Accountability Office has estimated that textbooks cost a quarter the average tuition for state universities and three-fourths the average tuition at community colleges.
"Generally what we get from students is 'Yeah, it's only a few dollars, but it could be my dinner,' " said Jessica Bruning, a student at Iowa State University who has worked with a school group to lobby the Iowa legislature on behalf of college students. "It adds up pretty quickly."
In recent months, some student groups have joined Textbook Rebellion, a coalition supported by U.S. PIRG; Campus Progress, a subsidiary of liberal think tank Center for American Progress; and other organizations that seeks to address the rising cost of textbooks.
The survey, although not scientific, included 1,905 students from 13 college campuses, and found most of the students believed not having all their textbooks would adversely affect their grades.
"Students recognize that textbooks are essential to their education but have been pushed to the breaking point by skyrocketing costs," said Rich Williams, Higher Education Advocate for U.S. PIRG in a release. "The alarming result of this survey underscores the urgent need for affordable solutions."
U.S. PIRG, in collaboration with student chapters, have been conducting research for years on the high cost of college textbooks. Their survey found four out of five students said new editions had been a factor by preventing them from purchasing used copies, and half said bundles or custom editions for their campus caused them to encounter an increased cost.
Bruning said new editions are often a challenge, as even the old editions could cost $50. Many students wait until they begin the class to see how much they need the textbook.
"We're trying to desperately trying to come out of college without loads and loads of debt," she said.
Bruning lobbied legislators unsuccessfully to make textbooks exempt from sales tax in Iowa. It was brought forward in the state Senate, but it failed to advance. However, in light of the financial challenges to students, Bruning said most professors have been sympathetic regarding textbooks.
D. Steven White, professor of marketing and international business at the University of Massachusetts Dartmouth, said many of his students who work their way through college or rely on loans have a hard time affording the $1,000 to $2,000 a year for textbooks that comes on top of tuition, fees, rent, food and other costs.
White was an early adopter of open-source textbooks, which are essentially digital versions of the books students can access on multiple platforms. The books he assigns using an online open-source platform allow students to save highlights in their books, and print them out for a small fee. And rather than issuing new editions, updates can be made at any time.
"Students are happy; faculty is happy; quality is as-good or better," White said. "This model is the future of textbooks."
White said students have adopted the digital versions readily since they have largely grown up with more mobile technology.
"For years, a handful of powerful textbook publishers have monopolized the industry and driven up costs four times the rate of inflation," said Nicole Allen, textbooks advocate for the Student PIRGs, last week in a release. "Better options are out there. Between used books, rental programs and long-term alternatives like open textbooks, we have the tools we need to make textbooks affordable for more students."
White predicted the open source textbooks alone are going to turn the industry on its head by taking away power from the major publishers.
Related
Popular in the Community