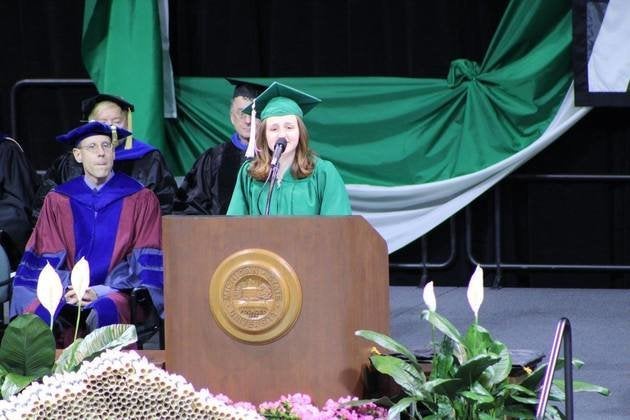 Last month, we put a call out for any newly-minted high school or college graduates to submit speeches from their commencement ceremonies. Dozens of submissions later, we've decided to pull out a few notable highlights from the graduation speeches we published. 
"How do we know that we have made a difference in the world? Look left and right, we have helped set the fire in the hearts of the sixteen hundred graduates right here in this stadium."
"We live in a society that encourages us to do things later in life when everything around us is moving faster than ever before. We are taught that our twenties are a time of self-discovery, but too many of us have been blinded by the myth that when we turn thirty, somehow we will suddenly have it all figured out and will finally be prepared to take active responsibility for our adulthood. More than ever before, it is normal to start careers later, marry later, and in a lot of cases we just so happen to graduate a little later. Hey, we're human, but we are also the masters of our fate, and we have an abundance of talent to offer to a world that is desperately in need of our contributions. Our competition is coming from every corner of this big, blue planet, and there is no time to waste."
"It may seem unavoidable to become engrossed in all things repetitive and mundane. But you must remember what you are doing, why you are doing it, who you are doing it for, and keep your eyes on the end goal while remaining focused. Understand that your work is not in vain, you may not live to see the completion of your work but continue to work as you are making an investment in the future."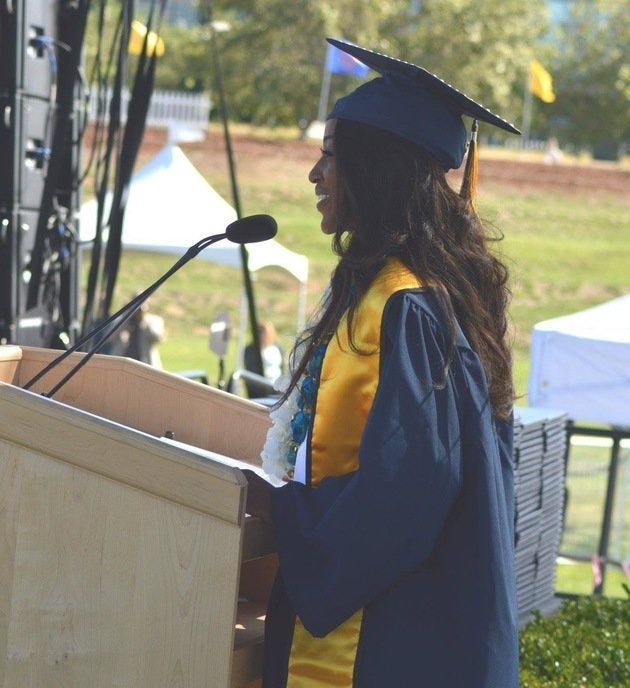 "Familias, gracias por estar presente en el día de hoy. Como nuestros maestros, ustedes han sido esenciales en nuestro éxito. Muchas veces, fallamos en reconocer todas cosas maravillosas que nos dan, en lugar enfocándonos en lo negativo, lo que nos falta. Les pido perdón por eso, y por tomarlos en vano. Nosotros sí estamos consiente de los sacrificios que hacen todos los días para que nosotros podamos cumplir nuestros sueños, y me gustaría tomar este momento para agradecerles por todos esos sacrificios que han tomado y todos los que van a continuar de tomar en el futuro. En realidad los amamos."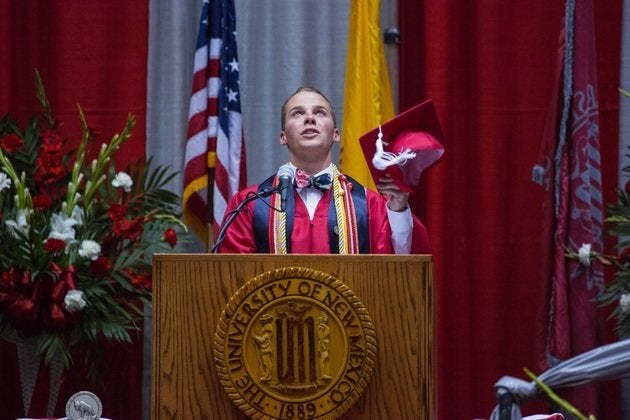 "Adversity has taught me, we have to find the beauty hidden in our challenges and value the people in our lives. Throughout our journeys we have the choice at any given moment to decide what we are going to do and who we are going be. As you continue moving forward remember that everything we do is a choice. 

Happiness is a choice, and I choose happiness. But we all know it is not easy to just be happy; happiness is a habit we develop over time. This habit comes from Being Kind, Being Selfless, Being Intentional, Being Excited, and Being Grateful. I didn't learn these habits by myself. I learned them from some special people that changed my life forever.
"We all probably feel pretty anxious and unprepared, stressed, maybe even scared. Try your hardest and you will know that it's your best. Always keep your future goals at the front of your mind and do what is necessary to achieve them. But, if it doesn't go right the first time, don't give up. Remember that the grade on the paper only represents a very small part of us, we shouldn't let it ruin the potential of the rest of us. However, have confidence in the fact that we are being taught at an excellent school, with empowering teachers, and this already gives us an advantage."
"This morning, however, I want to share what I think are the characteristics that actually shape us and set us apart as a generation. I will do so by comparing us… to a Snapchat story. Yes, you heard it right. ... Number One: just like Snapchat stories are 10 seconds long, we understand that we do not have unlimited time to get things done. ... Number Two: we navigate through friends' Snapchat stories all the time. ... And Number Three: just like we are confident enough to post a Snapchat story, we have the hubris to believe we can impact the people around us."
"When I play piano, I'm accountable to no one but myself. When I play guitar, I am free of anyone's judgement but my own. When I sing, my only critic is the man in the mirror, oh yeah! And without the added pressure of all those around me, I'm content to sing off key, to make mistakes, to laugh at myself. I'm not afraid of messing up, of deviating from this image of perfection.

I wasn't given the honor to speak to you today because of my musical prowess. But maybe, maybe music is the reason I'm up here."
Calling all HuffPost superfans!
Sign up for membership to become a founding member and help shape HuffPost's next chapter