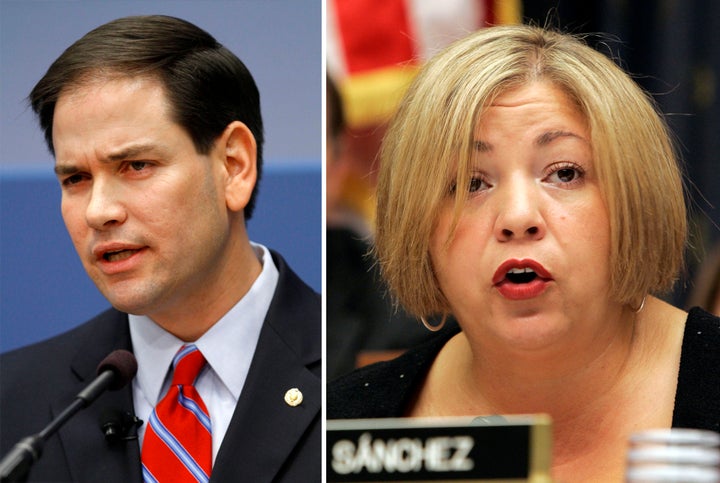 Sen. Marco Rubio (R-Fla.) is $100,000 in the hole for student loans he took out in the 1990's -- and could owe as much as $250,000. The exact figure is unknown because members of Congress are allowed to report financial holdings and debts in ranges.
The Miami New Times reports Rubio spent his first year of college at Takio College on a football scholarship, but then transferred to a community college. He graduated from the University of Florida and went on to earn a law degree from University of Miami in 1996.
Rep. Linda Sanchez (D-Calif.) also owes somewhere between $15,000 and as much as $50,000 on the student loan she took out in 1992, according to financial disclosure reports. Sanchez used the loan to attend law school at the University of California at Los Angeles.
Bloomberg News also reports Rep. Cathy McMorris Rodgers (R-Wash.) is carrying more than $10,000 in debt for a student loan she took out in 2003. McMorris Rodgers, who serves as vice chairwoman of the House Republican Conference, earned a master's of business administration in 2002 at the University of Washington.
Members of Congress are not exempt from repaying their student loans. Some federal employees do receive assistance eliminating their student debt, but PolitiFact reports it's only an extremely small percentage.
Congress has still not reached an agreement on whether or not to keep the federal student loan interest rate at 3.4 percent. If the House and Senate do not pass a bill before July 1, the rate will increase to 6.8 percent.
Total student debt, public and private loans, topped $1 trillion nationally this year, according to the Consumer Financial Protection Bureau. Student loan debt is now greater than all other forms of consumer debt.
Related
Popular in the Community