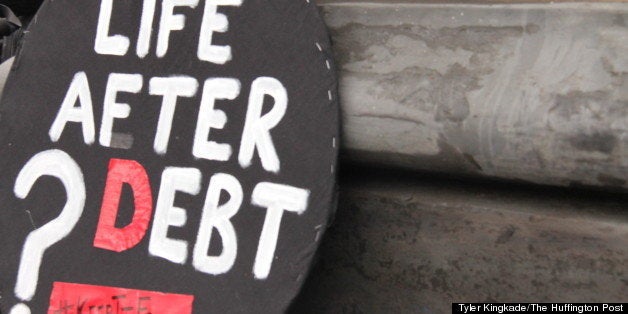 Student borrowers are getting ripped off by private companies that offer to help them manage their loans but then charge hundreds of dollars for services the federal government offers for free.
"There were a shocking number of inaccuracies and lack of transparency among the companies in our investigation," NCLC attorney Deanne Loonin, an author of the report, said in a statement.
The report investigated 10 companies advertising student loan debt relief, using "secret shoppers" and reviewing company websites, in addition to holding discussions with state and federal regulators.
NCLC found one company used its fine print to bury a fee of $445 to enroll borrowers in a government program, with a subsequent monthly charge of $39. Similar fees were imposed by other companies, with enrollment charges of up to $1,600 and monthly fees for ongoing services ranging from $20 to $50. The report said borrowers were either not informed of such charges, or the disclosure was placed in the fine print of contracts and on websites.
The report found that companies advertised as exclusive student-loan programs such as income-based repayment, income-contingent repayment and Pay As You Earn, that are also offered by the U.S. Department of Education.
Government programs offer free enrollment and are designed to help lower monthly loan payments for struggling graduates, but the companies did not clearly explain this difference to customers, the report found.
"At a minimum, it is deceptive that most of the companies fail to prominently disclose that 'their' programs are actually government programs that an individual can access on her own at no cost," the authors wrote.
The Education Department did not return a request for comment on the report Thursday.
Other red flags detailed in the report included incorrect information on company websites. For example, three companies claimed that borrowers could discharge a student loan in bankruptcy after seven years, when in fact they cannot.
The NCLC also described the companies' employee recruiting and promotion practices as "troubling."
Some of the companies advertised their borrower-counseling positions as sales jobs, noting employees could make several thousand dollars a month in commissions and up to $250,000 annually.
"If, for example, employees are compensated based on how many borrowers they convince to consolidate, they are likely to pressure borrowers into these options even when it is not in the borrowers' best interest," the report states.
The report offers a number of recommendations for curbing consumer abuse by such companies, including better disclosure of fees, requiring companies to state whether their programs are the same as government programs offered at no charge, and prohibiting commissions based on numbers of borrowers enrolled in particular programs. The report also called on schools to provide more information on repayment and counseling services for student borrowers.
"We hope that the U.S. Department of Education will make it easier for student loan borrowers to access its borrower assistance programs," said Loonin, "and that federal and state authorities will ensure that these companies comply with the law so that those consumers truly understand what services they are buying."
Calling all HuffPost superfans!
Sign up for membership to become a founding member and help shape HuffPost's next chapter
BEFORE YOU GO
PHOTO GALLERY
Majoring In Debt