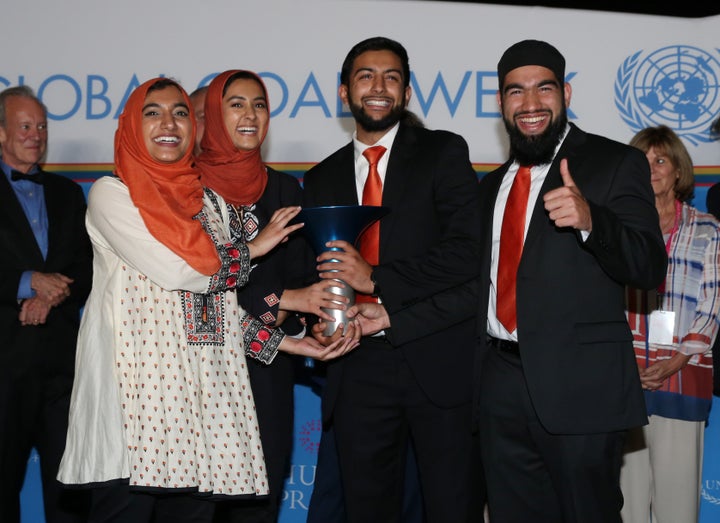 NEW YORK ― Four Pakistani-American students are one step closer to making their idea for tackling the global refugee crisis into reality.
The young entrepreneurs behind Roshni Rides, an envisioned transportation network to empower refugees overseas, on Saturday won the prestigious Hult Prize challenge ― which comes with a $1 million award in seed capital.
The Hult Prize Foundation, a nonprofit organization for social enterprise, last year presented students with its eighth annual goal-oriented contest: develop a startup venture to restore the rights and dignity of 1 million refugees by 2022.
More than 50,000 applicants from well over 100 countries rose to the task, and judges selected six finalists after several stages of competition.
The finals, hosted at the United Nations headquarters in New York City on Saturday, officially kicked off U.N. Global Goals Week for sustainable development during the General Assembly. The Roshni Rides team pitched its proposal before a chamber of spectators, including a panel of eight judges.
The business model is a formalized rickshaw shuttle service inspired by the New York subway system. The team aims to optimize existing infrastructure in order to offer fixed, affordable commuting prices to urbanized refugees in South Asia, where transportation options are often limited. Facilitating local travel will also help eliminate refugees' barriers to accessing education and employment opportunities, the team members said.
Former President Bill Clinton, a key Hult Prize partner, declared Roshni Rides the winner of this year's challenge. "This is a private solution to a public problem that will have a big impact," he said.
An unprecedented 65.6 million people worldwide have been forcibly displaced from their homes by conflicts, natural disasters and other crises, according to the latest U.N. data. This figure includes nearly 22.5 million refugees.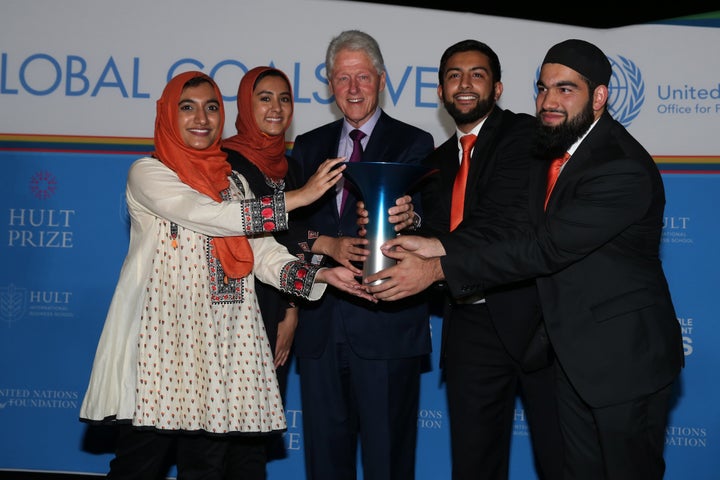 The Roshni Rides team is made up of recent Rutgers University graduates Hanaa Lakhani, Moneed Mian and Hasan Usmani, as well as CEO Gia Farooqi, who is on track to graduate from Rutgers later this year. All four plan to relocate to southern Pakistan, Asia's leading host country of refugees, so they can use their award money to bring the business to life as soon as possible. They intend to return to Orangi Town, where they conducted field research over the summer.
Farooqi, 22, said the refugee-focused challenge posed a politically poignant issue for her team. There was a lot of news coverage surrounding the Syrian refugee crisis when it was announced last October, she noted.
"Being Muslim, and feeling very connected to our global Muslim family, it just became something that was so much more than a competition," she explained.
Farooqi said it felt "very unsafe and almost uncomfortable" to be a Muslim in America after President Donald Trump's 2016 election campaign, which focused heavily on a ban to halt the entry of refugees and other citizens from predominantly Muslim nations into the United States.
Participating in the Hult Prize challenge to support refugees in Muslim-majority Pakistan and beyond afforded her a platform to represent the U.S. on a global stage as an American Muslim, Farooqi said.
"America is diverse and looks different," she added. "Anybody can help anybody, no matter what you look like."
The 2017 Hult Prize challenge also resonated on both a professional and deeply personal level for Francis Duahn, 39, the CEO of finalist startup Kwado.
Duahn spent much of his life as a refugee in Western Africa. At age 12, he and his younger brother were separated from their family in Liberia during the country's first civil war. They spent the next 15 years living in various displacement camps, sometimes "sleeping on the road with nowhere else to stay," he recalled.
Duahn had dreamed of going to school while growing up, remembering his mother's advice that education is the key to a better future. Finally, at 27, he immigrated to Canada as a government-sponsored refugee and enrolled in high school classes. He went on to earn a bachelor's degree in international relations, and is currently pursuing a Master of Business Administration at the University of Calgary.
Although his team's company ― which seeks to link refugees with local employment opportunities ― was not selected as the winner, Duahn said he hopes his story can serve as a source of inspiration for other refugees.
"You can redefine your future when you make good choices and work hard," he said. "Leaving from a refugee camp to make it this far at the United Nations headquarters is an outstanding opportunity. I hope those [refugees] who are watching today will think, 'If that refugee can make it, I can make it too.'"
Diversity and innovation are among the Hult Prize's defining pillars, according to CEO Ahmad Ashka.
"We looked at the refugee crisis and thought, 'Could this be the greatest renaissance of entrepreneurship that people are missing? How do we convert the problem of the crisis into an opportunity?'" he said of determining what the 2017 challenge theme would be.
Ashkar said he's hopeful that the challenge winners' influence will extend beyond "just the direct outcome on refugees."
"I'd like to get more and more people to understand that refugees, if looked at through the right lens, can be an added benefit to society, not a strain," he said.
Related
Before You Go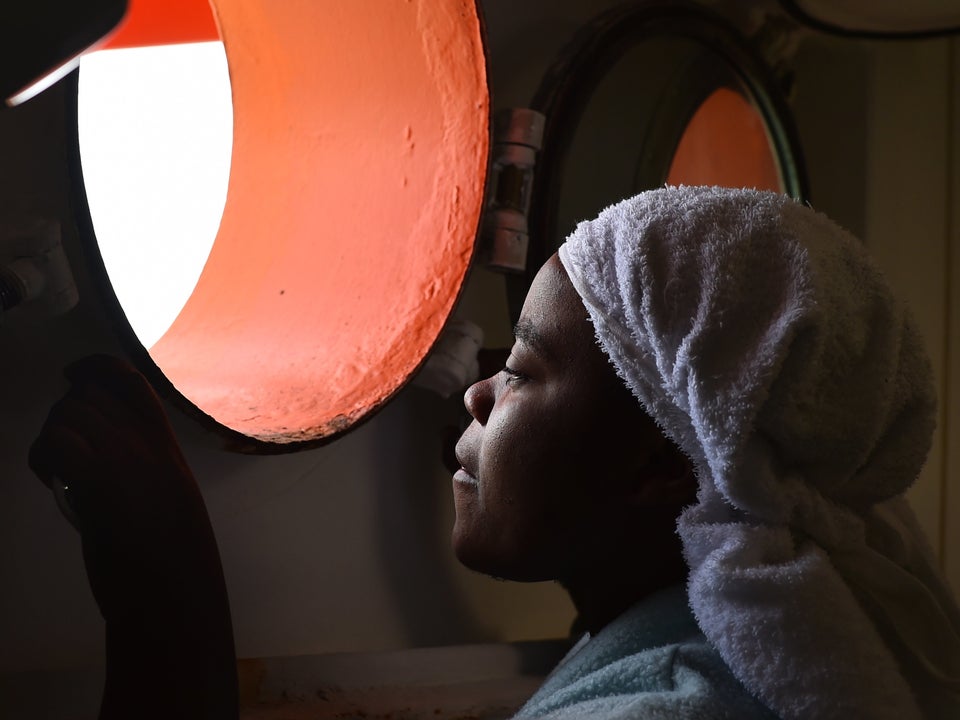 Women Refugees Over The Years
Popular in the Community