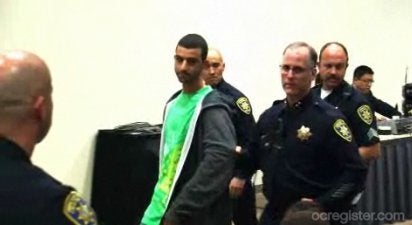 On February 8, 2010, 11 students peacefully protested the speech of Israeli Ambassador Michael Oren at UC Irvine. The students stood up and made individual statements of dissent. After each student finished, he or she quietly left the auditorium; they were immediately arrested and cited. The students did not resist arrest, did not commit any property damage or engage in violence. Following a year of criminal investigation, including the impaneling of secretive grand juries, the Orange County District Attorney charged all 11 students with two misdemeanors.
This unjust prosecution has been condemned by a broad coalition of students, professors and civic leaders including over 100 UC Irvine professors, faculty in the UC Jewish Studies department, the American Civil Liberties Union, the National Lawyers Guild and prominent interfaith leaders.
There is a long history and tradition of nonviolent dissent in our society and on our campuses on controversial topics and speakers, including the civil rights anti-Vietnam war movements, the environment and Israel-Palestine. Dissent and the expression of dissent are part of our American tradition and integral to academic freedom. Moreover, as President Obama noted when he was interrupted by a New Hampshire crowd of protesters regarding abortion, disrupting speech also has a long tradition in our country. "Let me just say this though. Some people got organized to do that. That's part of the American tradition we are proud of. And that's hard too, standing in the midst of people who disagree with you and letting your voice be heard."
I can think of no place where freedom of speech and dissent has been, and continues to be, more important than university and college campuses. For students, the university is a place to learn more about the world, be exposed to major ideas and issues and to diverse and contending positions. They are challenged to think critically, discuss and debate issues in class and as members of campus organizations. Putting those ideas into action is also something universities generally encourage, often through campus and off campus organizations. It is unreasonable to expect students not to be become involved and act on issues of concern from global politics and the economy to human rights and ecology.
And yet today, a great public university has engaged in public censure of political speech and the state of California has injected itself to criminalize and prosecute such speech.
UCI, like other university campuses, has had speakers and programs on controversial political topics disrupted by students. Would a case involving the disruption of a Palestinian spokesperson or point of view result in a similar UCI administration's punitive response and civil prosecution? We already have an answer; the answer is no. When College Republicans interrupted Muslim speaker Amir Abdel Malik at UCI, the protest was so overwhelming, UCI's College Republicans literally shut the speaker down, as similar protestors have done to other Muslim speakers at UCI. The difference was this one was caught on video and put up on the popular website, YouTube.
Free speech means the right to speak and dissent, but does not mean the right to prevent others from speaking. In contrast to the Irvine 11, who responsibly exercised their right of free speech, College Republicans planned and deliberately denied the speaker's right to speak and shut down the event. They had large, premade signs, went on stage, surrounded the speaker, took the speaker's microphone and shut down the meeting. Did the UCI administration in this case and others move quickly to punish these disruptors, as they have in the Irvine 11 case? Were they accused of a conspiracy to disrupt? On the contrary, no one was prosecuted for this far more offensive conduct.
The Israeli-Palestinian issue is a super charged and politicized (one might say explosive) issue internationally and in America. Criticisms by former president Jimmy Carter, South Africa's Archbishop Tutu and Judge Richard Goldstone, who headed up the controversial U.N. Human Rights Council investigation of the war in Gaza, and others have even been denounced as anti-Semitic.
Michael Oren is not simply an academic or simply a career diplomat. He did not just speak about history, culture or economics, but a very contentious political conflict and set of issues that has taken the lives and shattered the families of Israelis and Palestinians and in which each side has accused the other of engaging in illegitimate forms of violence and terror. Oren has had personal experience of the military side of the conflict. He is also a former member and now reservist with the IDF (Israel Defense Forces). He was called up during Israel's invasion of Gaza during Operation Cast Lead and served as a spokesman for the Israeli government.
This conflict resulted in between 1,166 and 1,417 Palestinian and 13 Israeli deaths. Amnesty International published a report, "Fueling Conflict: Foreign Arms Supplies to Israel/Gaza," (February 2009) criticizing both sides but emphasizing Israel's absolutely overwhelming technical sophistication and destructive firepower and the resultant damage and death tolls. In a July 2009 report Amnesty -- which first accused Israel of war crimes shortly after the fighting ended on Jan. 18 -- deplored Israel's use of less precise artillery shells and highly incendiary white phosphorous in built up areas and accused Israeli forces of using Palestinians as "human shields" and frequently blocking civilians from receiving medical care and humanitarian aid. Human Rights Watch published a very critical report, "Rain of Fire: Israel's Unlawful Use of White Phosphorous in Gaza," (March 2009), on the extensive use of white phosphorous munitions by the Israeli forces.
This, then, is part of the background to the Irvine 11 students' view of Michael Oren, his credibility, and the concerns they voiced. However, while the speech was interrupted, they did not attempt to shut down the event. After each of the Irvine 11 students expressed his or her political dissent, briefly and nonviolently, each immediately then proceeded to leave the auditorium. This was a brief disruption of his speech, which Oren was able to finish. And yet, the university not only chose to punish the individual students and the Muslim Student Association, but also overreacted and did so in an unusually harsh manner.
Why has this campus incident escalated into a criminal matter? The university has allowed itself to be complicit with the state in punishing students for peacefully political protest. Why should the Orange County DA's office be prosecuting student speech on the university's campus? Peaceful protest on a campus should not give rise to criminal prosecution. Although the state and courts exist to protect free speech and the right to assemble, increasingly, in the name of national security, constitutionally protected personal freedoms, including the right to dissent, are being compromised. The definition of "normalcy" is being reset at the expense of our liberties.
The prosecution of the Irvine 11 does not protect free speech, but instead poses a real threat to our constitutional rights to organize, meet and protest and will intimidate and silence others in the future who wish to express their right to dissent.