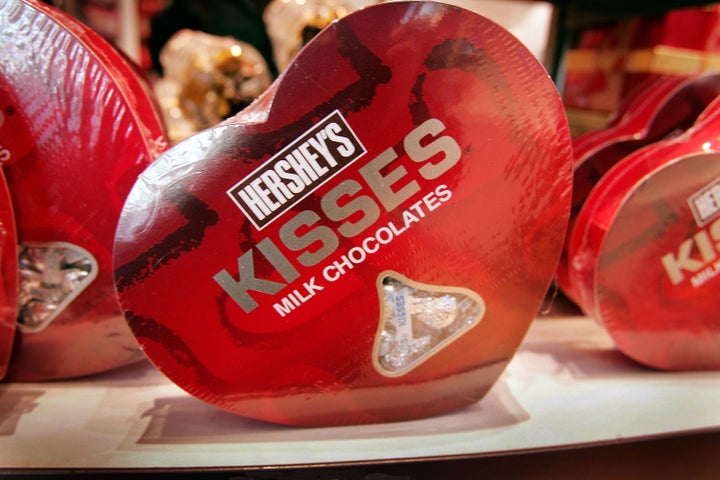 WASHINGTON -- Three Pennsylvania labor leaders were detained by police Wednesday during a protest of working conditions for foreign students at a Hershey distribution center in Palmyra, Pa.
Labor activists said that the students had to pay between $3,000 and $6,000 to come to the United States on J-1 travel visas for the summer, and that after deductions for housing they've been earning a mere $40 to $140 in exchange for working 40-hour weeks. Stephen Boykewich, a spokesman for the National Guestworker Alliance, an advocacy group for guest workers in the U.S., said that the students were recruited in their home countries, mostly in Eastern Europe and Asia, and were offered the opportunity to visit America and improve their English.
Boykewich said that roughly 400 students were working at the plant and that the "vast majority" of them have walked out.
Workers at the facility in Palmyra package Hershey's candies to be distributed to stores. Kirk Saville, a Hershey's spokesman, said the foreign workers were not directly employed by the candy giant.
"Beyond that, I can say that the Hershey Company expects all of its vendors to treat its employees fairly and equitably," Saville said.
Saville referred The Huffington Post to Exel, Inc., the third-party logistics company that oversees the distribution center. A spokeswoman for that company said that the student workers were not directly employed by Exel, either.
"We're not trying to pass the buck," Exel spokeswoman Lynn Anderson said. "It's a bit of a layered situation."
Anderson said that although Exel does run the distribution center, in this case the company had contracted a temporary worker company, which had in turn supplied the foreign workers to Exel.
She added that the guest workers wound up at the Hershey plant to supplement the full-time staff during a busy summer season.
"We require a lot of extra workers for a short period of time, and we use temporary labor for that," Anderson said. As for any alleged exploitation at the plant, she said "we absolutely have standards and expectations" for our contractors. "If our supplier isn't meeting our expectations, then we'll take the necessary steps."
Anderson directed The Huffington Post to SHS Staffing Solutions, the temp company that she said supplied the workers. But Sean Connolly, an SHS spokesman, said that while SHS did handle their payroll, the workers were actually supplied by a different agency.
"We just handle the payroll," Connolly said.
He referred any questions about the foreign workers' employment to the Council for Educational Travel USA (CETUSA), which he said supplied the workers to SHS.
On its website, CETUSA calls itself a "global exchange organization dedicated to helping people from different cultures develop more compassion and understanding for one another." The nonprofit also says on its website that it helps foreign students obtain J-1 visas. Such visas are typically issued to foreigners interested in cultural exchange or business training in the U.S.
CETUSA officials could not be immediately reached for comment.
According to Boykewich, those arrested outside the Palmyra plant were Rick Bloomingdale, AFL-CIO Pennsylvania state president; Neal Bisno, an SEIU official; and Kathy Jellison, president of SEIU Local 668. The protesters had allegedly disrupted work at the facility.
"It's an entire labor strategy," Boykewich said of putting foreign students to work at facilities like the one in Palmyra. "Companies get extraordinarily productive workers for a fraction of what they used to pay."
Video of the students from the National Guestworker Alliance:
Popular in the Community