By Linda Yaron

What does real world learning look like? How can arts education be leveraged across disciplines to enhance student skills and experiences? How can student voices and identities be honored in the classroom?
These are questions I try to keep at the forefront when planning curriculum. The execution of them has taken varied forms, depending on available time, supports and student interests.
Most recently, my students partnered with the Getty Museum and community organization 826LA to create a photography exhibition in the community. They met with international artist Tomoko Sawada, who guided them on the elements of self-portraiture, and worked with 826LA volunteers to craft artist statements on the images they took. The exhibition was on display for two weeks at a community café, where families and community members could view their work. Through this arts education focus, students were able to enrich their learning and identities. Students said of the experience:
"It allowed me to find my identity and it helped me find what really represents me."
"It inspired me to work hard so that I can have a great future. It impacted me by finding my inner self and focusing on what doors to open for my future."
"The experience helped me look deeper inside myself and be vulnerable enough to let myself and others in to help me figure it out. It impacted me to be open with myself."
Creating a space for the arts in our curriculum allowed students to explore their identities and access learning on a deeper level. It was a vehicle for skill growth that enabled students to speak their empowered and impassioned truth. Though future projects won't look the same, I've found that the following elements are key to incorporating the arts and student voice into real world learning experiences:
1. Getting students excited and involved. The more students are invested in and own the project, the more successful the project and learning will be. Rather than placing a project on students, creating it with them based on their interests can have a powerful impact on how they relate to it. In our exhibition showcase, students spoke about their experiences and even wanted to perform a song related to photography. This allowed their own voices and talents to shine through and own the project, and the skills that came along with it.
2. Partnering with families and communities. This might mean examining what family and community involvement is already in place and building upon it, or reaching out to arts organizations that might be working in a given field. It is often helpful to start with a specific point in a project that someone can step into as a guest speaker, project evaluator, or skill coach.
3. Extending learning outside the classroom. Blurring the lines between classroom and community can both create an element of authenticity and increase the value of student work. This can be done by inviting school members, families or the outside community into the classroom to see students exhibit their work, or by holding a viewing of student work in a non-classroom space.
4. Placing projects within a continuum. While it is challenging to create a continuum of real world learning, this can deeply enrich and shape the learning experience more so than a single event. After a project "ends" students can be encouraged to create a club around the project issues, continue to share their work through displaying it further or entering it into contests, or reaching out to interview or intern with others who are involved in similar work. This makes the project and learning experience less of an event, and more of a moment in their larger spectrum of learning.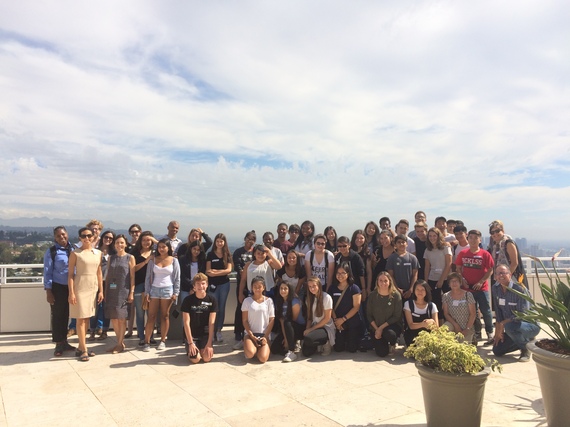 Though art-based learning experiences have taken on many different shapes and sizes in my years of teaching- from an art exhibition at the U.S. Department of Education in Washington, D.C., to a class performance of Antigone: The Rock Musical- I have found that the more curriculum relates to student lives and invests them in the experience, the more successful the project will be, and the more they will learn from it.
A parent of a student participating in our photography exhibition said that through the project students "had reflected not only upon themselves, their present motivations and frustrations, but also about their family and physical environment, and, perhaps more significantly, about their future contributions to society ­­ as if these teens had attended a philosophy class." As a teacher, I can't imagine a more powerful experience than to extend learning outside of the classroom and into the hearts of students.

Linda Yaron is a National Board-certified English teacher at University Senior High School in the Los Angeles Unified School District.
REAL LIFE. REAL NEWS. REAL VOICES.
Help us tell more of the stories that matter from voices that too often remain unheard.