Proving that America is already great, 128 student body presidents from the nation's top universities have united behind a joint letter that repudiates white supremacy and bigotry, while scrutiny of Donald Trump's response to Charlottesville intensifies.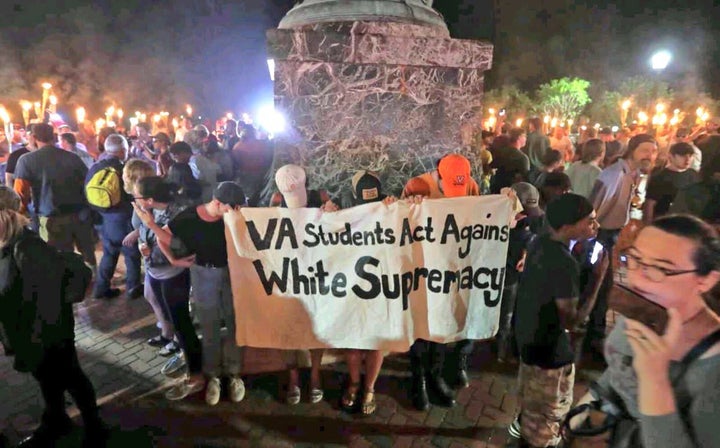 UPDATE #2 — Tuesday August 15, 2017 at 4:32 p.m. EST: As if his condemnation of white supremacist groups never happened at all, Donald Trump defended his statements regarding Charlottesville during a raucous press conference on Tuesday afternoon, reiterating his original claims that 'both sides' were participants to violence at the rally.
The president may find the full open letter from the coalition of student body college presidents and the (growing) list of all of the signatures at Student Body Presidents for UVA.
Not long after the image went viral, a group of more than 120 student body presidents from colleges across the United States joined together to show their support in a letter of solidarity with the brave students of Charlottesville. The letter offers a swift and unified repudiation of bigotry, white supremacy, and violence, something even the President of the United States himself has failed to do with any real force or grit. In publicly denouncing the white nationalist insurgency that has seemed to grip America in recent months, these young people are proving, unequivocally, that despite recent troubles facing our great nation, that the future of America is in good hands.
The letter reads, in part:
We are deeply saddened by the events that have occurred in Charlottesville, Virginia...College campuses are spaces that students should be able to call home, not places of violence, hate, and racism.
We collectively call on one another to speak up in the face of injustice, as silence reduces us to bystanders in oppression. This is a statement to not only support the Student Body at the University of Virginia but to make clear our advocacy for the victimized and marginalized students on all our campuses.
We will continue to support students and universities in their peaceful resistance to violence, racism, white supremacy, bigotry, and acts of terrorism on our own campuses and beyond.
19-year-old David Thompson, a political science major and student body president of University of South Florida at St. Petersburg, told HuffPost that the idea for the letter came about after a group of fellow presidents, who had become acquainted at a leadership summit hosted by the National Campus Leadership Council in June, spoke the night of the demonstrations. Nonplussed by the events transpiring before their eyes, they went to work drafting a statement together over the course of 24 hours and released the final product on their respective social media pages.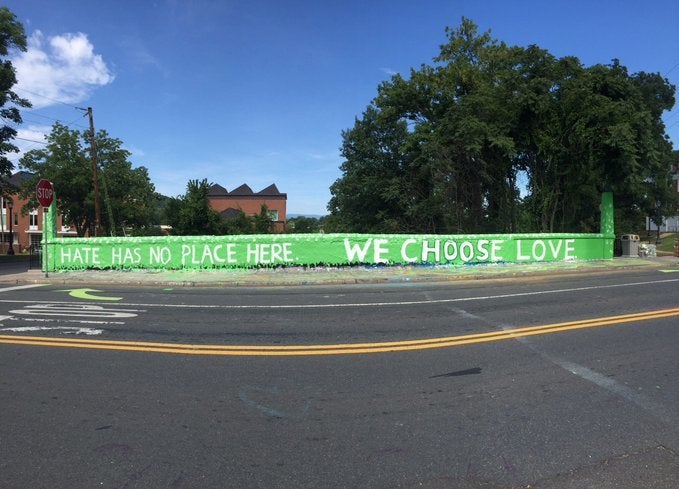 Thompson says the goal of the letter is to show solidarity and support with students at the University of Virginia, and to denounce the bigotry, racism, and violence on display there over there weekend. "As student body presidents, we share a responsibility to defend and represent our [classmates], " he said. "Particularly during times like this. We wanted to let [UVA Student Body President Sarah Kenny] know she had our support."
It is not the first time since Donald Trump's inauguration in January that young people have stood unified against the insurgency of the alt-right, a movement candidate Trump legitimized during the 2016 presidential campaign, and launched into the mainstream with his electoral college victory in November. In February, students at Berkeley made headlines over protests of former Breitbart News editor Milo Yiannopoulous after the controversial hate speech jockey was scheduled to speak on campus. UC Berkeley's student body president, Zaynab AbdulQadir-Morris, is one of the letter's signers.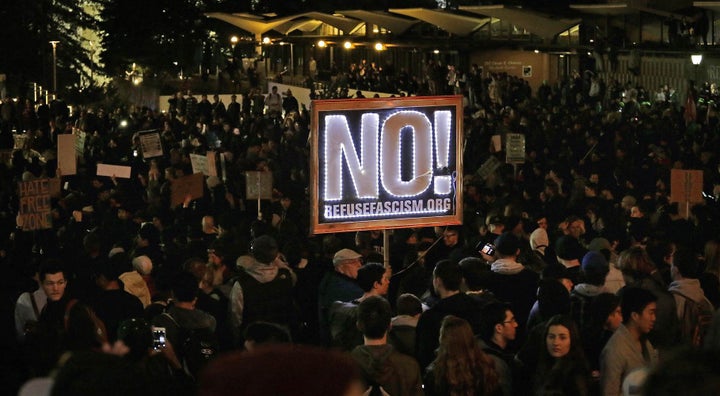 To be sure, the news coming out of Charlottesville is both harrowing and horrifying, painting a picture of America in decline, sliding backwards into a shameful era of racism and bigotry. But the real story here is the quiet, unwavering defiance of young people both in Charlottesville and all over the country who have silently banded together and consistently risen to the occasion in opposing hateful or regressive policies, orders, and fascism.
The full letter and all 128 signatures:
A previous Web version of this story incorrectly named the student body president at the University of Virginia as Emily Lodge. In fact, the student body president is Sarah Kenny.
Alex Mohajer is a contributing Political Writer and Commentator for HuffPost and the Co-Founder and Editor in Chief of Bros4America, a progressive political advocacy organization. He is a public speaker, writer, and political activist. You may find out more on Twitter @alexmohajer or at his official Facebook page. Inquiries: press@bros4america.com.