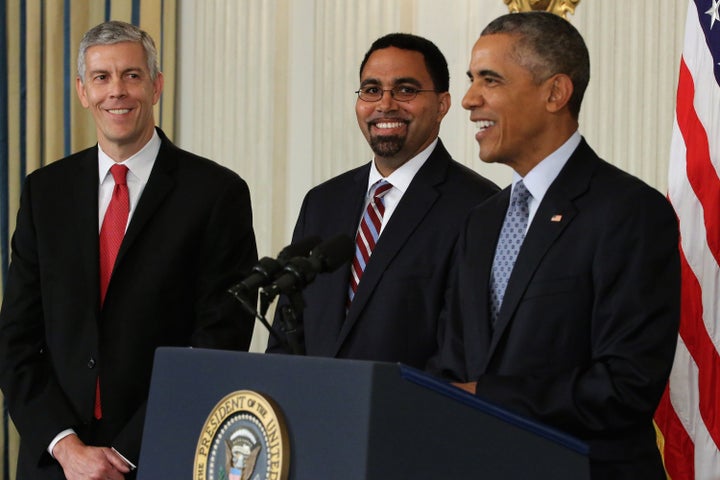 Americans with federal student loans will pay more under the tentative budget deal struck on Monday by the White House and congressional leaders, thanks to a provision that would allow debt collectors to robocall and otherwise hassle borrowers on their cell phones.
Consumers with cell phones who haven't given companies permission to bombard their mobile devices with texts, pre-recorded messages or calls made using auto-dialers are typically protected under the Telephone Consumer Protection Act.
But the measure in the potential budget deal (Section 301) would amend existing law to allow companies to use auto-dialers when they call borrowers' cell phones -- even when federal student loan borrowers haven't consented to them, and even if the borrowers will be charged for them. Creditors already have the authority to auto-dial borrowers' land lines without consent.
Calls solely made to collect on debt owed to or guaranteed by the federal government, including other forms of consumer debt in addition to student loans, would be exempt from the consumer protection law. However, regulators would have the power to restrict or limit the number and duration of calls.
There's little, if any, independent evidence that giving debt collectors or loan servicers this power would lead to fewer loan defaults or delinquencies, though the student loan industry reckons the provision could avert millions of defaults.
President Barack Obama has repeatedly pushed Congress to change the law to allow more of these calls, on the grounds that doing so would lead to higher recoveries on delinquent student loan debt. A similar measure has been part of his last several annual budget requests to Congress, though it was projected to yield only an additional $12 million in annual federal revenue -- pocket change when it comes to the nearly $4 trillion annual budget.
The student loan industry has enthusiastically supported the measure, as has the Education Department, arguing that it could help millions of student loan borrowers make good on their debts. Because they'd use auto-dialers to make these calls, the measure would also help companies boost their profits by employing fewer workers to manually dial borrowers' cell phones.
Nearly 41 million Americans have federal student loans, and about 6.9 million borrowers were in default on $111.4 billion in federal student loans as of June 30, according to the Education Department. Borrowers are considered to be in default after 270 days of not making payments. Prior to defaulting, most of these borrowers qualified for repayment plans that would have enabled them to stay current on their loans by making payments based on their monthly earnings, according to a recent report by the Government Accountability Office.
Consumer groups have warned that allowing debt collectors and loan servicers to auto-dial borrowers' cell phones would waste precious cell phone minutes, especially for low-income households that rely on prepaid plans, and that even when borrowers manage to get student loan specialists on the phone, they're frequently misled or given incomplete information, including about income-driven repayment plans.
One of the reasons why the law requires consent is that policymakers want to be sure that companies are calling the right people, said Margot Saunders, a lawyer at the National Consumer Law Center. Saunders pointed to pending litigation in which borrowers have alleged they were erroneously called dozens of times by creditors.
"This would unleash a huge number of calls not only to debtors, but also to their families and unrelated people," Saunders said. Consumer advocates are fighting to stop or limit the proposal from being enacted into law.
Robocalls are among the biggest sources of consumer complaints, according to the Federal Trade Commission and the Federal Communications Commission. In July, the CFPB accused Discover Financial Services of placing more than 150,000 calls demanding payment to private student loan borrowers' cell phones at inconvenient times, such as before 8 a.m. or after 9 p.m. The company agreed to a settlement, though it neither admitted to nor denied the allegations.
Almost half of American households rely solely on cell phones, according to a recent survey by the National Center for Health Statistics.
The FCC has had the power to write new rules granting debt collectors greater leeway to robocall student loan borrowers, but has declined to exercise that authority thus far. The tentative budget pact, if enacted into law, would force the FCC to write new rules within nine months.
Support HuffPost
The Stakes Have Never Been Higher
Popular in the Community