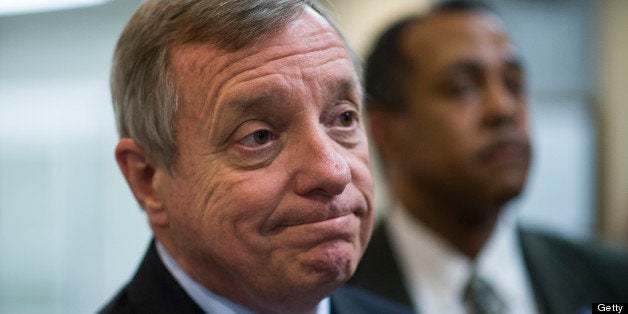 The vast majority of new federal student loans would cost more under a Democratic proposal being pushed as a compromise to avert an impending student debt deadline, raising questions about lawmakers' commitment to keeping borrowing costs low for students and their families.
Under a plan by Rep. George Miller (D-Calif.), the top Democrat on the House education committee, and Sen. Dick Durbin (D-Ill.), the Senate majority whip, college students and their parents, beginning in 2016, would pay more for about three-quarters of all new federal student loans, compared with what they'd pay under current law, people familiar with the matter said.
The proposal would avert a July 1 deadline for doubling interest rates on some loans. But it would increase the government's profit off student loans by more than $1 billion over roughly the next decade. The first few years would be cheaper for students, though future students would pay much more.
The nonpartisan Congressional Budget Office estimated this month that the government would generate $184 billion in profit for loans made from this fiscal year through 2023, not including $15 billion in profit the government booked this year from loans made in previous years. The U.S. government has booked nearly $120 billion in profit from student borrowers and their families over the past five fiscal years. Nearly all new loans for higher education are provided by the government.
The Miller-Durbin scheme comes as lawmakers and the White House race to avert a scheduled doubling of interest rates to 6.8 percent on a quarter of all new federal student loans set to take place on July 1. The CBO projects its future revenue figures assuming that Congress will allow the rates to double.
Unfortunately for students, lawmakers and the White House appear to be focusing solely on plans that would generate as much federal revenue as allowing rates to double for that small segment of new loans. A similar bipartisan proposal by Sens. Angus King (I-Maine), Joe Manchin (D-W.Va.), Tom Coburn (R-Okla.) and Richard Burr (R-N.C.) also ties interest rates to 10-year Treasuries, though the rates are slightly different. That plan also would raise costs for the majority of households beginning around 2016. The proposal by Miller and Durbin is seen as the Democratic alternative to the bipartisan scheme.
Under either proposal, future students -- or their parents -- would pay more to borrow from the government to finance ever-expensive college tuition. Only students who take loans in the next few years are likely to benefit.
"There are a lot of well-intentioned ideas out there, but so far none of them goes far enough to protect students," Chip Unruh, a spokesman for Sen. Jack Reed (D-R.I.), said. "The July 1st deadline shouldn't be used as leverage to enact a long-term deal that is bad for future students. Keeping the rate at 6.8 percent may strangely turn out to be a better overall outcome than many of the current proposals."
The Miller-Durbin plan would tie interest rates on federal student loans to the U.S. government's cost to borrow over 10 years, a departure from current law in which Congress sets the interest rate. The proposal is similar to the White House preferred plan and those offered by congressional Republicans.
Under Miller-Durbin, the rate on subsidized Stafford loans, which comprise a quarter of new student loans and are only available to undergraduates in financial need, would be set at 1.4 percentage points above the yield on the 10-year Treasury note. Unsubsidized Stafford loans would carry interest rates 3.4 percentage points above the yield on the 10-year Treasury, while rates on PLUS loans -- used by graduate students who exhaust Stafford limits and by parents of undergraduates who need additional funds to finance rising college tuitions -- would be set at 4.4 percentage points above 10-year Treasuries.
The yield on the 10-year note closed Friday at 2.53 percent. The CBO projects the yield on 10-year Treasuries to average 4.1 percent beginning in the 2016 fiscal year as the economy improves and interest rates rise.
Unsubsidized Stafford loans now carry interest rates of 6.8 percent. PLUS loans are set at 7.9 percent. Subsidized Stafford loans are at 3.4 percent, though they are scheduled to double to 6.8 percent on July 1 under current law.
"We're working hard to find a solution so that 7 million students don't face a 6.8 percent interest rate on July 1st and ensures the loan program works for the benefit of students," said Aaron Albright, communications director for Democrats on the House education panel.
Representatives for Durbin did not respond to a request for comment.
A typical middle-income college student would pay about 7.5 percent for Stafford loans beginning in 2016, according to CBO forecasts, or roughly 0.7 percentage point more than under existing law. Parents of undergraduates whose children exhaust Stafford limits are forecast to pay about 8.5 percent, or 0.6 percentage point more than present rates.
Miller and Durbin would cap interest rates on Stafford loans at 8.25 percent, or nearly 1.5 percentage points higher than present rates. PLUS loans would be capped at 10.25 percent, or more than 2 percentage points above present rates. Rates on new loans would be set every year then fixed for the life of the loan.
The roughly $1 billion in higher costs paid by students and their families over the next decade would be used to finance grants for the poorest students.
But the increased cash for poor students is unlikely to help the vast majority of borrowers and their parents who are being forced to cope with rising tuition and static Stafford loan limits.
Undergraduate students may not borrow more than $23,000 in subsidized Stafford loans during their entire time in school. The Department of Education limits undergraduate students dependent on their families to $31,000 overall in Stafford loans, while independent students can borrow up to $57,500.
Parents generally are required to make up the difference by taking out PLUS loans. The typical college graduate takes four to five years to finish school.
On average, the annual cost of higher education at public four-year colleges and universities has risen 85 percent since 2003 to nearly $18,000, according to the College Board. Students at private schools pay nearly $40,000, or 59 percent more than they did 10 years ago.
The so-called cost of attendance gap, or the difference between what a four-year degree will cost incoming freshmen and the amount of government loan money available to them, has risen by 59 percent over the past 10 years to about $152,000 for the typical student who started at a private school in 2011, according to Sallie Mae, the nation's largest student loan company. For students at public colleges, the gap has increased 90 percent to about $69,000.
Proponents of the Miller-Durbin plan claimed the proposal is the best offer for students under serious consideration in Washington. Nothing more generous for students is likely to pass Congress, they argued.
The plan is causing discord among Democratic lawmakers. Some, like Durbin, are said to feel pressure to avert the scheduled doubling of rates on subsidized Stafford loans because they fear a political backlash. Others, including Reed, are willing to let rates double because current alternative proposals are worse for most students.
The scheduled July 1 interest rate hike would cost affected borrowers, who come from middle- and lower-income households, about $1,000 more over the average 12-year life of each loan.
The Obama administration is forecast to generate a record $51 billion profit this year from student loan borrowers, a sum greater than the earnings of Exxon Mobil Corp., the nation's most profitable company.
The profit is due to the government's low borrowing costs and student loan interest rates that have not moved in line with the broader market. Student borrowers have never paid more for their loans, as many feel the need to pay off debt that carries record relative interest rates rather than purchase cars, homes or start new businesses.
At $1.1 trillion, student debt eclipses all other forms of household debt, except for home mortgages, according to federal regulators. There are few proposals to help current students.
Last month, President Barack Obama noted that the average new college graduate carries more than $26,000 in student debt.
Student loan payments "can last for years, even decades, which means young people are putting off buying their first car or their first house -- the things that grow our economy and create new jobs," Obama added.
CORRECTION: This story has been revised to correct the cap Miller-Durbin would place on Stafford loan interest rates. Rates would be capped at 8.25 percent, not 8.5 percent.
Before You Go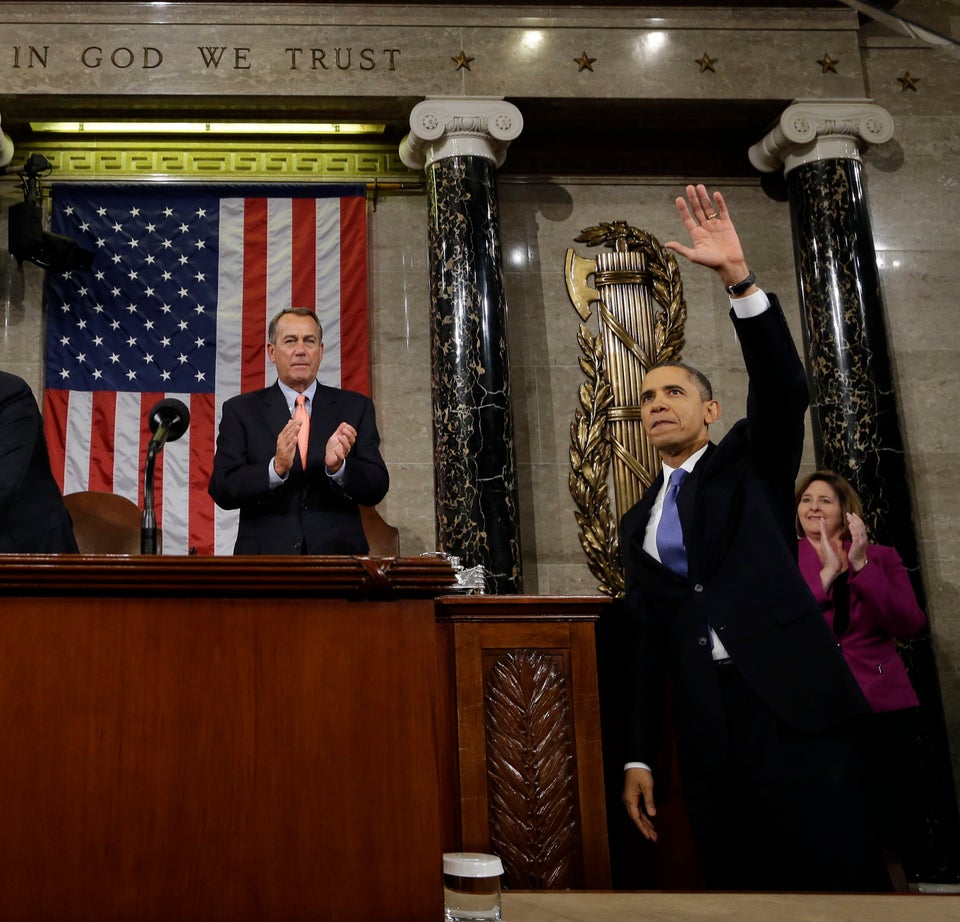 Quotes From Obama's 2013 State Of The Union Speech
Popular in the Community