WASHINGTON -- Student borrowers and their families would pay more to finance college under a proposal pushed by a bipartisan group of senators, increasing the federal government's profits despite warnings over record student debt levels.
The proposal comes as the federal government has been recording mounting profit off the backs of students and their families, raising questions about the lawmakers' claims to help students afford higher education. The Department of Education has booked nearly $120 billion in profit over the last five fiscal years thanks to record spreads between what it costs the government to borrow and what the government charges students and their families.
The proposal by Sens. Angus King (I-Maine), Joe Manchin (D-W.Va.), Tom Coburn (R-Okla.) and Richard Burr (R-N.C.) would tie student loan interest rates to the government's cost to borrow for 10 years -- the 10-year Treasury notes. Beginning sometime in 2016 or 2017, according to projections by the nonpartisan Congressional Budget Office, the proposal as currently drafted would raise the cost to borrow for most households, compared with loans under existing law.
Lawmakers and the White House have been trying to forge an agreement resetting student loan interest rates in part because they anticipate a political backlash on July 1, when the rate on a small subset of new loans available to some undergraduates is set to double to 6.8 percent. The deadline is largely artificial, as the vast majority of students begin taking out loans in August and September.
The bipartisan Senate plan, according to a draft obtained by the Huffington Post, would put the annual rate for undergraduate Stafford loans at 2 percentage points above the yield on the 10-year Treasury note. Stafford loans for graduate students would be set at 3.5 percentage points above the 10-year Treasury. PLUS loans -- used by graduate students who exhaust Stafford limits and by parents of undergraduates who need additional funds to finance ever-expensive college tuition -- would be set at 4.5 percentage points above 10-year notes.
The yield on the 10-year note closed Thursday at 2.41 percent. Most Stafford loans now carry interest rates of 6.8 percent. PLUS loans are set at 7.9 percent.
The draft legislation would make loans cheaper for student loan borrowers for roughly three years, according to the Congressional Budget Office forecast. It would be more expensive for students and their families thereafter as the economy improves and interest rates rise. The yield on the 10-year Treasury is forecast to average 4.1 percent in the 2016 fiscal year before rising to 4.9 percent in the 2017 fiscal year. Yields will then increase to 5.2 percent, according to CBO forecasts.
The CBO estimated in a June 10 report that the government would generate $184 billion in profit for loans made from this fiscal year to 2023, not including $15 billion in profit the government booked this year from loans made in previous years.
If the Senate compromise proposal becomes law, it would increase the federal government's profit over the next decade by an additional $8 billion, congressional aides said the CBO has projected.
Crystal Canney, a spokeswoman for King, said: "Nothing has been finalized. There is still a great deal of negotiating underway. Our goal is to get the best deal for students as possible and avoid the doubling of rates now scheduled for July 1st."
Representatives for Manchin and Coburn did not respond to requests for comment.
The scheduled July 1 interest rate hike would affect about one-quarter of new federal student loan dollars. The doubled rates would cost affected borrowers, who come from middle- and lower-income households, about $1,000 more over the average 12-year life of each loan.
Representatives of top Democratic lawmakers said the proposal had little chance of becoming law. Senior White House officials met with lawmakers on Thursday in hopes of striking a deal.
Reaction from student advocates was swift and unsparing. Groups have been mobilizing to prevent rates for some borrowers from doubling, and at the same time have been trying to reform the government's student loan program and reduce overall borrowing costs.
"Congress must preserve its historical commitment to protecting students from outrageous interest rates now and in the future," Sen. Tom Harkin, chairman of the chamber's education committee, said through a spokeswoman.
"This plan serves up nothing but leftovers," said Christine Lindstrom, higher education program director for U.S. Public Interest Research Group student chapters. "It increases costs to students above and beyond what they would pay on July 1 if the rate doubles."
Lindstrom added: "We can't accept any deal as serious unless it delivers lower costs to borrowers than what they would pay if nothing happens and the rate doubles on July 1. And this plan fails to deliver."
The proposal comes as the Obama administration is forecast to generate a record $51 billion profit this year from student loan borrowers, a sum greater than the earnings of the nation's most profitable companies and roughly equal to the combined net income of the four largest U.S. banks by assets.
The CBO estimate places the government's profit above that of Exxon Mobil Corp., the nation's most profitable company, which reported about $45 billion in net income last year. JPMorgan Chase, Bank of America, Citigroup and Wells Fargo reported a combined $52 billion in profit last year.
Congress sets interest rates on federal student loans. But the rates have not kept pace with the significant decline in borrowing costs that have occurred since the onset of the financial crisis.
Compared with a benchmark interest rate -- the yield on the 10-year Treasury note -- student borrowers have never paid more for loans, increasing the burden of their student debt as wage increases and yields on investments and bank accounts fail to keep up with the relative increase in student loan interest payments.
At $1.1 trillion, student debt eclipses all other forms of household debt, except for home mortgages, according to federal regulators. It's the only kind of consumer debt that has increased since the onset of the financial crisis, according to the Federal Reserve Bank of New York.
Washington policymakers increasingly have focused on soaring student debt levels and the record relative interest rates that borrowers pay as a potential impediment to economic growth. Regulators and officials at agencies that include the Federal Reserve, Treasury Department, Consumer Financial Protection Bureau and New York Fed have warned that student borrowing may dampen consumption, depress the economy, limit credit creation or pose a threat to financial stability.
Officials have said they are worried that overly indebted student borrowers are unable to save enough to purchase a home, take out loans for new cars, start a business or save for retirement.
Last month, President Barack Obama noted that the average new college graduate carries more than $26,000 in student debt.
"That doesn't just hold back our young graduates. It holds back our entire middle class," Obama said. Student loan payments "can last for years, even decades, which means young people are putting off buying their first car or their first house -- the things that grow our economy and create new jobs."
The outline of the bipartisan deal comes after weeks of partisan fist-waving over the scheduled doubling of rates.
The standoff escalated Thursday, when House Speaker John Boehner (R-Ohio) sent a letter to Obama chastising Senate Democrats for putting student loan rates at risk. The House passed a Republican measure that also is forecast to increase students' borrowing costs in a few years.
"Frankly, there is no evidence that Democrats are making a sincere effort to get a bill passed in the Senate," Boehner wrote. "With Republicans and you in general agreement on the policy, it is difficult to identify any motivation other than politics to explain why a solution has not already been signed into law."
The White House also proposes to tie student loan interest rates to the yield on the 10-year Treasury note. But under Obama's plan, the difference between student loan rates and the yield on the 10-year Treasury is far less than in the bipartisan Senate proposal or in the House Republicans' bill.
House Minority Leader Nancy Pelosi (D-Calif.), flanked by college students, said Thursday that House Democrats would place blame squarely on Republicans for allowing rates on some student loans to rise.
Critics said House leaders' political grandstanding showed they have little appetite for resolution.

Before You Go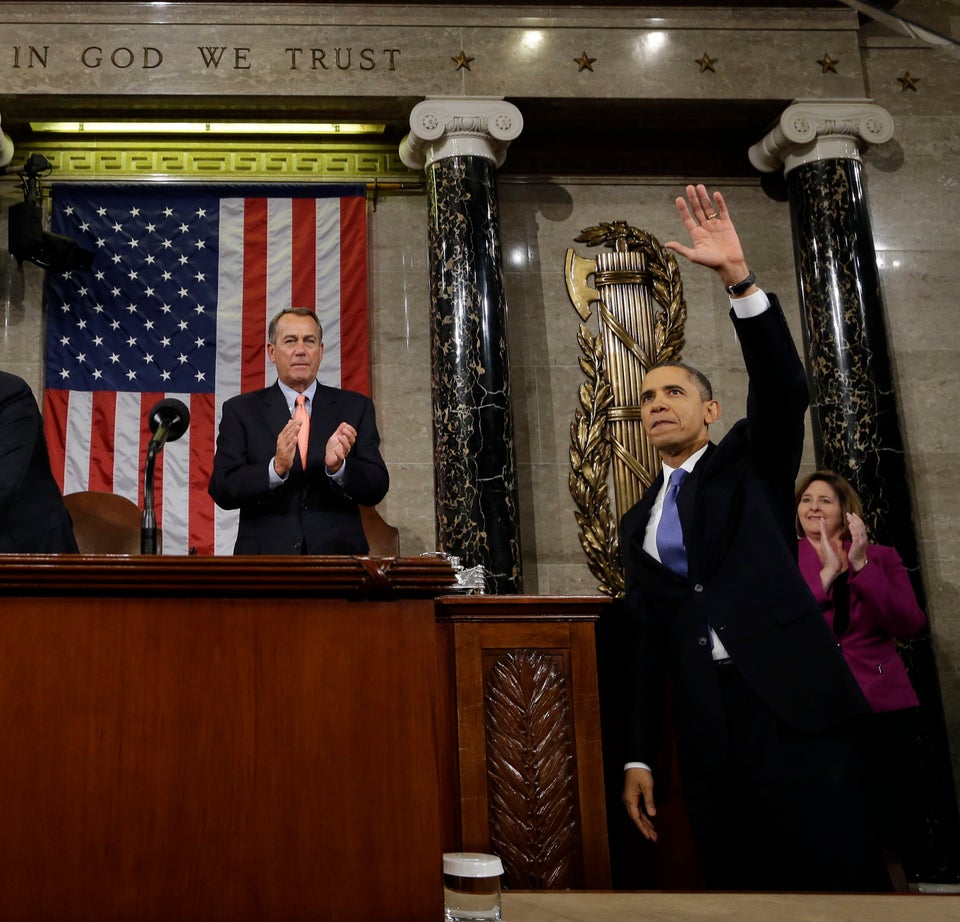 Quotes From Obama's 2013 State Of The Union Speech
Popular in the Community