WASHINGTON -- A bipartisan group of senators struck a deal late Wednesday to overhaul the federal student loan program, tying interest rates on new loans to the U.S. government's cost to borrow in a move that immediately reduces the cost to finance higher education, but is forecast to raise borrowing costs for millions of graduate students and parents in about three years.
Rates on new student loans from the Department of Education, the dominant source of college loans, would be pegged to the yield on the 10-year Treasury note. Undergraduates would pay 1.8 percentage points above the government's cost to borrow for 10 years. Graduate students would pay 3.8 percentage points above the rate. Parents would pay 4.5 percentage points above the benchmark, officials said.
The yield on the 10-year note was 2.57 percent late Wednesday, according to Bloomberg. Assuming the measure is signed into law as is, most students starting school this fall and their parents would enjoy lower borrowing costs than the rates that prevailed during the last school year.
But their savings would effectively be subsidized by future borrowers, who would pay more relative to current law as the economy improves and interest rates rise.
Interest rates on subsidized Stafford loans, meant for students from moderate-income and low-income households, had been at fixed at 3.4 percent the last few years before doubling to 6.8 percent on July 1 as a result of previous legislation. Unsubsidized Stafford loans, used by other undergraduates and graduate students, are set at 6.8 percent. PLUS loans, used by parents of undergraduates and graduate students who exhaust Stafford borrowing limits, are fixed at 7.9 percent. Congress has been setting the interest rates, as opposed to allowing the rate to fluctuate with market borrowing costs.
The average of three forecasts on the 10-year Treasury note, taken from a recent White House budget report, shows that graduate students are estimated to pay more beginning around 2016. Parents of undergraduate students, who increasingly have been taking out loans from the government to cover rising tuition costs for their children, are forecast to pay more beginning in 2016.
The deal, driven by the July 1 doubling of interest rates on some new student loans, comes as the Obama administration is forecast to reap a record $51 billion profit off federal student loans this fiscal year, according to the nonpartisan Congressional Budget Office. That sum tops the earnings of Exxon Mobil Corp., the nation's most profitable publicly traded company.
The CBO estimated last month that the government would generate $184 billion in profit for loans made from this fiscal year through 2023, not including $15 billion in profit the government booked this year from loans made in previous years. The federal government has booked nearly $120 billion in profit from student borrowers and their families over the past five fiscal years, budget documents show.
It's unclear whether Wednesday's proposal would increase the government's profit even higher than current law. Some lawmakers, including Sen. Elizabeth Warren (D-Mass.) have argued that the federal government should not be generating profit off the backs of students and their families. The CBO is expected to detail its forecast on Thursday.
The bill is likely to pass the Senate after securing support from two leading Democrats, Sen. Dick Durbin (D-Ill.) and Sen. Tom Harkin (D-Iowa). It's likely to be approved by the Republican-led House of Representatives, which passed a similar bill earlier this year. The White House proposed a plan earlier this year to fix borrowing costs to the 10-year note.
Durbin had floated a similar deal last month, but it was quickly shot down by lawmakers concerned it would raise borrowing costs for future students. Harkin has long favored reducing borrowing costs. Representatives for the lawmakers could not be reached after normal business hours late Wednesday.
Interest rates for new loans would be published every year and would be fixed for the life of the debt. The cost to borrow for undergraduates would be capped at 8.25 percent. For graduate students, interest rates would be capped at 9.25 percent.
Many Senate Democrats have been reluctant to support the measures, in part because of the possibility that future students would pay much higher rates than they do under current law.
"Congress must preserve its historical commitment to protecting students from outrageous interest rates now and in the future," Harkin, chairman of the chamber's education committee, said last month through a spokeswoman.
In recent weeks, a bipartisan group of lawmakers including Sens. Joe Manchin (D-W.Va.), Angus King (I-Maine), Tom Coburn (R-Okla.), Richard Burr (R-N.C.), and Lamar Alexander (R-Tenn.) had sought to broker a compromise between Democrats and Republicans by pegging borrowing costs to the yield on the 10-year note, but setting them between the House measure and the White House plan.
Students would pay more under the House-approved bill, but that proposal capped interest rates. The White House plan did not.
Senate Democrats at first had rejected the bipartisan compromise. Durbin and Harkin appear to have blessed a modified version of that original plan.
Policymakers increasingly have focused on skyrocketing student debt levels and record borrowing costs as a potential impediment to economic growth. Regulators and officials at agencies that include the Federal Reserve, Treasury Department, Consumer Financial Protection Bureau and Federal Reserve Bank of New York have warned that student borrowing may reduce consumption, dampen purchases of autos and homes, depress the economy, limit credit creation, and prevent debtors from accumulating savings or building up nest eggs for retirement.
In May, President Barack Obama noted that the average new college graduate carries more than $26,000 in student debt. He said: "That doesn't just hold back our young graduates. It holds back our entire middle class."
Student loan payments "can last for years, even decades, which means young people are putting off buying their first car or their first house -- the things that grow our economy and create new jobs," Obama added.
The White House may tackle the issue, given the increasingly dire nature of the warnings from policymakers and regulators and the limited effectiveness of existing programs run by the Education Department.
Before You Go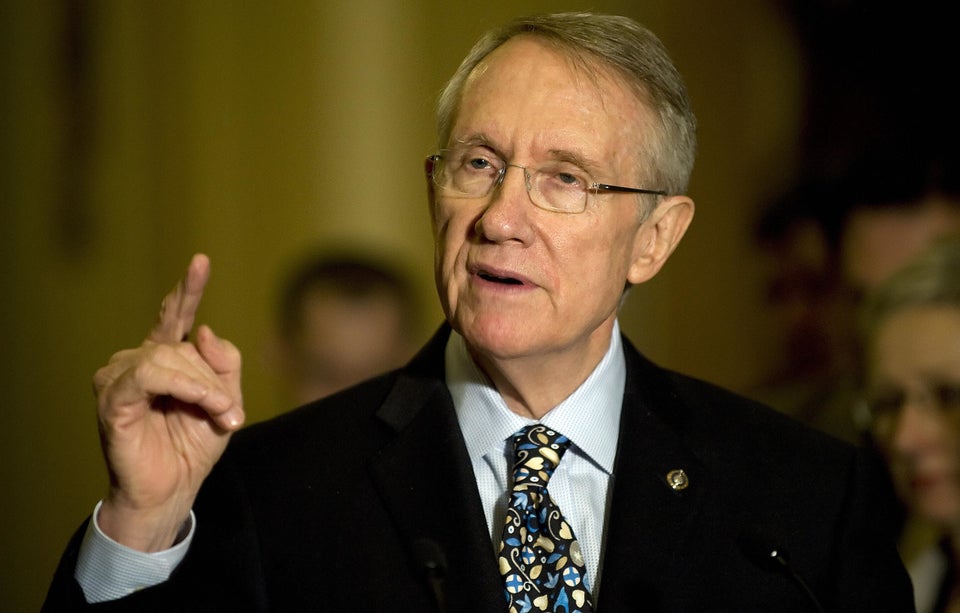 Senate Majority Leaders Through The Years
Popular in the Community