WASHINGTON -- A bipartisan Senate accord supported by the White House to overhaul the federal student loan program is forecast to boost government profit and increase borrowing costs in the coming years, leading student groups and some Democrats to denounce the deal.
The compromise, reached by eight senators and blessed by the White House on Thursday, would result in an immediate reduction in borrowing costs under the federal student loan program -- temporary savings that would be paid by graduate students and parents beginning in 2015, according to estimates derived from the White House's most recent budget update.
Some undergraduate students will immediately pay more relative to borrowing costs that prevailed during the most recent school year, while the vast majority are forecast to pay more in the next five years, perhaps as early as 2016.
Reluctant Senate Democrats, who had previously spurned bipartisan deals that would achieve the same effect as the agreement, were threatened by the White House to either support the compromise or risk being publicly blamed by the White House for allowing interest rates for some borrowers to soar, Democratic congressional aides said.
On July 1, the interest rate on undergraduate loans for borrowers in need, known as subsidized Stafford loans, doubled to 6.8 percent as a result of previous legislation. Though the rate hike was set to affect only a quarter of new federal student loans, it provided the impetus for a round of furious negotiations between Senate lawmakers and the White House to overhaul the student loan program, in part because no one wanted to be blamed for the increase in borrowing costs.
The result is a federal student loan system with loan rates tied to the federal government's cost to borrow over 10 years, replacing a system with rates set by Congress. The White House had previously proposed such a system, as have Senate and House Republicans.
Senate Republican leader Mitch McConnell of Kentucky said Thursday that plans previously proposed by congressional Republicans and the White House were "strikingly similar."
Many Senate and House Democrats, however, preferred a system tied to the government's cost to borrow over a much shorter period, which would have resulted in cheaper rates for students and their families.
"What we'll see is that a generation of students ... will be paying a lot more for their student loans," a result that will "add to the debt of these students and their families, and it will restrict their ability to become ... not only qualified workers in our economy but also the people that drive the economy," Sen. Jack Reed (D-R.I.) said on the Senate floor.
"This is not the right approach going forward," Reed added.
In the upcoming school year, undergraduate students will pay 3.86 percent for Stafford loans under the government's student loan program. Graduate students will pay 5.41 percent for Stafford loans, and 6.41 percent for PLUS loans, which are used to finance education costs after Stafford limits are exhausted. Parents who borrow to help their children attend college also will pay 6.41 percent.
Most borrowers will pay less to finance a college education than under interest rates that prevailed during the most recent school year, except for undergraduate students from low- and moderate-income households, who paid 3.4 percent. Other undergraduates had been paying 6.8 percent, while graduate students had paid 6.8 percent and 7.9 percent for two types of loans, and parents paid 7.9 percent.
The White House and Senate Democratic leadership support the proposal. Senate Majority Leader Harry Reid (D-Nev.) said lawmakers will soon vote on it. It's expected to pass.
Jay Carney, White House press secretary, said President Barack Obama was "glad to see that a compromise seems to be coming together."
In part because of Republicans' insistence that any deal not add to the federal government's debt, which the White House went along with, future borrowers will pay more as the economy improves and the government's cost to borrow rises.
The Institute for College Access & Success, a student-focused group known as TICAS, estimates that the typical undergraduate entering college this fall who takes out the maximum $27,000 in Stafford loans over the next four years will end up paying an extra $300 over the standard repayment period of 10 years. The group's estimate uses interest rate projections from the nonpartisan Congressional Budget Office, or CBO, and compares the increase in costs with the rates that prevailed in the most recent school year.
A student in the 8th grade entering college in 2018 would pay $4,700 more relative to last year's rates under the current proposal, TICAS estimates.
The deal is estimated to increase the government's profit off the student loan program by more than $700 million over the next 10 years, according to the CBO, thanks to a predicted rise in the government's cost to borrow, which should accompany an improving economy. That increase in profit is relative to current law, which assumes that interest rates on loans meant for undergraduates in need had already doubled to 6.8 percent.
Relative to the previous school year, the federal government will reap billions more in profit off students and their families over the next decade.
The federal government already is due to book a record $51 billion profit this year off new and existing federal student loans, bringing the government's profit haul to nearly $120 billion over the past five years, according to CBO and Department of Education estimates. The CBO had previously estimated that the government will generate $184 billion in profit for new loans made this fiscal year through 2023.
In recent days, some lawmakers including Sen. Elizabeth Warren (D-Mass.) had warned against deals that would lead to an increase in the government's profit. Profiting off student borrowers is "morally wrong" and "obscene," Warren said Wednesday during a conference for young people. At the same event, Warren encouraged the audience to boo the government for "making profits off the backs of our students." The audience happily complied.
However, the director of the group that held that conference, Anne Johnson of Generation Progress, praised the bipartisan Senate compromise as one that "will protect future borrowers against rate spikes," potentially putting her at odds with the students her group represents. Johnson didn't respond to a request for comment.
In a Wednesday letter to Reid and McConnell, a coalition of student groups and teachers unions wrote: "Students should not be seen as a cash cow."
While student groups and other lawmakers cheered Warren's remarks and tried to pressure Senate Democrats not to cave to White House and Republican demands, the Obama administration was busy trying to broker a compromise.
Some Senate Democrats, who had resisted signing off on the compromise, reluctantly followed the White House. In a sign of displeasure, Sen. Tom Harkin (D-Iowa), chairman of the Senate education committee, said that if the compromise is signed into law, he may revisit it in the coming months as the Senate works to reauthorize the Higher Education Act.
Sens. Joe Manchin (D-W.Va.), Richard Burr (R-N.C.), Angus King (I-Maine), Tom Coburn (R-Okla.), Tom Carper (D-Del.), Tom Harkin (D-Iowa), Lamar Alexander (R-Tenn.), and Dick Durbin (D-Ill.) -- the eight senators who negotiated the deal -- praised it for providing certainty to borrowers. They also noted that the deal would lead to lower costs for the vast majority of borrowers this school year.
The group touted the caps on borrowing costs that the deal provides -- 8.25 percent for undergraduate students, 9.5 percent for graduate Stafford loans, and 10.5 percent for PLUS loans used by graduate students and parents. The caps are a few percentage points above current rates.
Lauren Asher, TICAS president, said the deal was "more a missed opportunity than a cause for celebration."
Christine Lindstrom, U.S. Public Interest Research Group higher education program director, said: "When you look closely, it becomes all too obvious that the Senate is looking to solve their own problems, not those of students. This plan neither helps students nor the economy."
A spokesman for Sen. Jeff Merkley (D-Ore.) said the lawmaker plans to amend the proposed legislation so that future Education Department profit would be directed toward reducing borrowing costs for students, rather than being used to reduce the federal debt.
Joy Resmovits contributed reporting from New York.
Before You Go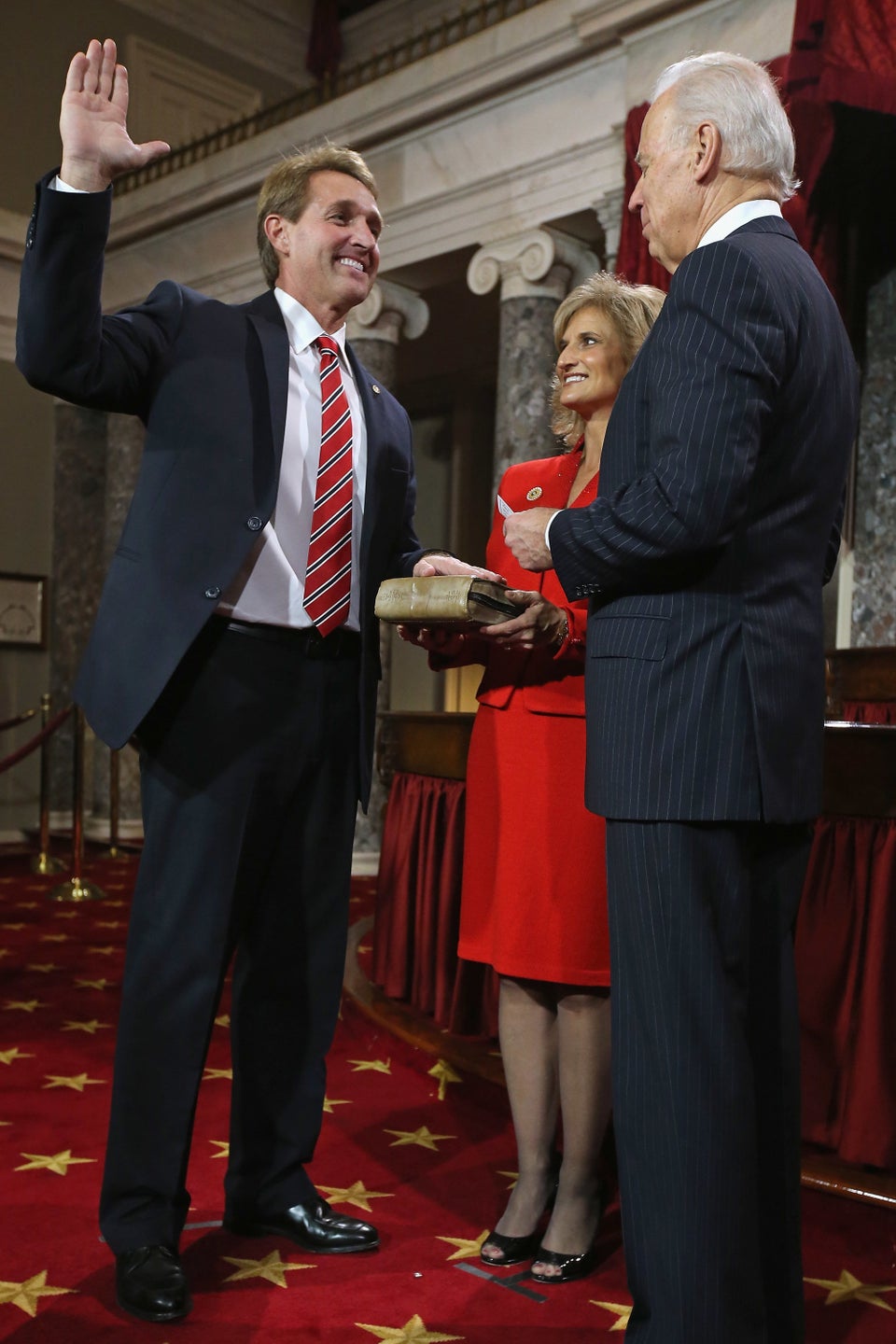 New Senators Of The 113th Congress
Popular in the Community