 Four years after the Great Recession, U.S. households are slowly repairing their balance sheets and shedding their debt -- except when it comes to student loans.
A new survey of consumer debt by the New York Federal Reserve finds that households shed $110 billion in debt in the first quarter of this year, a decline of 1 percent, due mainly to a $101 billion decline in mortgage debt, along with $19 billion in credit card debt. But they added $11 billion in auto loans and kept piling onto a mountain of student loan debt that has nearly reached $1 trillion, $20 billion of it new this quarter.
Total outstanding student loan debt has surged to $986 billion, making it the biggest category of non-housing debt on consumer balance sheets, according to the New York Fed data, which were released on Tuesday. (The Consumer Financial Protection Bureau estimates that student loan debt is actually a little higher, at $1.1 trillion.) The second-biggest debt category in the New York Fed data is auto loans, with $794 billion outstanding. In comparison, housing debt makes up $7.93 trillion of household debt.
As you can see from the chart below, this marks a huge shift from just five years ago, when the recession was just beginning. The red area of the chart is the student-loan debt, stacked on top of other kinds of debt. In the first quarter of 2008, student loans placed a distant third in non-housing debt, with $579 billion outstanding. At the time, credit cards and auto loans each made up about $800 billion in debt.
(Story continues below chart.)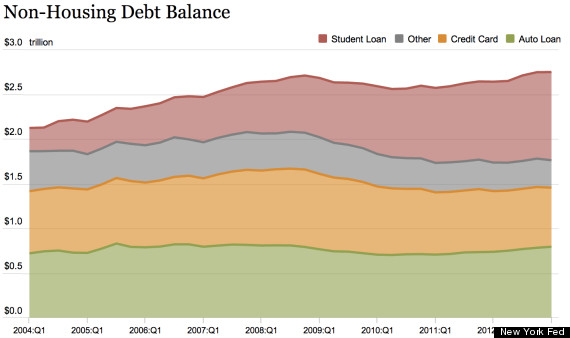 Last month, the New York Fed warned that the rise of student loan debt threatened to choke off other forms of borrowing, curb spending by young people and generally slow down the economy. The average student loan balance has nearly doubled in the past decade, according to that study, and the percentage of 25-year-olds with student debt has risen to 43 percent from 25 percent.
The Great Recession was the result of a debt bubble bursting, and the recovery process from that involves hosing away the excess debt from consumer balance sheets. Student loans are frustrating that effort, raising the chances of more economic misery to come.
Calling all HuffPost superfans!
Sign up for membership to become a founding member and help shape HuffPost's next chapter
BEFORE YOU GO
PHOTO GALLERY
Millennial's Most Wanted Employers: CNBC