 Excluding student loan borrowers who delay repaying debts through so-called forbearance and deferral plans, the New York Fed's data shows that nearly one in three people with student loans are now more than 90 days behind on payments -- a significant jump from 2004.
Experts said the data is further evidence that recent college graduates are facing a punishing world of high unemployment and increasing student loan balances. The unemployment rate for college graduates below the age of 25 was at 9.4 percent, according to an Economic Policy Institute report last year. Student loan debt also is increasing in older age brackets as parents borrow to cover tuition for their children.
Economists at the New York Fed have been tracking the jumps in student loan delinquencies in recent years, noting that the number of people falling behind on payments is increasing as overall debt rises. In less than a decade, student loan debt has almost tripled in size to nearly $1 trillion, surpassing auto loans and credit cards as the most common type of U.S. debt other than mortgages.
But data in Thursday's report factored out student loan borrowers who are able to delay repaying debts through options such as deferment, forbearance, or income-based repayment, where the loan balance is put off temporarily, or reduced because of economic circumstances or because a student is pursuing additional studies.
When those borrowers are taken out of the picture, the number of people who are delinquent on payments rises dramatically. Instead of 17 percent of all student loan borrowers being more than 90 days behind, more than 30 percent fall into the delinquent category when excluding those not considered to be in active repayment.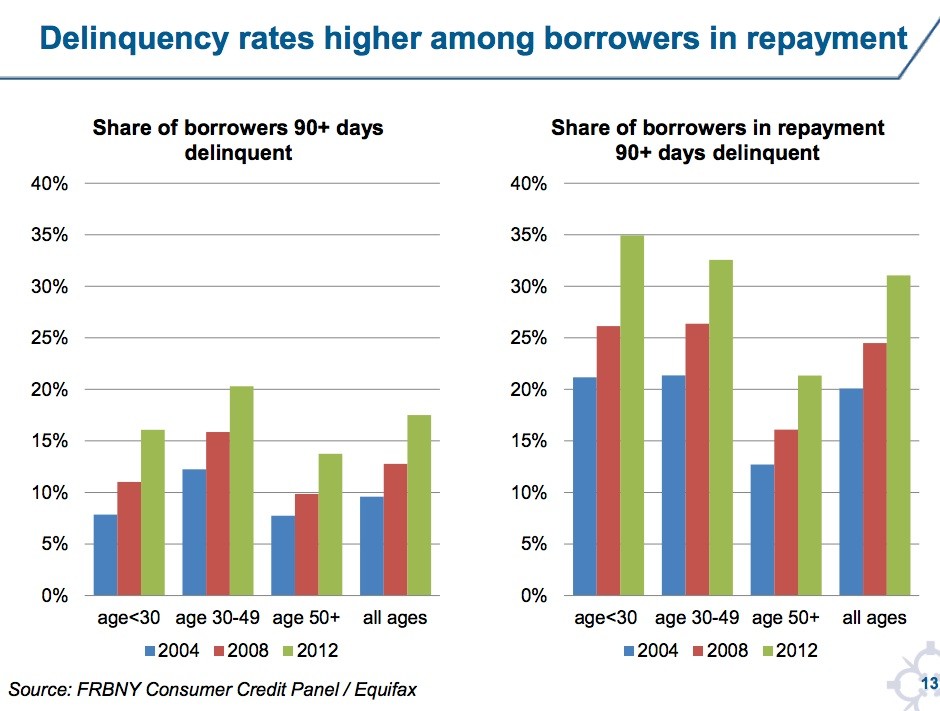 "Even though the 17 percent delinquency rate sounds concerning, the effective delinquency rate is much higher," said Donghoon Lee, a senior economist with the New York Fed.
Outside experts said the higher delinquency rates shows the importance of new federal programs such as income-based repayment, which allows some students to reduce monthly payments on federally subsidized loans depending on financial circumstances.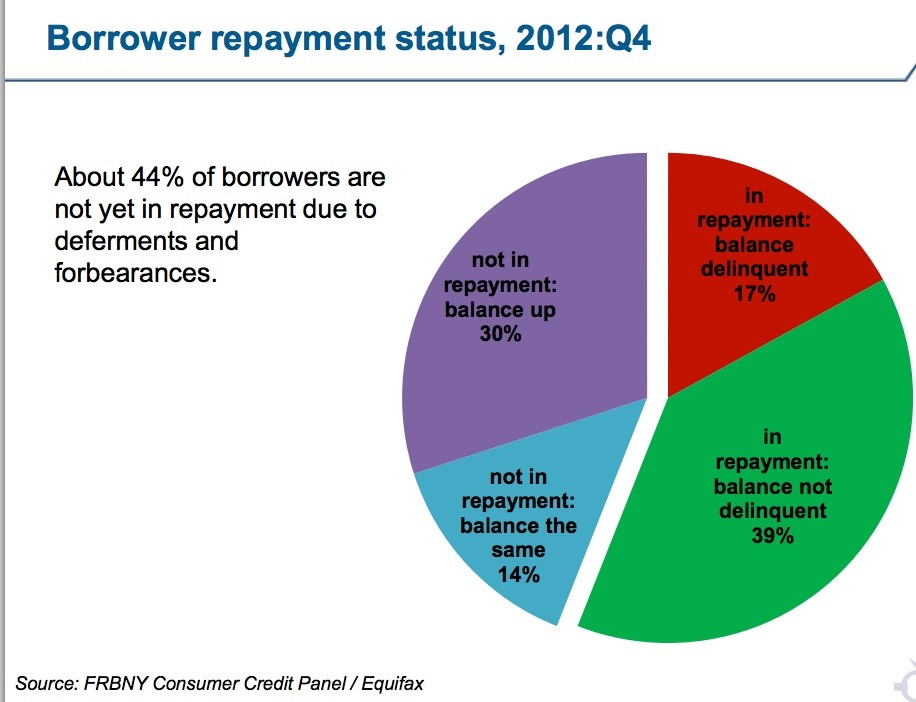 Pauline Abernathy, a vice president at The Institute for College Access and Success, said the Federal Reserve report likely overstates the problem, because the data did not consider students in the income-based repayment program. But she said the high delinquency rates show the need for more outreach to borrowers about options to keep up with payments.
"Clearly delinquencies are high and rising, whatever number they are," Abernathy said. "We've got to do something -- not just out of equity and fairness, but also because of the effect this is having on the housing market and the broader economy."
Other data released by the New York Fed Thursday showed that student loan debt may be having a ripple effect on spending in the broader economy. Data showed that it is very difficult for those with delinquent student loan debt to obtain mortgages, possibly because lenders become more conservative when they see high student debt loads.
"High levels of student debt delinquency reduces young borrowers' ability to secure other types of credit, such as home purchases," said Lee, the New York Fed economist.
Popular in the Community