On July 1, interest rates on federally subsidized Stafford loans doubled to 6.8 percent because of the expiration of a 2007 law that gradually lowered that rate. Wednesday's procedural vote on a plan introduced by Sens. Jack Reed (D-R.I.) and Kay Hagan (D-N.C.), which would extend the 3.4 percent rate on those loans for another year, is likely to fail. It would pay for the one-year extension by closing a tax loophole that benefits those with inherited retirement accounts, a nod to Republicans who have called for a revenue-neutral solution while accusing Democrats of kicking the can down the road.
The plan's backers have billed it as a compromise, extending the lower rate for only one year instead of two, unlike earlier Democratic proposals. Nonetheless, even the most vocal student advocates conceded the gesture is merely symbolic.
Chris Lindstrom, director of the Public Interest Reform Group, said she had counted 47 votes in favor of the extension as of Tuesday afternoon. "The idea would be that if we could get to 50 votes, it would be another vote that demonstrates the will of the Senate to deliver reform," she said.
The division lies within the Democratic Party. Sens. Joe Manchin (D-W.Va.) and Tom Carper (D-Del.), along with Maine Sen. Angus King, an independent who caucuses with Democrats, banded together with Republican Sens. Tom Coburn (Okla.), Richard Burr (N.C.) and Lamar Alexander (Tenn.) to produce a bipartisan compromise that would tie interest rates to the 10-year U.S. Treasury note and eliminate Congress' role in setting loan rates.
Many advocates said privately they think Democrats bungled this fight, but none would say so on the record because they are depending on Democrats to advance their policies. "Going into the 2014 elections, one of the things the Democrats have on their side is saying the House Republicans are the problem and they're not doing anything," one advocate said. "And here you have the House doing something close to what the White House wanted and the Senate Democrats blocking it. They've taken away the narrative of the House being the problem."
Manchin, Carper and King presented their plan at the weekly Democratic caucus lunch Tuesday, but it wasn't immediately clear if they were able to garner the support of their colleagues. Following the meeting, the three senators engaged in a lengthy hallway discussion with other Senate Democratic leaders, Dick Durbin (D-Ill.) and Chuck Schumer (D-N.Y.), both of whom were reluctant to take sides.
When Manchin, Carper and King stood before reporters to discuss a plan they said was "truly bipartisan," Senate Majority Leader Harry Reid (D-Nev.) was at the other end of the hallway insisting in his weekly press briefing that Republicans had not yet compromised.
"I admire and I respect a number of my senators who are working with Republicans trying to come up with something, and I continue to focus on that," Reid said, noting that he planned to meet with White House chief of staff Denis McDonough and Education Secretary Arne Duncan later in the day to determine a plan.
"We have shown a willingness to compromise, but it's time for Republicans to do the same," Reid added. "Republicans aren't willing to take anything other than what they've offered, and we can't go for that."
Reid did not mention the Burr-Manchin proposal by name, focusing instead on why plans proposed by Republicans in the House and Senate wouldn't work. But he suggested that his main concern with the bipartisan compromise was that its 8.25 percent interest rate cap would apply only to consolidated loans. What that means, Reid said, is that the deal may lower rates in the short term, but raise them in the long run.
Manchin said he still hoped Democratic leaders will warm to his proposal, which already has the backing of Senate Minority Leader Mitch McConnell (R-Ky.), who during his own weekly press conference allowed Alexander, a co-sponsor on the Burr-Manchin plan, to make his case.
"Why should we have a one-year solution for 2 million students and leave 9 million more paying rates higher than they should?" Alexander said. "We have a proposal that is fair to taxpayers and fair to students."
Manchin said it would ultimately come down to negotiations over the inclusion of language to cap interest rates, which would in turn result in more Democrats signing on. He said he had not discussed the matter with the White House, which appears to be playing both sides.
President Barack Obama's budget featured a proposal similar to what the House Republicans passed, a fix that would tie the interest rate to the broader economy -- without capping rates. (The White House plan would have students see the initial rates locked in over the life of the loan). After student groups revolted against that proposal and Senate Democrats proposed the short-term fix, the administration has been noncommital, positioning itself to declare a win when the lower rates are restored, regardless of how. In an interview with HuffPost last week, Duncan would not specify the administration's preferences, even when pressed.
"We expect and hope that Congress will fix this problem quickly," White House press secretary Jay Carney said at a Monday press conference." We believe that it can be done. The differences are not that significant."
Though Sen. Debbie Stabenow (D-Mich.) told HuffPost on a press call that the Senate Democrats have White House support, she has a different way of looking at it. "We have two very different philosophies involved in this debate," she said.
The end game for the White House, the Democrats and the Republicans is unclear. Activists are counting on students to rise up in anger to force a solution, but in reality, the Stafford loan rate issue is a tiny slice of the bigger and more vexing puzzle of college affordability and skyrocketing tuition. It only affects new loans, and students will only first feel the effects on their wallets as they begin repayment -- which could be a few years down the road. That impact comes out to $12 per month, or $1,000 on average over the life of each loan.
"There are far bigger issues here. It's not student loan interest rates -- it's that colleges cost too much," said Michael Dannenberg, higher education director of advocacy group The Education Trust and a former Obama education official. "It's very understandable and something people can relate to. They think to themselves, 'If my mortgage interest rates doubled overnight, that would be a big bite out of my pocket,' and so they translated into personal experiences."
The surge would affect students like Chelsea Aldrich, a University of Central Florida sophomore. But she doesn't know exactly how. She already expects to owe $15,000 after graduation, and the additional burden of the doubled rate -- she's taking out a new loan this year -- could be crushing, she said. Aldrich said she plans to work in communications at a nonprofit organization, but her debt could make that low-paying field a tougher choice. "I'll feel the impact when I'm finally getting out school and on my feet and contributing to the economy and supporting myself, that's when i'm hit with debt," she said. "Compared to the 3.4 percent rate I signed up for, it will hit me a lot harder than what I originally budgeted for when I started college."
Before You Go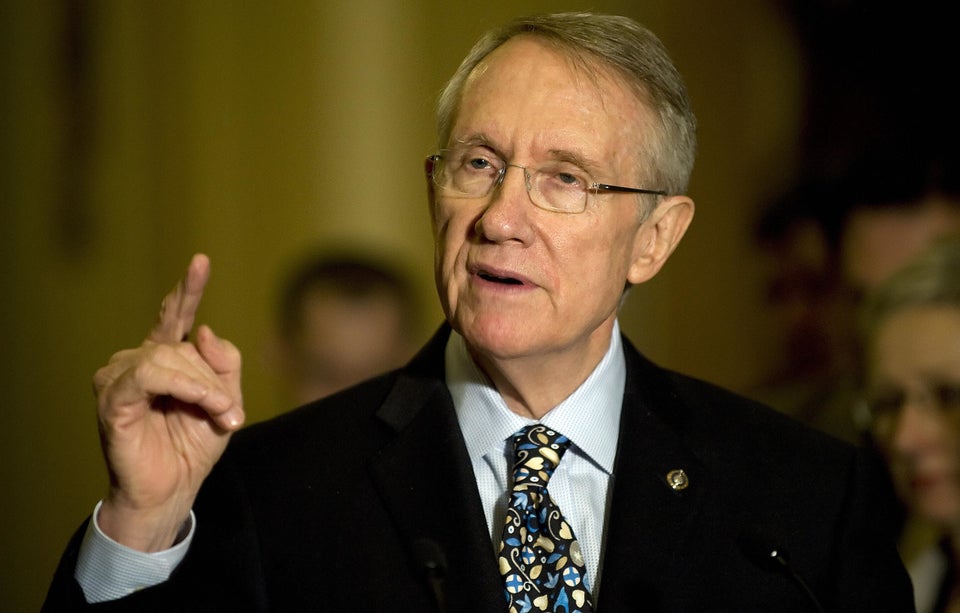 Senate Majority Leaders Through The Years
Popular in the Community