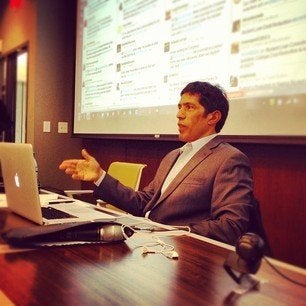 On Tuesday, U.S. Rep. Hansen Clarke (D-Mich.) joined students from a classroom in Detroit to discuss his plan to ease student loan debt. Taking advantage of Google's video conferencing service Google+ Hangout, Clarke explained the details of his Student Loan Forgiveness Act of 2012 to a physical audience at Wayne State University, as well as a virtual one comprising students from across Michigan and the country.
H.R. 4170 would forgive student loan debt for those who have paid 10 percent of their discretionary income toward their loans for 10 years and would cap interest on federal student loans at the current rate of 3.4 percent. Individuals who go into teaching, public service or practice medicine in underserved areas would have their debt forgiven after only five years.
"Everyone tells us to go to school and work hard and we'll be rewarded for our dedication," Clarke said Tuesday. "But the promise of a dream can turn into a nightmare for so many people."
Angie Rider, who attended the Wayne State session, is feeling that nightmare.
"Its always the overarching theme of my life, all my student loan debt," Rider said. "It's trapped me ... it feels helpless and hopeless."
Rider is a teacher at an elementary school in the Brightmoor neighborhood of Detroit. She said 30 percent of her income goes to paying her student loans, and she still owes nearly $100,000 after five years of payments, which she makes on time each month.
"I've wanted to be a teacher for so long I can't even remember," she said. "I have my Bachelor's degree and my Master's degree, which is supposed to help you become a great teacher, [but] you dont get paid enough to pay off what it costs you."
Rider estimates she won't have paid off her debt for more than 20 years. She said the debt has stopped her and her boyfriend from thinking about buying a home or getting married.
Clarke said he'd witnessed people still paying off debt from their social security checks -- something that motivated him to propose his bill. Nationwide, people over the age of 60 owe about $36 billion in student loans.
Clarke's bill, which currently has five other sponsors, is aimed at helping current and future student borrowers. If it passes, people who take out student loans could see their debt forgiven up to $45,520, equal to the average cost of a four year degree at a public university.
An online petition in favor of the bill has nearly 500,000 signatures. Clarke encouraged students to get their peers involved and tell lawmakers their stories.
"You really can't have freedom when you're eyeballs deep in debt," he said. "I intend [this bill] to be a call to action."
CORRECTION: An earlier version of this story had an incorrect link to an online petition for the Student Loan Forgiveness Act of 2012 and misstated the number of signatures obtained. The story has been changed to link to the correct petition.
Related
Popular in the Community