A few weeks ago, I went on HuffPost Live to talk about current student loan forgiveness programs and the stunning lack of public knowledge about them.
The Consumer Financial Protection Bureau (CFPB) recently released a report showing that more than one-quarter of America's workforce -- more than 33 million people -- is eligible for public service student loan forgiveness. The program allows for the cancellation of a qualifying person's federal student loan debt. However, only a tiny fraction of the workforce is actually making use of the program.
To take a step back and put this in context, two thirds of college students graduate with debt, and among them, the average debt level is $26,000. There are 37 million borrowers with outstanding loan balances -- and 5.4 million of them are past due on their bills. Even worse, one in 10 students can't make up their late payments and actually defaults on their loans -- destroying their credit and hindering their ability to find a home, buy a car, or secure a job.
Public service jobs are critical for our nation's future -- from teaching our kids to keeping our communities safe -- and many college grads are eager to put their new skills to work in these kinds of careers. But crushing levels of debt often make it too hard for them to keep their heads above water if they choose a public service job.
In the days following my interview, I received a number of emails from people who work in public service jobs and are struggling financially because of their student loans. Most telling was that the majority asked, "Is there a program that can help me?"
For more than 33 million Americans, the answer is yes.
Right now, there are eight different federal direct loan forgiveness programs -- the most relevant of which is the Public Service Loan Forgiveness Program. This program offers full direct loan forgiveness after 10 years of payments for anyone employed in a widely-defined "public service position."
But few people know that.
It's clear that we need to do a better job of informing the public about the programs that are available. That's especially true when the people that need them most are the foundation of our country: teachers, healthcare workers, police officers, military personnel and non-profit workers.
We can't afford a generation of Americans buried in debt. And we can't afford NOT to use the programs that are already in place in order to keep that debt manageable -- especially if it means we're making public service jobs an unaffordable career path.
We applaud the CFPB for creating a toolkit to help public sector employers get their employees enrolled. We need to take more steps like that to get the message out.
Below is an infographic (thanks to our friends at OurTime.org) that has important information to identify programs that can help. Send this to your friends, family, or anyone you know that might be able to enroll. Let's spread the word.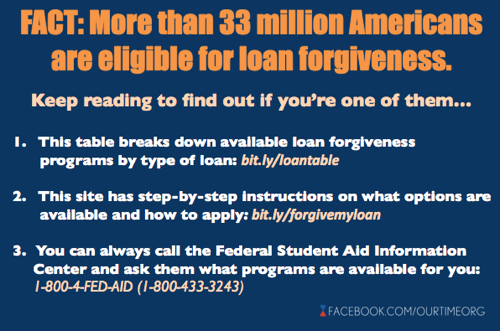 Calling all HuffPost superfans!
Sign up for membership to become a founding member and help shape HuffPost's next chapter