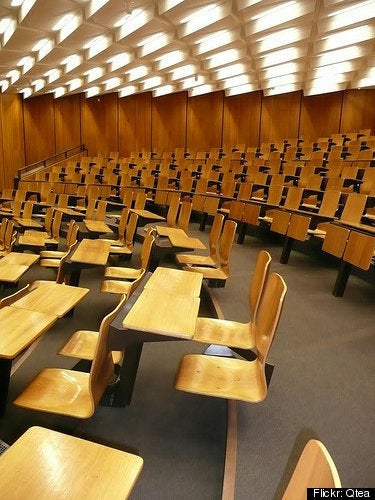 Having finally decided to use the filibuster-proof budget reconciliation process to push health-care reform over the finish line, Democratic leaders have tentatively agreed to attach a long-sought overhaul of college financial aid to the measure.
That's because health care and federal financial aid have something very significant in common: Hugely powerful corporate interests devoted to preserving the status quo -- and willing to spend vast amounts of money on campaign donations, lobbying and PR to fight change.
When corporate interests are threatened, the Republican Party can often be counted on to fall into lockstep opposition -- but so can handfuls of skittish or pro-business Democrats in both chambers. As a result, when a well-funded ox is in danger of getting gored, good luck getting 60 votes in the Senate. Heck, even 50 can be a challenge.
The financial aid measure provides a case study in the susceptibility of elected officials, especially during campaign season, to pressure from moneyed interests.
At issue is the federal subsidy to private, for-profit lenders to make loans to college students that the government itself can make directly, with no subsidy, and just as well. Eliminating the subsidy is expected to save somewhere between $47 billion and $87 billion over the next 10 years. President Obama is proposing to take that money and use it for direct grants to needy students instead.
Ending this unwarranted subsidy for the big banks is a no-brainer for folks everywhere -- except some folks in Washington. In fact, they're already seeing -- we're already seeing special interests rallying to save this giveaway. And the large banks -- many who have benefited from taxpayer bailouts during the financial crisis -- are lobbying to keep this easy money flowing. That's exactly the kind of special-interest effort that has succeeded before, and we can't allow it to succeed this time. This is exactly the kind of waste that leaves people wary of government, leaves our country straddled with trillions of dollars of deficits and debt with little to show for it.
Sallie Mae, a publicly traded company that is the nation's biggest student lender with $22 billion in loans originated last year, led the field in spending $3.48 million in federal lobbying in 2009, an increase from $3.2 million in 2008, and other lenders spent millions of dollars more, according to an analysis prepared for The New York Times by the Center for Responsive Politics.

Political action committees for the lenders and company employees made $2.1 million in political contributions last year, with the money split evenly among Democrat and Republican candidates, the data showed. Sallie Mae's PAC alone made $194,000 in donations.
Not surprisingly, all that money and effort -- combined with sometimes aggressive PR campaigns in the states where these for-profit lenders are major employers -- got some results. Although the measure passed the House in September, some Democratic senators are now threatening to balk. As David M. Herszenhorn wrote in the Times on Thursday:
In a letter to the majority leader, Senator Harry Reid of Nevada, six Democrats said they disliked the president's proposal.

"We write to make you aware of our concern with provisions of contemplated student lending reform that could put jobs at risk," the senators wrote. "Increase our nation's commitment to higher education funding is a priority, but we must proceed toward this objective in a thoughtful manner that considers potential alternative legislative proposals, while still delivering an equivalent amount of savings over the next ten years.

The letter was signed by Senators Thomas R. Carper of Delaware, Blanche Lincoln of Arkansas, Ben Nelson of Nebraska, Bill Nelson of Florida, Mark Warner of Virginia and Jim Webb of Virginia.
And yet Jason Delisle, a former Republican Hill staffer who now works at a think tank, says the jobs argument shouldn't be taken seriously. Lobbyists, he explains, "would say anything. They move from one argument to the next. It's just whatever sticks. They want to keep this thing going. They'll tell Republicans it's about big government; they'll tell Democrats it's about jobs."
One reason the jobs argument is specious, says Delisle, who is director of the Federal Education Budget Project at the New America Foundation and a frequent blogger for Higher Ed Watch, is that "it probably isn't going to be a lot of jobs."
The industry estimates that across the country, about 35,000 people have jobs in student lending (this after Sallie Mae realized it would be politically expedient to recall 2,000 jobs it had previously offshored to India, Mexico and the Philippines.) But most of those jobs are not actually in danger; they are involved in aspects of the loan business that would continue under the proposed overhaul.
Say 12,000 jobs are at stake: Then the $47 billion to $87 billion over 10 years that could be going to needy students would instead be supporting jobs at an annual rate of somewhere between $400,000 and $725,000 a pop.
And as Delisle is at pains to point out: "It's not a jobs program! It's a program to get loans for students, and we should do that with as few employees as possible."
Inefficiency is not something to be proud of, Delisle says, but then again, "for me, this is crony capitalism, corporate welfare."
As with many issues in Washington,there are other options being considered. Sallie Mae has actually offered its own counter-proposal, that eliminating subsidies would actually leave it with a larger share of the market than it has already. As Delisle explains, it's not just the massive subsidies that are attractive to lenders, it's also the access to students and financial aid offices. That enables the company to cross-sell other products such as high-interest private-market loans that, conveniently, can't be discharged through bankruptcy.
Meanwhile, the Democratic senators who wrote to Reid aren't declaring their die-hard opposition to the lending overhaul. "The senator simply wanted to note that he had some concerns," said a spokesperson for Carper. "He does have some concerns about the implication for jobs in Delaware. But at the same time, he strongly shares the administration's commitment to saving taxpayer dollars and making these key investments in education. His main message is just making sure that we are exploring all of the options."
REAL LIFE. REAL NEWS. REAL VOICES.
Help us tell more of the stories that matter from voices that too often remain unheard.