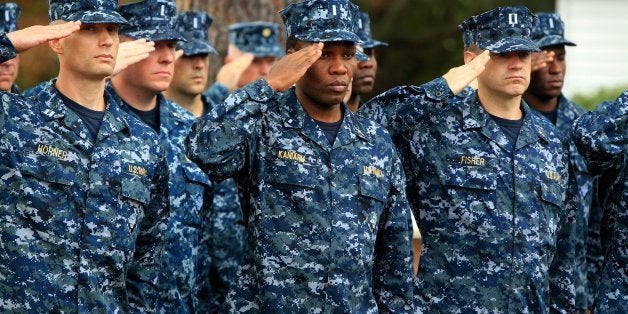 Military service members have reinforcements to protect them in the field. Training, weaponry, surveillance and logistic support all work together to help soldiers, sailors, airmen and Marines carry out their missions successfully.
"One of the biggest barriers is that servicemembers may be unaware that they are eligible for student loan relief," Holly Petraeus, assistant director of the Office of Servicemember Affairs at the Consumer Financial Protection Bureau, said via email. "If they do realize that there is relief available, they may be blocked from accessing it by uninformed customer service staff at their loan servicer."
Many veterans know about the GI Bill, which includes educational assistance for active-duty military, reservists and National Guardsmen who serve for at least 90 days. In some cases, the bill covers tuition, fees, books and housing, allowing veterans to graduate without student loan debt.
The GI Bill does not cover existing college debt, though, so those who have student loans when they enlist still need to manage their payments.
Service members struggling with student loan debt can find relief through federal programs that cap interest rates and offer loan forgiveness.
Active-duty members serving full-time can have any remaining balance on their direct loans canceled after 10 years, if they make 120 on-time, full, scheduled monthly payments. Only payments made after Oct. 1, 2007, count toward the requirement.
Loan forgiveness doesn't come without paperwork, though. The Department of Education recommends graduates submit an annual employment certification form to help track their eligibility over the 10-year span. When all of the required payments are completed, they need to submit another form to have any remaining balance forgiven.
Older loans taken out under the Federal Family Education Loan Program don't qualify for forgiveness. Perkins loans are also excluded. Service members can get around this loophole by consolidating these loans into a new direct loan.
Some borrowers miss out on this benefit because they put their loans on a military deferral, which halts payments while they are on active duty.
Instead of stopping payments, troops should explore options to lower the amount due each month, such as income-based, income-contingent and pay-as-you-earn repayment plans. Each option bases monthly payments on annual earnings and family size. The reduced amount still counts as a full payment for public service loan forgiveness, even if the total amount due each month is zero dollars.
Service members who leave the military before the 10-year mark can retain this benefit, as long as they move to another qualifying position. Any employment with federal, state or local government agencies, or a nonprofit organization with 501(c)(3) tax-exempt status, falls under this relief program, according to the Department of Education.
This piece of legislation caps the rates on federal and private student loans at 6 percent while borrowers are on active-duty service. The rate reduction can save service members thousands of dollars over the life of their loan.
"He joined the Navy because it was the only way he believed he could 'make it,' but most of his Navy paycheck was going towards paying off those loans," she wrote. "That young sailor could pay nearly $25,000 extra if he doesn't receive his Servicemembers Civil Relief Act (SCRA) six-percent interest-rate cap while he's on active duty."
Only loans taken out prior to enlisting are eligible for the reduced interest rate. The SCRA also applies to other debt, such as credit cards, car loans and mortgages.
The benefit is not automatic, though. Borrowers need to submit a written request to each of their loan servicers and provide a copy of their military orders.
Individual branches of the military have their own student loan repayment programs, too, notes financial aid expert Mark Kantrowitz, publisher of Edvisors.com.
The Army, for example, pays up to $65,000 in qualified loans. Graduates need to request the benefit when they enlist and must turn down the GI Bill.
Military repayment assistance only applies to federal loans, which can be a point of confusion for some service members, he says.
"The forms signed by new members of the military were not at all clear on this point," he says. "While there have been some improvements, I still hear from veterans who are upset about it."
Additional federal benefits are available for service members directly in the line of fire. Troops stationed in hostile areas that qualify for special pay "do not have to pay interest on Direct Loans made on or after October 1, 2008, for up to 60 months," according to the Department of Education, and those injured while serving may be able to have all of their federal student loans discharged.
Full-time, active-duty service members are not the only ones who qualify for student loan relief. The National Guard has a student loan repayment plan for guardsmen who enlist for at least six years and meet other requirements. The program pays up to $7,500 annually, with a maximum total benefit of $50,000, for those who qualify.
Trying to fund your education? Get tips and more in the U.S. News Paying for Collegecenter.
REAL LIFE. REAL NEWS. REAL VOICES.
Help us tell more of the stories that matter from voices that too often remain unheard.
BEFORE YOU GO
PHOTO GALLERY
Best Colleges For Veterans According To U.S. News & World Report 2013