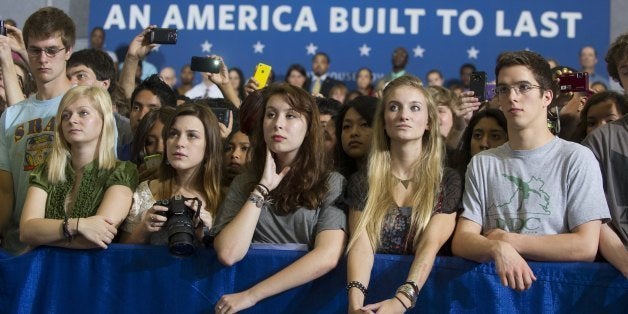 Student loan borrowers struggling with confusing information from the U.S. Department of Education will get help from a new website and hotline being launched by activists and labor unions.
Natalia Abrams, who works with activist group Student Debt Crisis, said the hotline and website are designed to assist student borrowers who complain to her regularly that they're frustrated when they search the Education Department's website for helpful information.
"We're saying to the Department of Education it should not be a group of borrowers and non-profit groups doing this," Abrams said. "It should be the department providing this assistance to borrowers. There are so many people I talk to when they call that have never heard of income-based repayment, have never heard of loan forgiveness programs."
Student Debt Crisis is working with the AFL-CIO, AFSCME and the American Federation of Government Employees in setting up the website -- TheBorrowers.org -- and the temporary hotline. The hotline will be staffed May 19, 20 and 21 from the AFL-CIO's Washington headquarters.
Denise Horn, Education Department spokeswoman, said the government was taking multiple steps to help borrowers better understand their repayment options, "including working to expand income-driven options for borrowers."
"In addition, the Department has also created tools such as the College Scorecard and Financial Aid Shopping Sheet so that students and families can understand their options and choose the college that provides them with the best value," Horn said.
The Education Department has faced pressure in recent years to promote repayment programs for federal student loan borrowers. The department emailed millions of borrowers in late 2013 in an effort to boost enrollment of income-based repayment options. The Obama administration expanded eligibility for the program last year.
The new website and hotline effort build on what President Barack Obama said in March: "Every borrower has the right to quality customer service, reliable information, and fair treatment, even if they struggle to repay their loans."
Current income-based repayment options allow eligible borrowers to cap their monthly payments at 10 percent to 15 percent of their pay. Some public service employees can have their debt forgiven after a period of 10 years, though the Consumer Financial Protection Bureau has said millions fail to enroll in these programs because they don't know about them.
The hotline will be staffed for three days by people who have gone through training on student loan programs. Abrams described it as a "triage system."
"We're not attorneys, we're not credit counselors, we can just let them know about the programs available," Abrams said.